Love for Mom on Mother's Day!
Let's get real. How much do you love your Mom? Do you love her the amount of one Mother's Day brunch? How about a fancy mani-pedi spa day? Can you reduce the love you have for your mother into a couple of mimosas? How about seven?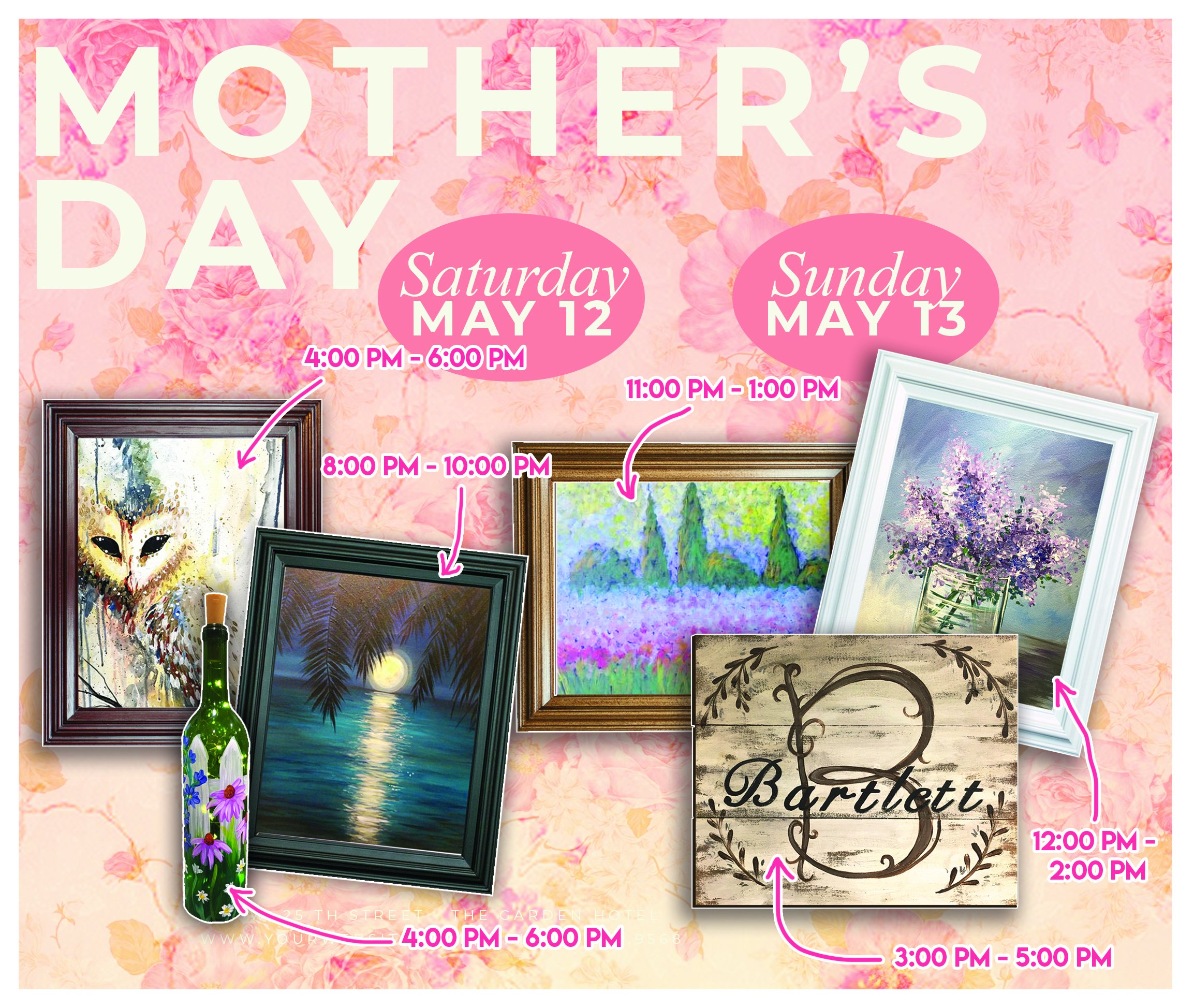 The obvious answer is NO WAY! Of course you can't! Your mom is a one-of-a-kind woman whose impact you could never leave to a breakfast buffet! She she deserves a genuinely heartfelt experience! We've packed Mother's Day Weekend with an assortment of beautiful painting adventures!
Mother's Day in Chicago doesn't get much better than bonding over mimosas, bloody marys and making beautiful art. Unlike other traditional Mother's Day activities, paint and sip Mother's Day at Pinot's Palette Logan Square allows you and your mom to discover something new together. You'll grow closer to each other via the magic of creativity—and the magic of delicious cocktails. Plus, we already know your Mom is into getting creative... she made you didn't she?!
Too much? Sorry. We'll stick to talking about painting.
Here are the fantastic Mother's Day Events we have planned for Mother's Day Weekend including canvas, bottle, and wood pallet painting!
Saturday, May 12th:
Golden Gaze -
http://bit.l...-Owl-Painting
5/12 from 4:00 - 6:00 PM
Learn watercolor techniques while painting this gorgeous barn owl.
Easily customizable to fit your home decor or Mom's favorite colors!
Wildflower Garden Wine Bottle -
http://bit.l...ttle-Painting
5/12 from 4:00 - 6:00 PM
Spring has sprung with vivid wildflowers. Paint Mom's garden complete
with white picket fence. Choose from Green Bottle, Blue Bottle, Clear Bottle,
or Two Wine Glasses. Includes battery-operated LED lights with wine "cork".
Endless Paradise -
http://bit.l...ight-Painting
5/12 from 8:00 - 10:00 PM
Take a deep breath and soak in this beautiful night in paradise! Relax and
have some wine with Mom while painting this simple, beautiful seascape.
Sunday, May 13th
Complementary Orange Juice and Pastry Served!
Tuscan Wildflowers -
http://bit.l...wers-Painting
5/13 from 11:00 AM - 1:00 PM
This impressionist-inspired painting of Tuscan Wildflowers is wonderful to
create. The beautiful pinks soften the painting and show the dappling of light.
Lilacs in a Glass -
http://bit.l...ilac-Painting
5/13 from 12:00 - 2:00 PM
A twist on the classic, just like your momma! Inspired by Manet's painting,
this bouquet of purple lilacs can add a soft touch of color to any space. Switch
up the colors however you'd like!
Rustic Family Name -
http://bit.l...llet-Painting
5/13 from 3:00 - 5:00 PM
This hand-built wooden palette sign can be customized to fit your family
and your décor. We will show you how to whitewash it to create the perfect
rustic look! This painting is perfect for Mother's Day!
Whichever paint party you Choose, Mom is sure to know you love her with all of the bonding you'll experience at a sip and paint Mother's Day activity at Pinot's Palette in Logan Square. Feel free to call the studio or register online! We can't wait to paint, sip and celebrate with you! Cheers & Happy Mother's Day to all of the Moms who touch our lives.