Meet Our Logan Square Team - Artist Molly Rose English
Meet Our Team - This Edition, It's All About Molly!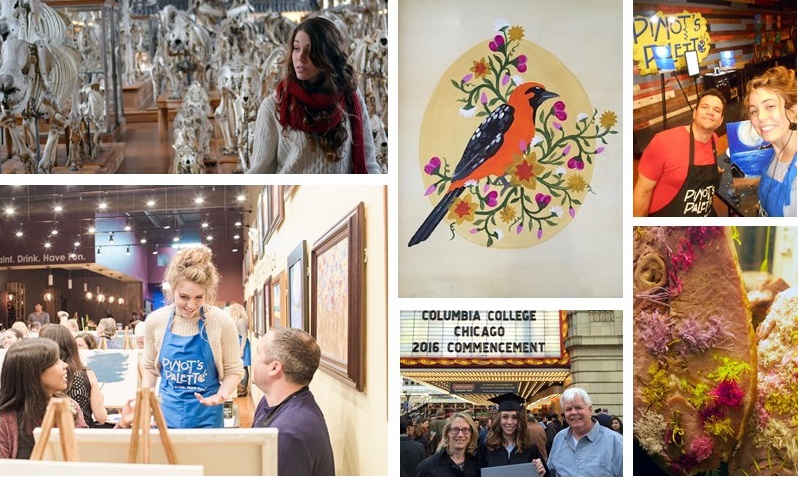 Molly Rose English is a wonderfully talented artist on our Pinot's Palette Logan Square team. She was born and raised in Trout Valley. Trout Valley sounds like a beautiful, remote location but who knew it's a small suburb & nature preserve an hour northwest of Chicago? Growing up in Trout Valley, Molly's surroundings and her parents' love of wildlife resulted in a very nature-filled childhood. Lucky us, as her love of nature likely provided inspiration for her to create her featured original painting this month, Floral Oriole!
Molly left the nature filled life of Trout Valley to venture into Chicago city life for college. She recently graduated with a bachelors degree from Columbia College in fine art and poetry. Molly has also studied at the University of Iowa in Iowa City, IA and the Paris College of Art in Paris, France.
A few tidbits from our Q & A with Pinot's Palette Logan Square artist, Molly Rose English:
@PinotLoganSq: Molly, tell us a little about your own original art:
Molly Rose English: In my artmaking practice, painting and performative sculpture are my preferred mediums. My style overall can be characterized by its intense expression and reference to the body as well as, of course, an earthiness and attention to the natural. I work mostly in "abstract" oil when it comes to painting, and my sculptural media ranges everywhere from rocks and string to sweat and meat products.
@PinotLoganSq: We Love, love, LOVE the influence nature and your childhood have on your work. We know how hard you work, so when you're not creating art, what else do you love to do?
Molly Rose English: When I'm not making art, I'm hanging with my dog or going hiking or camping and doing general outdoorsy stuff. I also love cooking, writing, reading, and swimming. Spending time with friends and family is also really important to me.
@PinotLoganSq: Ok, Molly, how about a few Molly Rose fun facts?
Molly Rose English: Three fun facts about me are that mosquitos don't bite me, I occasionally break out the worm in dance circles, and I fight crime nightly under the cover of darkness as a masked vigilante hero.
@PinotLoganSq: Whew! We feel another layer of safety just knowing you live in our great City. Besides the ability to put your vigilante hero powers to use, what do you love most about Chicago & Logan Square?
Molly Rose English: What I love most about Chicago is that so much is so accessible! It's only a short drive or train ride to a lot of great forest preserves and there's never a shortage of things to do with all of the bars, restaurants, and new fun places opening up close by, especially in Logan Square! Not only that, but Logan Square is amazing because of the community. Everyone I meet here is so kind and passionate about something. It's great to be around!
@PinotLoganSq: Thanks, Molly. We love Logan Square too and all there is to do. Maybe we're a teensy biased, but we're partial to when people paint & sip in our Logan Square studio, tap into the creativity and guidance of our local artists like YOU and enjoy the fabulous libations we have in our full bar. So perhaps we're more than a 'teensy' bit biased…!?
Come experience the influence nature has on Molly's artwork. Join us Friday, August 12th when Molly will guide our guests to paint her original masterpiece, Floral Oriole. How much fun to paint with the original artist! And to entice you even more, use code MOLLY at checkout and enjoy a BOGO when you reserve your seat. Girls night, date night or a night out on your own…Paint. Drink. Have Fun!
https://www..../event/109754