Meet Our Logan Square Team - Bartender Dusty Birrell
At our sip and paint art studio in Logan Square, we serve more than just beer and wine. We have a full bar with a fun list of specialty cocktails. As such, our bartenders are pretty darn important to us at Pinot's Palette Logan Square.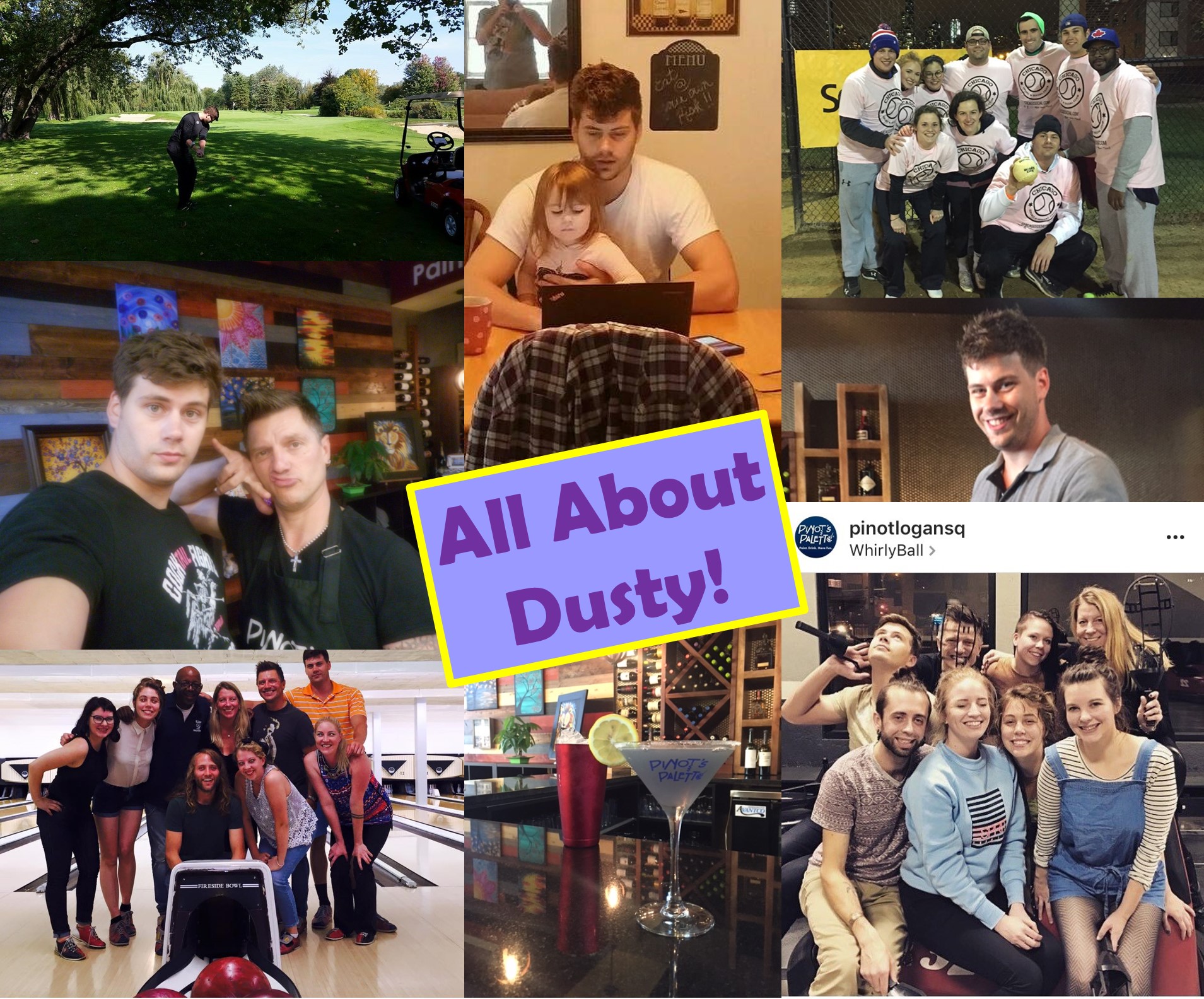 We recently sat down with Dustin Birell so we can share some fun facts about our female customer's favorite bartender, Dusty! Some of the reviews he's received on Yelp say it all, "…Dustin was friendly, easy on the eyes and had a strong pour…" to "Dustin…was HOT and friendly." So here you go ladies! A little info to help you get you to know Dusty a little bit more.
Dustin was born in Elkhart, Indiana and grew up in South Bend – home of the Fighting Irish. If the Irish are playing at home, it's likely Dusty has scheduled the day off. He's a huge social sports and trivia guy and plays in every club he can from volleyball to trivia. Let's just say he was at an unfair advantage at our recent team outing to Whirly ball. And did we mention his 'not so secret' obsession with golf? Yep. He's out on the course as often as he can be.
One of the things that brings Dusty the most pride is his 4 year old niece. He absolutely adores her. Check out Uncle Dusty in his picture!
Here are some excerpts from our Q & A with Logan Square bartender, Dustin Birrell:
@PinotLoganSq: Dustin, besides being an awesome uncle and sports buff, give us a few additional fun facts.
Dusty:
1. I am taller than 99.5% of US males.
2. I make a very mean Sazarac.
3. I qualified for a men's go karting league while goofing around with friends on my birthday!
@PinotLoganSq: You grew up in Indiana. How'd you end up in Chicago?
Dusty: I went on vacation with a friend where we went to Florida for a week, had a blast, then followed it up immediately with a 70 degree St. Patrick's Day in Chicago. We literally drove from Florida to Chicago in a single day. That trip was all it took. We both decided we needed to live in Chicago that day and moved here a month later.
@PinotLoganSq: what do you love about Logan Square?
Dusty: The range of personalities you will see in Logan Square trumps any other neighborhood in Chicago. You can have a beer with a suit and a biker in the same bar while a pitbull in a tutu hangs out with a table of folks playing Trivial Pursuit on the side.
@PinotLoganSq: And how about Chicago?
Dusty: The culture, the diversity of people and, of course, the food!
@PinotLoganSq: when you aren't bartending, what keeps you busy?
Dusty: I'm currently in a whirly ball league, a member of a charity host committee for Canine Therapy Corps here in Chicago, I give golf lessons 2x a week, work in Real Estate Finance and I love to cook!
@PinotLoganSq: what's your favorite drink to make?
Dusty: I love making Sazaracs and blueberry mojitos. As for me, I love white wine and drinking Scotch or Cognac neat.
@PinotLoganSq: what do you enjoy most about working at Pinot's Palette?
Dusty: My coworkers. From the owners to the artists we have a staff of people who are genuinely fun to be around and whom I love spending time with.
Dusty famously created our Logan Square Paint Water martini, a favorite drink with many of our bachelorette parties. Try one next time you paint, drink and have fun with us. Cheers!