Meet Our Logan Square Team - Bartender Chris Glynn
Drummers make the BEST bartenders. We certainly think so!
Sometimes you run into people who change your life for the better. We call them bartenders. Now mix in a uniquely talented drummer and you've got yourself one creatively dangerous dude mixing up your drink.
Meet our Bartender & Favorite Chicago Drummer, Mr. Chris Glynn.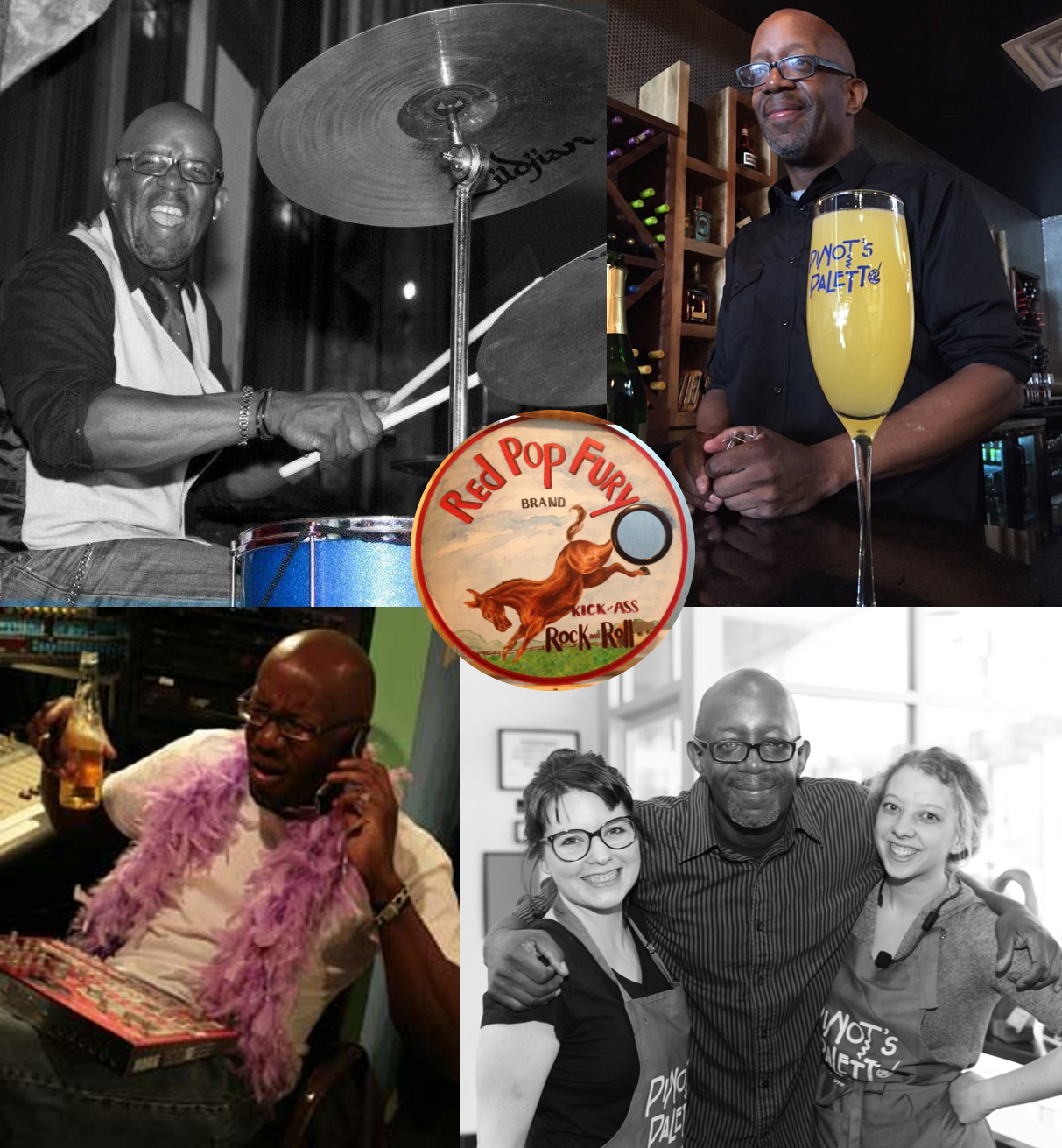 We recently came across a quote that described drummers as uniquely creative musicians with limitless skills. Lucky for us, Chris Glynn's limitless skills extend into our Logan Square paint and sip art studio & bar.
Chris was born in Philadelphia but also spent some time living in Boston. Road trips in the '90s brought him to Chicago – and lucky for us, they did. "I was on North Avenue beach as the sun was going down and I remember thinking how beautiful it was. I texted a friend back in Boston," Chris says, "and told him I'm moving here!"
Chris is a HUGE baseball fan. Good thing Chicago has two pro baseball teams and with the season our Cubs are having, there is plenty of fun baseball to take in. "I played in junior high and would have played in high school except I developed a passion for music - my second obsession," Chris shares with us. "I started banging on pots and pans (and everything else) when I was about 12 and I've been playing ever since."
One of the pics above is a shot of one of his kick drum heads. We really love it, because Pinot's Palette Logan Square artist, Molly English, painted this custom beauty. When he's not taking in baseball, Chris can be found behind the drums with Chicago band, Red Pop Fury.
https://www....om/redpopfury
Here are some excerpts from our Q & A with Logan Square bartender, Chris Glynn:
@PinotLoganSq: Chris, besides being a fantastic drummer, give us a few additional fun facts.
Chris:
1. I love horror movies.
2. I've broken both my legs. Not at the same time though.
3. I love salmon. I want to be reincarnated as a bear so I can stand in a river and eat it all day.
@PinotLoganSq: what do you wish you had more time to do?
Chris: I like going to the lake and reading, although I don't get to do it as much as I used to.
@PinotLoganSq: what do you love about Logan Square & Chicago?
Chris: I love Logan Square's diversity. Chicago reminds me of New York in that there's always something to do, however there's enough room to do it!
@PinotLoganSq: what's your favorite drink to make?
Chris: I love making and drinking Manhattans. Here's my fun fact on those. Legend has it that Manhattans are called that because of the of the portions of the ingredients: 2 oz bourbon, 1 oz vermouth, 2 dashes bitters. 212 - Manhattan's area code.
We have a pretty decent selection of bourbon in our Logan Square studio & bar. Chris' affinity for Manhattans is just one of the many reasons we love having him create cocktails for us in our Logan Square paint and sip art studio. If bourbon isn't your thing (what?!?!), the next time you're in – try one of his newest additions to our cocktail menu, the Kedzie Greyhound… Chris's spin on a refreshing, grapefruit martini.
#drummersmakegreatbartenders #paintandsip #logansquare #bestteamever #redpopfury #art #wine #cocktails #girlsnight #datenight #pinotspalettelogansquare