Meet Our Logan Square Team - Artist Katie Meuser
Meet Our Team - Artist Extraordinaire, Katie Meuser!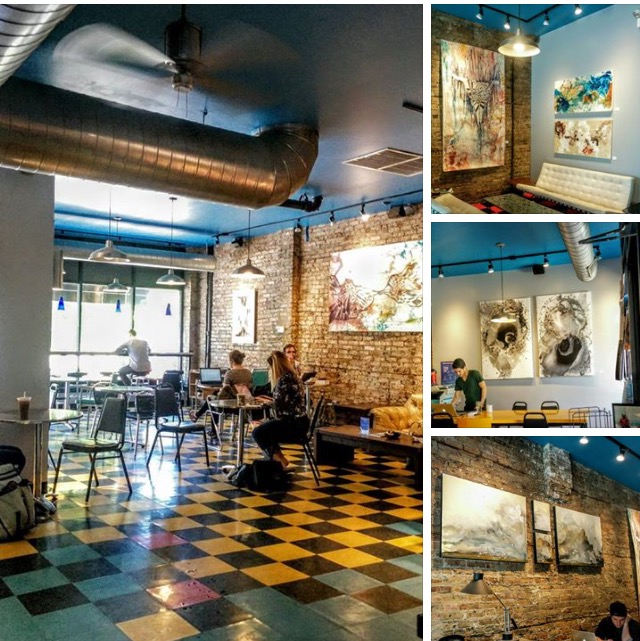 ex•traor•di•nar•y
ekstrəˈôrdnˌerē/
adjective
1. very unusual or remarkable.
It won't be long before you understand why we chose this adjective to describe our beloved artist, Katie T-Rex Meuser.
Katie was born and raised in Nebraska. She completed her BA at the University of Nebraska at Kearney in 2009. She works predominantly with watercolor, acrylic, and ink to make large scale non­objective abstracts on canvas using a free flowing technique she developed while attending the University.
Katie lived in Seoul, South Korea from 2010-2012. After moving back to the States and working for a couple of Pinot's Palette studios in Kansas, Katie moved to Chicago when she learned we were opening our Logan Square studio. Katie was drawn to living in Chicago, she says, because of its big city feel with Midwest hospitality. She loves Logan Square for our interesting shops, fabulous restaurants and the fact that there's always something going on, especially in dark alleys.
Our Q & A with Logan Square artist, Katie Meuser:
@PinotLoganSq: Katie, give us a few fun facts about you.
Katie T-Rex Meuser: Well, I can make the wookie and predator noise, which comes in handy to seduce nerds and scare people in dark alleys.
@PinotLoganSq: Multitasking with guttural sounds. Creative! What else do you have for us?
Katie T-Rex Meuser: I wanted to be a horse when I grew up. I worked really hard to become a horse by eating grass and leaves. Then, when I got older, I realized horses eat things like oats and apples. I really messed that up, probably the only reason I'm not a horse.
@PinotLoganSq: Sooooo, we've learned about your dark side, your inner animal... any other talents you'd like to share?
Katie T-Rex Meuser: Oooohh, I'm addicted to magic tricks! I used to do magic tricks at bars and called it "bar magic" until I noticed it was freaking people out, and not in a because 'they couldn't understand my amazing trick' kind of way. I love magic tricks so much and if you know any I would love to see them!
@PinotLoganSq: When you aren't painting or working your magic, what do you like to do?
Katie T-Rex Meuser: When I'm not painting, I'm usually wandering around the Square or YouTubing "how to magic tricks." I used to like riding my bike until it was stolen. Now I enjoy seeing other people ride their bikes. Never take your bike for granted! But I do spend the majority of my time painting. I love it!
Katie is the creator of KT Cards, sold in select stores in Nebraska, Kansas, Wolfbait (in our very own Logan Square, Chicago), and Designist in Dublin, Ireland.
Katie has had solo shows at the Walker Gallery in Kearney, Nebraska (2009), Suite Sixteen in Lincoln, Nebraska (2012), the Woods Gallery in Lincoln, Nebraska (2013), and Phoenix Art Gallery in Lawrence, Kansas (2013). Katie also displayed her work in Seoul, South Korea while she lived there from 2010­-2012.
Lucky us, Logan Square! You can check out Katie's work through Friday at New Wave Coffee, 3103 W. Logan Blvd. Wow! She's sold just about every piece you'll see on the walls, but rumor has it she may be accepting commissioned work. Odds are in your favor if you consider yourself a nerd or a kindred horse spirit.
We love Katie & you will too.
katiemeuserartwork.squarespace.com
Paint and sip 'Anchored in Chicago' while making wookie noise with Katie on Friday, August 19th:
https://www..../event/109704
#paintandsip #logansquare #bestteamever #wine #cocktails #girlsnight #datenight #pinotspalettelogansquare