Fun at the Logan Square Arts Fest!
We survived three amazing days of art, music, food, drink & family!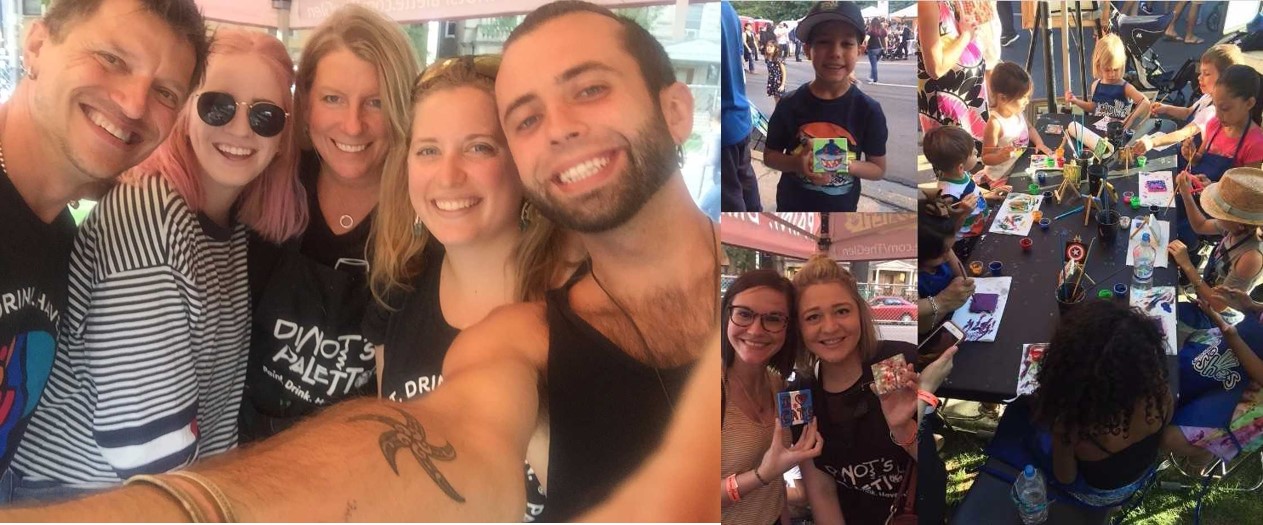 We had such a great time at this year's Logan Square Arts Festival. Thanks to everyone who stopped by our Pinot's Palette booth to paint mini canvases with us. There were so many adorable little masterpieces created! We'd also love to give a shout out to the over 725 festival goers who stopped by and played 'Spin to Win' with us. We loved meeting so many people from the neighborhood and we loved how happy you were to win swag & gift certificates. Speaking of winning, can we get a drum roll, please?
We're super excited to announce the winners of our Paint Party for 8. Winners, you say? Yes, winners plural! We were feeling generous when we selected the first winner and decided, what the heck, let's pick two paint party winners! Congratulations to Matt T. and Hollie S., soon to be lucky sip and paint artists!
As for everyone else who played 'Spin to Win' with us... let's paint, drink & have fun! We met so many great people at the fest. Many of you scored some pretty cool swag at the fest and have gift certificates to put to good use. Check out our event calendar and pick your paint night! All gift certificates won at the Logan Square Arts Fest are good through September. Click below and check out the paint parties we have planned for July and August. Taco Tuesday anyone? Paint Chicago, maybe? How about one of our cool, new 10X30 canvases? So many to choose from!
Lastly, many thanks to Geary Yonker, Time Brickey and the entire the Logan Square Arts Fest team. It's a ton of work to put on a three day event like this and we can't wait to hear how much was raised for Logan Square Preservation. This year's festival was fabulous and we look forward to next year! Cheers!
Share Check out our Summer Event Calendar! | Yep, we do Private Parties too!