More Than Brunch - Top 10 Gifts To Share This Mother's Day
From creative and budget friendly to extravagant and adventurous, give Mom the gift of an experience together this Mother's Day!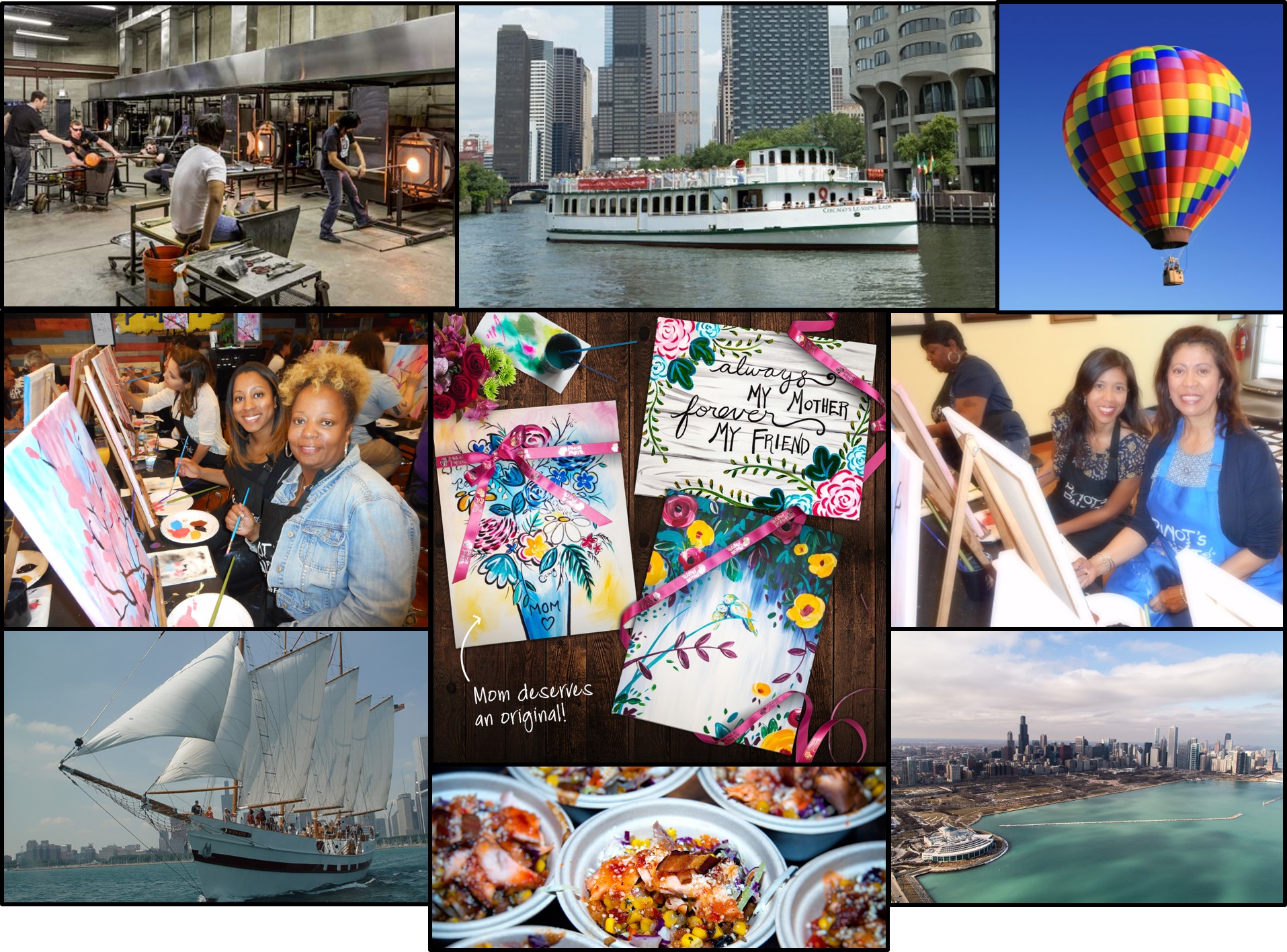 There is an experience for everyone in our top 10 list of experiences to share with Mom this Mother's Day, from creative and budget friendly to extravagant and adventurous. You've made the macaroni necklaces as a kid, sent her flowers, now give Mom the best gift ever – give Mom the gift of time together and share an experience with each other.
Mom deserves an experience this Mother's Day! Who doesn't love brunch? We all do. This Mother's Day, plan for more than just brunch. Share a unique experience and spend quality time together. Create memories. Give the gift of an experience this Mother's Day!
1. SAIL OUR GREAT LAKE IN TALL SHIP WINDY
Enjoy a leisurely cruise on Lake Michigan. Take in the world-famous skyline of the Windy City from the water and be entertained with true stories of real pirate adventures that happened on our very own Lake Michigan!
$30
https://tall...-inland-seas/
2. HOT AIR BALLOON HIGH IN THE SKY
Pack in adventure this Mother's Day as you take to the skies in one of Nostalgia Ballooning's gorgeous hot air balloons. Both exhilarating and serene, you'll travel across Chicagoland's mix of rural and urban landscapes
Once your flight is over, you sip Champagne after landing. Who doesn't like a little bubbly?
$195 - $499
http://www.n...on-adventure/
3. MOM DESERVES AN ORIGINAL – PAINT, SIP, RELAX & HAVE FUN!
This Mother's Day, mom deserves an original! Create an original painting for Mom or give her the gift of an experience this year. Sip on wine, a mimosa or a cocktail from the bar while you listen to fun tunes and share a creative experience with Mom. Bonus: every guest receives a swag bag gift on Mother's Day! This Mother's Day, make it an original. Paint, sip and celebrate with Mom at Pinot's Palette Logan Square.
$38
https://www....m/logansquare
4. DIY CHEF FOR A DAY
Sharing a meal is gratifying… even more so when you and Mom choose a new culinary experience and create a meal together. These cooking classes include instruction, all ingredients, recipes and preparing & sharing the meal!
$50 - $185
http://www.n...nscuisine.com
http://www.t...pingblock.com
5. FLY THROUGH THE SKY
When we said adventurous, we weren't kidding! Enjoy a plane ride, experience the thrill of freefall and see your world in a beautiful new way underneath a parachute.
$179 - $279
https://www....ydive-pricing
6. TAKE A TOUR BY TASTE INTO CHICAGO'S CULTURE
Our unique Neighborhood Food Experiences are offered year-round and attended by locals and visitors during all seasons.
Enjoy a neighborhood food experience with Chicago Food Planet. Take a tour with a passionate Food Ambassador who will share the culture and culinary delights of our Chicago neighborhoods. Journey through Chicago by food? We'll take it!
$42-65
https://www....oodplanet.com
7. CHOPPER OVER THE CITY
See the city like never before! Relax and take in the sights with a helicopter experience over the city. Daytime, twilight, nighttime and private tours available. On average, this total experience lasts about an hour. A perfect post brunch adventure!
$148 - 228
https://www....perience.com/
8. A Must Do on Everyone's Chicago Bucket List – The Chicago Architectural Tour
Even Chicago natives rate this experience tops for showcasing some of our Chicago history. Take a ride along the Chicago River with a certified volunteer tour guide from the Chicago Architecture Foundation River Cruise. You'll learn about more than 50 buildings along the Chicago River and appreciate how Chicago grew into one of the world's largest cities in less than 100 years. This is a don't miss experience!
$46-49
https://www....lady-cruises/
9. CREATE MOM'S SIGNATURE SCENT
Take mom in to create her own signature scent or work together and create your own original scent for the ladies of the family. Each day she dabs on her creation, she'll think of you!
$60 - 120
https://www....workshop.com/
10. DISCOVER GLASSBLOWING
Create your own drinking glass, paperweight, bowl and more at Ignite Glass Studio. Choose a class or a workshop and create your own unique design.
$60 - 180
http://ignit...s.com/classes
For current pricing and update to date offerings, please visit the website for each experience. Happy Mom's Day!
Share Share an Experience with Mom! | Gift Mom an Experience this Mother's Day