Bar Menu
Sipping on your favorite beverage in house has never been easier in our painting studio! We have a great selection for you to choose from! Join us for your favorite drink and a fun night of painting.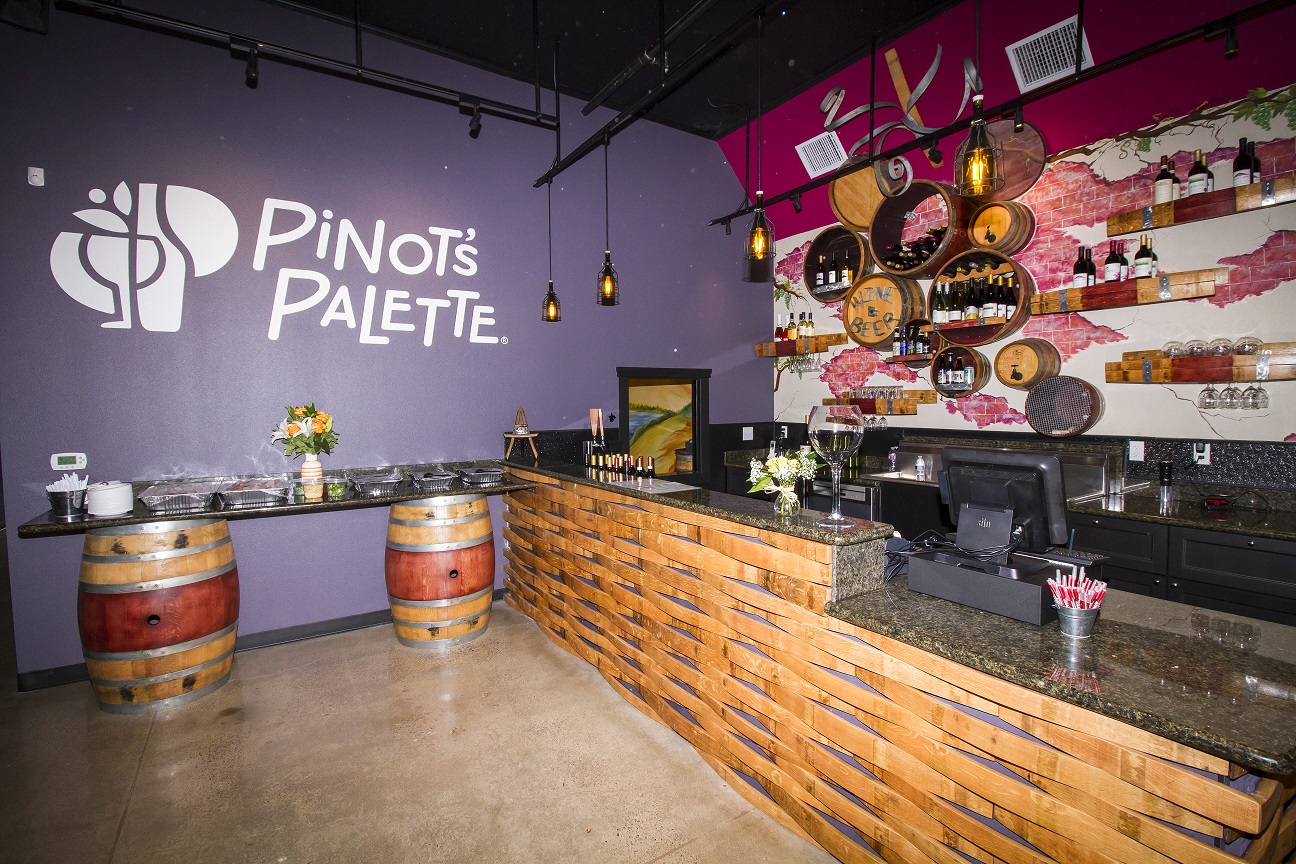 SPARKLING
Champagne, Ruby Hill (187 ml) (LIVERMORE) $9 bottle
Bright aromas of apple, lemon, and tropical fruits
Moscato, La Perlina, Italy $9 glass / $32 bottle
Almond biscotti, fig crostata with honey comb and pavlova topped with fresh strawberries
Cava Rosé, Gran Sarao, Spain $28 bottle
Notes of cherries and blackberries, young and fruity finish
Cava Brut, Gran Sarao, Spain $28 bottle
Fruity background of ripe apple, banana, and pineapple
WHITE WINES
Chardonnay, La Crema, Sonoma Coast $12 glass / $40 bottle
Fresh Meyer lemon scents, with butter cookie and ripe pear
Sauvignon Blanc, Murphy-Goode $8 glass / $28 bottle
Intense lemon and lime with light herbaceous quality
Pinot Grigio, Benvolio, Italy $8 glass / $28 bottle
Bright acidity, crisp and refreshing
RED WINES
Cabernet Sauvignon, Ruby Hill (LIVERMORE) $12 glass / $40 bottle
Flavors of black cherry and currant with notes of cedar and vanilla
The Duet Red Blend, Cedar Mountain (LIVERMORE) $13 glass / $45 bottle
Full round fruit flavors with soft tannins
Pinot Noir, Crooked Vine (LIVERMORE) $11 glass / $38 bottle
Rich in cherry, vanilla, and butter; balanced with raspberry and tomato
Zinfandel, Stony Ridge (LIVERMORE) $11 glass / $38 bottle
Warm aromas of vanilla and nutmeg; balanced by boysenberry and black cherry
Red Blend, Kendall-Jackson AVANT $11 glass / $38 bottle
Layers of plum and raspberry with hints of vanilla
Petite Sirah / Syrah, McManis $9 glass / $32 bottle
Blackberry and blueberry caramel and toffee notes
Merlot, Garre (LIVERMORE) $14 glass / $50 bottle
Red fruits, soft tannins, and smooth finish
Paint. Drink. Have Fun.
LOCAL LIVERMORE BEER
Eight Bridges Golden Nectar Draft $7
Wonderful malty aroma, that is classic to this style and is balanced with a noble hop character. This beer is crystal clear, straw colored with a brilliant white head. Its flavor is crisp and clean like a good pilsner should be.
Eight Bridges Hoppy Salvation Draft $7
This IPA has grapefruit, citrus, and west coast hop aromas. It is light reddish amber in color. This beer tastes bitter with a balance of caramel malts and has a medium to dry finish.
BEER
Coors Light..........$5
Blue Moon..........$6
Crispin Cider..........$6
Heineken..........$6
21st Amendment Hell or High Watermelon..........$6
New Belgium Fat Tire..........$6
Lagunitas IPA..........$7
NON-ALCOHOLIC DRINKS
Bottled Water..........$1
Soda Can..........$2
Coke, Diet Coke, Pepsi, Diet Pepsi, Dr. Pepper, Sprite
Snapple..........$2
Mango, Kiwi Strawberry, Fruit Punch
Snapple Iced Tea..........$2
Half n' Half, Peach, Raspberry, Lemon
Tea..........$2
Sparkling Water..........$3
Raspberry Lime, Grapefruit, Cucumber, and Lemon
Coffee..........$3
SWEETS
Chocolate Covered Oreos, The Tipsy Cakery (LIVERMORE)..........$5
Chocolate and Raspberry Truffles, The Tipsy Cakery (LIVERMORE)..........$5
*Please note that California law prohibits BYOB in this establishment. Outside beverages cannot be allowed.
Enter your contact info and request details below, and we will contact you with details about your private party!