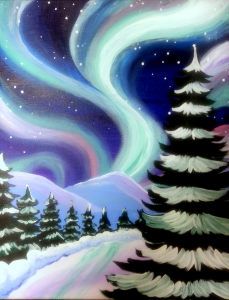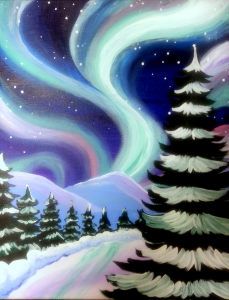 Little Brushes
Northern Lights Over the Pines
Monday, July 30
9:00 - 1:00PM
Learn more
The bright dancing lights of the aurora are actually collisions between electrically charged particles from the sun that enter the earth's atmosphere. The lights are seen above the magnetic poles of the northern and southern hemispheres.
Theme: Wonders of the World
Projects are on a 16"x 20" canvas.
Ages 6 - 12 Years
PLEASE SEND NUT FREE SNACK AND LUNCH.

Half Day Camp – Single Day
Price - $49 [9:00 AM - 1:00 PM]
Register Here - Add To Cart Now

Full Day Camp – Single Day
Price - $70 [9:00 AM - 3:00 PM]
Register here: https://www..../event/226196

Little Brushes:
A special painting class for kids! All the fun of a regular paint party, but set up specifically for little hands. Contact our studio for full details.