Kids Painting Parties in Lexington Center
Little Brushes® kids painting classes celebrate every child's creativity! We offer preschool parties, regular kids parties, teen parties, field trips and celebrations big and small. Types of Parties: Canvas Painting, Tote Bag, Vase, Mason Jars, Glow Parties and Wood Pallet.
Plan a party
How it works »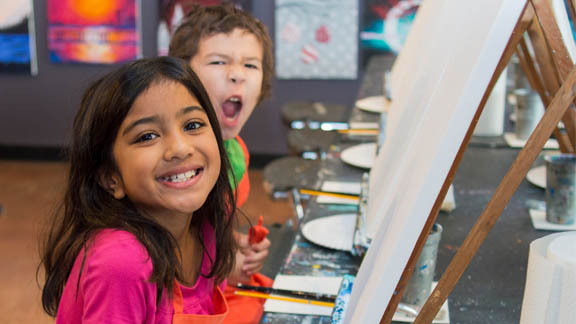 The easiest kids party you'll ever plan
Regular Kids Paint Parties 2.5 Hours - Our minimum headcount is 12 and maximum 40 seats. Age 6 to 12: Price $25 Per Person. Age 13 to 16: Price $30 Per Person. Glow Parties - All Ages $30 Per Person.
PreSchool Paint Parties 1.5 Hours - Age 4, 5 & 6. Package 1: $350 - 15 Kids. Package 2: $450 - 16 to 20 Kids. Package 3: $550- 21 to 25 Kids.
Kids ART CAMP: Summer, Winter and Spring. Age group 6 and up. Time: 9:00 - 1:00 PM [Half Day] OR 9:00 - 3:00 PM [Full Day] - Registrations are available as follows: Full Week - $225 [Half Day] OR $325 [Full Day]. Single Days - $49 [Half Day] OR $70 [Full Day]. Additional ART workshop are also available during school holidays like Columbus Day, Veteran's Day, Professional Day, Rosh Hashanah, Yom Kippur, Martin Luther King, Jr, President's Day.
Painting Parties For Kids
Little Brushes parties build confidence and teach creative skills for kids of all ages.
Paintings Just For Kids
From funky to flowery, from adorable to awesome, from sweet to sporty, our kids painting library has over 100 paintings made for children's styles and skill levels. Want something that's extra special? We can design a custom painting for your child's party!
How It Works


Book the party
Tell us what date you'd like so we can make sure our schedule matches yours. Then book the event with a refundable deposit.


Customize the Party
Let's talk! Tell us your party plans so we can get the setup just right. And check out all our kid's paintings to find one that fits your child's personality.


Show Up and Party!
Have your guest arrive at least 15 minutes before painting begins. All your guests have to do is show up and have fun.
How Can We Help?
We want to make this a party to remember! Feel free to email us or give us a call so we can get the details right and plan accommodations for any unique needs.