Team Building with FirstFuel!
Pinot's Palette Lexington Center recently hosted an awesome team building event for the great people at FirstFuel Software! Check out some photos from the event!
Our Lexington Center studio offers great team building opportunities for your corporate event! Come make collaborative art with us while sipping a glass of your favorite wine! Pinot's Palette offers a unique corporate experience!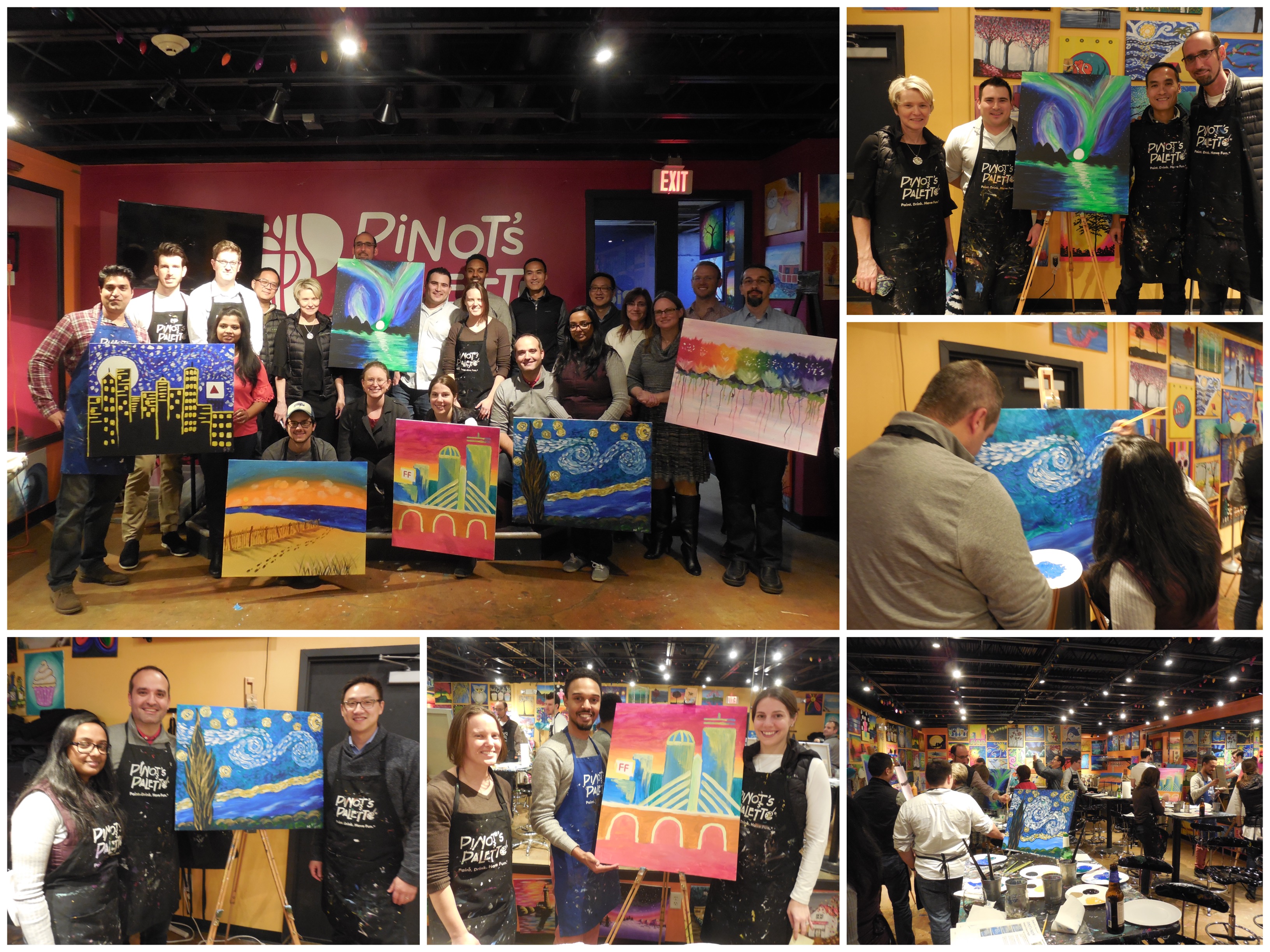 We offer tons of great ideas and opportunities for your company's next team building outing! For FirstFuel, we organized the large group into smaller sub-groups, and each sub-group painted one of our paintings on a 3 foot x 4 foot canvas! FirstFuel made larger sized paintings to hang in their office after this great event, and they did an amazing job!
At Pinot's, we offer tons of ways to bring coworkers together! By providing exciting alternatives to the "norm", choosing Pinot's for your next team building outing is a no brainer! Our studio is BYOB and we welcome catered events as well. Create amazing artwork to proudly hang at the office!
Bring your group together for a memorable event where guests can paint in a variety of ways:
-Individual Canvases
-Mystery Painting (the image is revealed as we go through the painting step by step)
-Musical Chairs (guests switch canvases for each step of the painting)
-Duel Mini-Canvases (8" x 8" size)
-Wine Glasses
-Glass Vases
-Tote Bags
-OR- Collaborate on
One Big Canvas (guests can be split into teams for multiple group paintings)
Jigsaw Painting (6 canvases come together like a puzzle to complete one large image)
We also offer custom sized paintings for larger groups, like we did here with FirstFuel!
Click the link below for more information on hosting your next corporate event with us here at Pinot's Palette!