Beautiful Original Gifts for Mom
Pinot's is excited to offer a variety of classes for Mother's Day - create the perfect gift for your perfect Mom! Or give the gift of creative experience and bring your Mom to a special painting event to celebrate her day!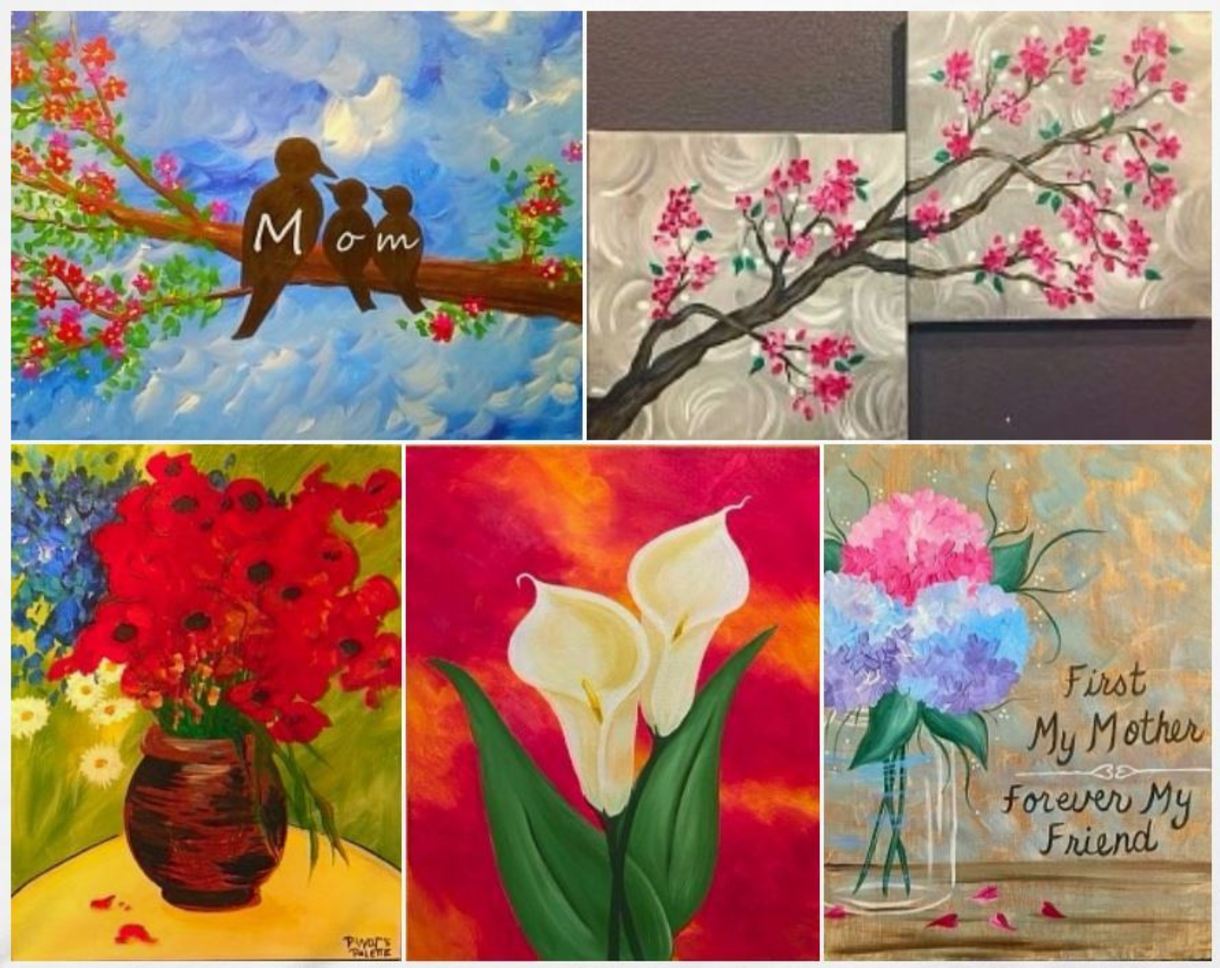 Sunday, April 23rd
"Mama's Birds"
$30, 2-4 PM
Customize your painting to reflect your family :-) Mom, Gma, Mama, Mom♥ - add birds or subtract them for a fantastic Mother's Day gift!
https://www..../event/161704
Sunday, April 30th
"Family Bouquet"
$35, 3:30-5:30 PM
A perennial favorite, flower bouquets are one of the best gifts you can give your mother on Mother's day. This year though, her bouquet will last a lifetime. Personalize it with family names and paint in some of her favorite flowers.
https://www..../event/155768
Friday, May 5th
"Tropical Haven"
$35, 7-9 PM
This painting represents the figurative "shelter" provided by a mother's love. It combines modern simplicity with classical, painterly techniques to create a decorative piece that can fit a range of personal décor styles.
https://www..../event/157619
Sunday, May 7th
"Project Pet"
$49, 3-6 PM
Bring your Mom to this unique class to create the perfect portrait of her favorite fur-baby!
https://www..../event/157167
Thursday, May 11th
"Hydrangeas for Mom"
$35, 7-9 PM
This is a beautiful gift with a special message that anyone can paint for someone special in their life.
https://www..../event/157667
Saturday, May 13th
"Always & Forever"
$35, 4-6 PM
There is no one else quite like her! Whether your fondest memories are from your childhood or just yesterday, one thing is certain: a mother's love is forever and always…
https://www..../event/157634
Saturday, May 13th
"Van Gogh's Daisies and Poppies"
$35, 7-9 PM
"Let life be beautiful like summer flowers..." -Vincent Van Gogh
https://www..../event/157668
Sunday 05/14
"Breathtaking Calla Lilies"
$35, 11 AM - 1 PM
This vibrant background really sets off these breath taking calla lilies.
https://www..../event/157699
Sunday, May 14th
"Two for One Cherry Blossom Branch"
$30, 2-4 PM
Each canvas is 16 by 20 size. Perfect event for Mother & Daughter or Best Friends or Couples! Age 8 and up welcome.
https://www..../event/157630
Paint. Drink. Have Fun with Mom!