TrollsTopia For The Kids This Summer!!!
Get colorful at the TrollsTopia Paint Party with Poppy, Branch, Val Thundershock and Tiny Diamond!
Join the land of TrollsTopia for the Paint Party Event of the Summer!  Paint one, two, three or all the Trolls to complete a colorful series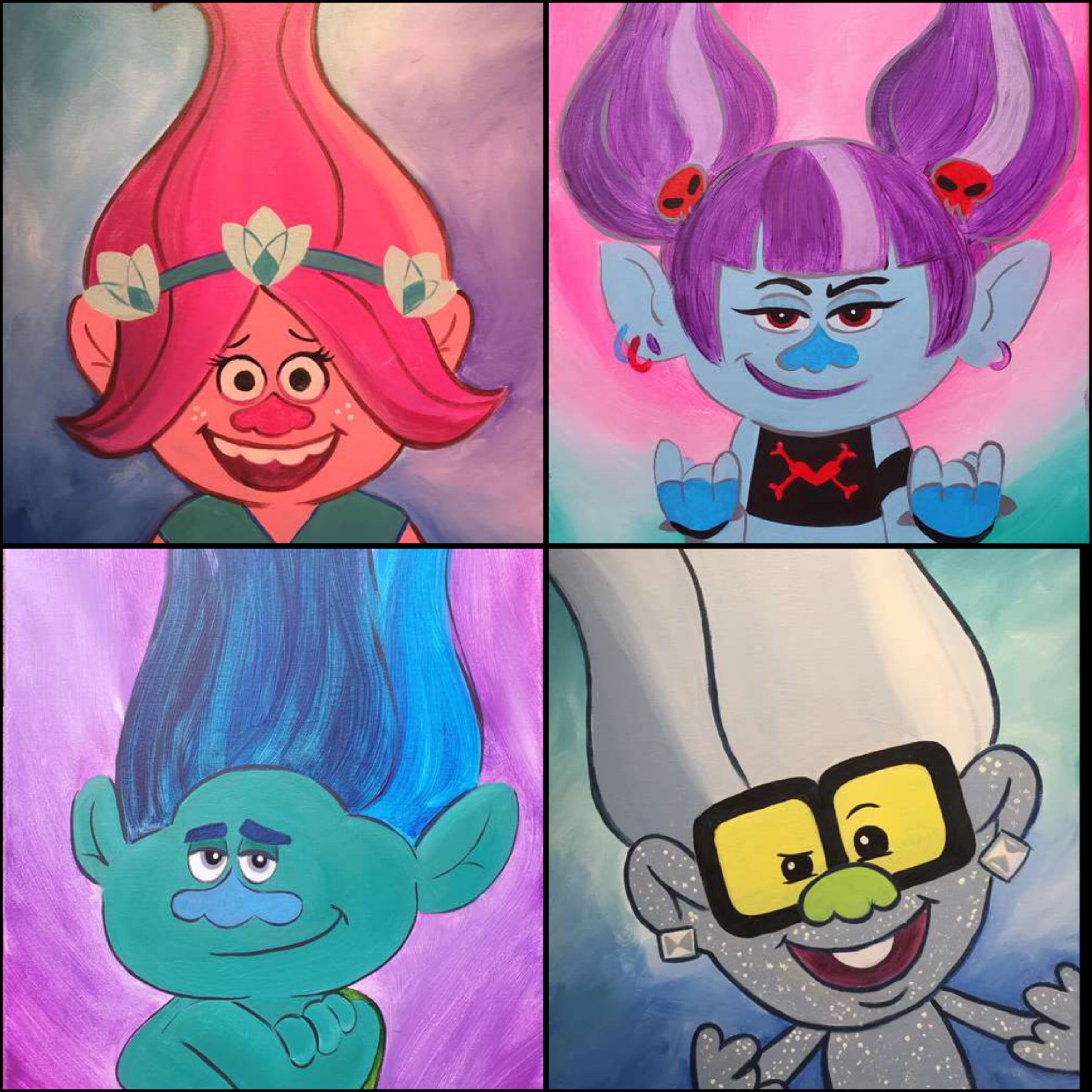 In 29016 our worlds were made just a little brighter by Poppy and her troll friends. We were all beyond excited to be re-introduced to the big-haired gang in 2020 (when we needed it most), this time learning that there are MANY differnt trolls out there!
Here's at Pinot's Palette, we LOVE the 'Trolls' franchise BUT we also love our 'Little Brushes' classes too!!! These classes are the perfect combination of the two things we really enjoy: Teaching kids to paint and painting fun things like the 'Trolls' characters!
If your child has neever attended one of our kids' classes, this is a great opportunity to try one out! Not only do they have choice of painting from hoem of in the studio (whichever you prefer and is most convenient for you), but they'll be painting something they really like: Trolls!
— ALL ABOUT TROLLSTOPIA —
Paint from the comfort of your own home with the ease of our virtual classes! The price is jsut right, coming in at only $15 for the 2 hour class and you can paint and have fun with friends and family at home!
Paint your favortie troll or paint them all to display together for the ultimate fans!!!
*** VIRTUAL CLASSES ***
June 10 - Poppy
https://litt.../class/544698
June 11 - Branch
http://littl.../class/544693
June 12 - Tiny Diamond
http://littl.../class/538629
June 13 - Val Thundershock
https://litt.../class/538630
*** IN-STUDIO CLASSES ***
Join us in the studio as we paint together while we listen to music and have a lot of fun! Bring friends to create with you and make some great memories to always treasure!
June 28 - Poppy
https://litt.../class/544603
June 29 - Branch
http://littl.../class/544604
June 30 - Tiny Diamond
http://littl.../class/544606
July 1 - Val Thundershock
https://litt.../class/544607
ADULTS:
Keep our classes in mind for something fun and unique to do with loved ones this month and into the summer!
From beachy landscapes and colorful flowers, to mountainscapes, moonscapes, and fun animals, we've got something for everyone!
*View our FULL calendar on the link at the bottom of the page…
Did You Know?
Painting classes have tons of benefits pertaining to mental health:
https://www....paintingclass
We hope you'll keep our painting classes in mind as a great way to spend time, too. We're always here to help out with anything you need, including any questions you may have. Thank you all so much for being there for our small Federal Way business and we can't wait to see your smiling faces back in the studio soon!
Stay safe, stay heathy, and continue to support your small local businesses in the King County area… and all over Washington State!