CALLING ALL ARTISTS!!!
Are you a talented painter? Are you outgoing and love being in a high energy environment?
Do you want a job that's fun and makes people smile? If so, this might be the position for you!
Pinot's Palette, a leader in the paint-and-sip industry, is opening a new location in Elmhurst, IL.
We are looking for talented and fun art instructors. Customers will follow your instruction while they paint on their own stretched canvases with acrylic paint.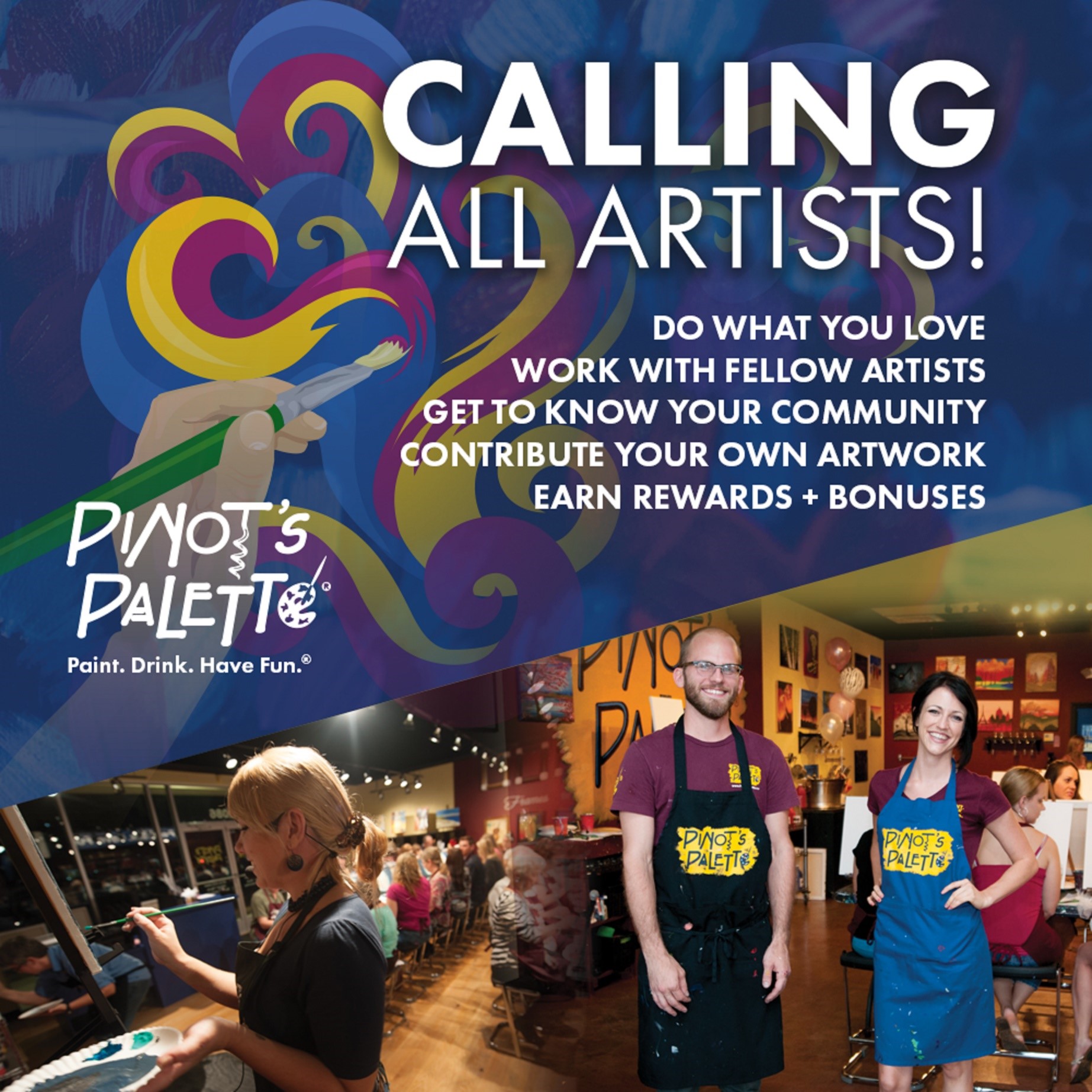 Responsibilities include but not limited to:
• Creating & developing paintings to be taught in classes and used for promotional items
• Developing & executing detailed art instructions
• Build your own Pinot's Palette portfolio! Participate in our national gallery of paintings and
earn ongoing cash or "talent rights" for the ongoing use of your paintings nationwide.
• Instructing customers during class in an energetic, clear and well-paced manner while
encouraging creativity and foster a relaxed, fun atmosphere
• Assisting customers and staff member(s) to ensure smooth class flow and promote customer
painting success through teamwork, positive attitude and a bit of humor
• Bartending
• Set up before class and clean up afterwards.
• Work mobile and off-site events at schools, festivals and other event locations
Required Skills/Abilities:
• Ability to design and execute quality, acrylic paintings in various painting styles
• Proficiency in Microsoft Word (PC or Mac)
• Basic computer skills, internet and social media knowledge
• Public Speaking or performance skills (comfortable speaking on a microphone)
• Time management and communication skills
• Reliable transportation
• Reliable computer or cell phone with internet access
• Must be available to work evenings and weekends (we offer flexible scheduling)
Required Education/Experience:
• College Degree in Art or Design related field preferred.
• Some experience leading a group of people (classroom or otherwise) is strongly preferred.
• Some experience in customer service is a must - we are very big on providing an excellent
customer experience!
To Apply, Please send an email Elmhurst@Pinotspalette.com:
Subject: Artist Resume
• A brief description (cover letter) on why you would be a perfect fit for Pinot's Palette
• Your Resume
• 4-5 images of your original paintings
• Availability