Team Building - Booyah!!
Our paint parties spark collaboration and leave your team inspired and ready to create.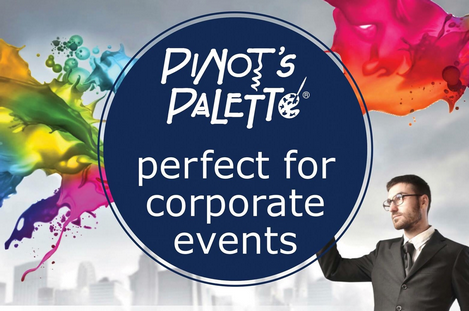 Sometimes the best way to improve productivity is to get out of the office. It great to be able to hang out with your co-workers and not have to talk about work. Pinot's Palette - Ellicott City has a lot of great ways to encourage team work, trust, cooperation and just plain fun .We had one group create a large painting out of several small paintings. It turned out fantastic. We pulled a couple of tables together, everyone was assigned an area and they worked in harmony to produce a beautiful piece of art to hang in the office. How would you like musical chairs? Everyone starts with a blank canvas and at various times, you get up and go to the next canvas. Talk about trust! When it was time to move, they had to trust their co-worker wouldn't ruin what they had started. Big or small, we can help you enjoy a break from your hectic schedule and build a better team.
Investing in team building activities is a morale-booster. It demonstrates that management is invested in the entire team – not just the star performers. And, many team building events include an element of stress-busting. Whether it's a 5k, massage, paint and sip event or kayaking trip, there are lots of great activities to help employees hit the reset button and take a break from work stress.
Every team has different group dynamics and personalities, which you'll have to factor into your selection of team building activities. We've written quite a bit about good team building ideas and how to choose one that's right for your group. Check some of them out here:
https://www....team-building
The fun, relaxed nature of paint and sip is great for employee engagement. It's also an incredible stress reliever! Most Pinot's Palette- Ellicott City has corporate event options for most group sizes, bartending and other services often included.
https://www..../ellicottcity