Paint Your Pet
Whether you have a dog, a cat, a snake or a horse, pets instantly become part of our families. We all love our little critters, so why not take some time to truly honor them. After all, we get portraits of every other loved one in our families...so why not our beloved pets!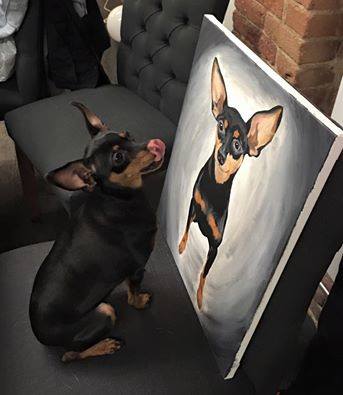 There are so many reasons we love our pets-
#3 They Keep us healthy both mentally and physically
When you have a pet, you have a purpose. Something to take care of and something to invest in, that means walking, playing, feeding and loving--if your stressed, it's a proven fact that owning pets lowers blood pressure.
#2 They are the Cheapest Shrink Around
When you're feeling down and thinking no one loves you, you always have a "friend to listen" even if they can't talk back. But sometimes that is even better!
#1 Love!
They wait at the door when they know you're coming home. They dance for you with excitement when they see you. And they're always deliriously ecstatic to see you!
So--why not honor our beloved pets and paint a portrait of them to hang on the wall for eternity? Well, here's your chance.
Paint a portrait of your pet at Project Pet. Once you sign up for the painting, email us a high quality digital photo of your pet (one pet per canvas, please). Each photo will be transferred onto a 16"x 20" canvas. Our talented artists will walk you through the steps to create your very own Pet Portrait!
Pet photos are due by August 25, so be sure to sign up early! Photos should be submitted to us at EllicottCity@pinotspalette.com. Please include your full name with the submission. All photos will be edited to remove background and any other objects unless you direct us otherwise.
Our editing process begins on August 25th, therefore, refunds cannot be given after that date.