Kids Camps at Pinot's Palette
Fostering creativity is just good for your child's development. Who knows, maybe it will even increase the chances of them becoming the next Picasso. Being creative and having that outlet helps your child develop mentally, socially, and emotionally the experts say.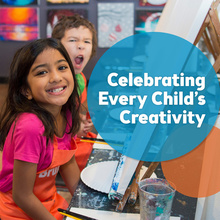 Creating art may boost young children's ability to analyze and problem-solve in myriad ways. As kids manipulate a paintbrush, their fine motor skills improve. By counting pieces and colors, they learn the basics of math. When children experiment with materials, they dabble in science. Most important perhaps, when kids feel good while they are creating, art helps boost self-confidence. And children who feel able to experiment and to make mistakes feel free to invent new ways of thinking—think our next Benjamin Franklin or better yet, Stephan Hawking. Ok, maybe that's a stretch, but why wouldn't we want to foster the development of our children and give them every opportunity to find their niche…maybe art is the niche.
4 Ways to Inspire Creativity
1. MESS is GOOD - Set up an art space where your kid can be free to experiment (and get messy!)—Go to an art studio (like Pinot's Palette) where mess doesn't matter.
2. Avoid giving direction - Don't tell your kid what to make or how to make it. Instead of saying, "Paint a rainbow," encourage her to "experiment with mixing colors using different types of brushes and paper," suggests Bushara.
3. Let it be - When a child finishes a piece, don't suggest additions or changes, advises the experts. It's important for a child to feel that what she's created is enough -- even if it's just a dot on the page.
4. ART CAMP at PINOT's PALETTE - let the kids get creative this summer at Pinot's Palette-Ellicott City. Choose from 2 weeks of camp, you can join Hero Week or Zootopia Week or why not do both! Or you may also register for ala carte single camp days within any week of camp.
ART IS COOL!!!
Each day we will feature one of our paintings in the morning, break for lunch and then continue into the afternoon with a unique craft. Little Brushes will be lead by professional artists specialized in children's art education.
$25 to paint just the two-hour painting. Please enter the code JustPaint18 to take $10 off the full day camp. Parents and sitters can paint, too!
Check out our event calendar to see the full week of paintings. Kids can paint just the painting from 9:30 - 11:30 or bring their lunch and stay for an afternoon of crafts until 1:00.