4th Street Fun!
For this blog post we are going to switch gears a little bit and talk about our friends and neighbors here on 4th Street, in Midtown Coeur d'Alene! We are extremely lucky to be in an up-and-coming neighborhood surrounded by a number of amazing businesses. We have galleries, thrift stores, shops, and boutiques, as well as a number of incredible places to get delicious food and drink! If you're looking for a fun day in our little Inland Northwest town of CDA, you could easily spend it enjoying what 4th Street has to offer.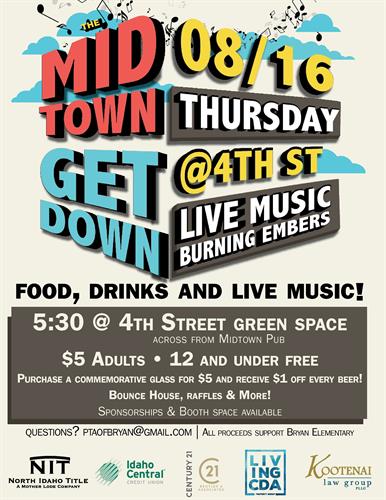 1. Begin your day with a delectable Beignet or Monte Cristo from Ten/6 or head over to The White Pine for a delicious Mocha with homemade whipped cream!
2. Next, browse the thrift stores for hidden finds, or explore some upcycled vintage treasures at Junk.
3. Enjoy a mouth-watering lunch of pizza or a Pesto Chicken Caesar Salad from Capones, or a delicious happy hour at the Midtown Bluebird.
4. This will leave plenty of time to create a masterpiece at an evening painting class with Pinot's Palette of course!
5. Finish the night off with a beer at Slate Creek Brewery up the street 😊
Alright, so this may just be my ideal day in Midtown, but it sounds pretty amazing doesn't it??
In addition to all of the daily fun that 4th Street has to offer, this Thursday, August 16, 2018, Bryan Elementary PTA is putting on the inaugural Midtown Get Down at the Ignite CDA Greenspace on 4th Street across from the Midtown Pub (between Junk and Paris).
This is a family friendly event with live music from Burning Embers and David Reed along with bounce houses for the kids. Purchase a commemorative glass and get $1 off beer from Daft Badger Brewery. Food vendors available on site. Admission is $5. FREE for kids 12 and under.
For more information visit the Facebook event page at:
https://www....393090249154/
Checkout our wonderful little neighborhood, and we hope to see you soon to Paint. Drink. Have Fun. with us in Midtown Coeur d'Alene!