Team Building
At Pinot's Palette, we have many options for corporate events and team building exercises that involve painting. Some may think there is not much benefit to team building but studies show that overall morale in the workplace improves significantly, as well as work performance.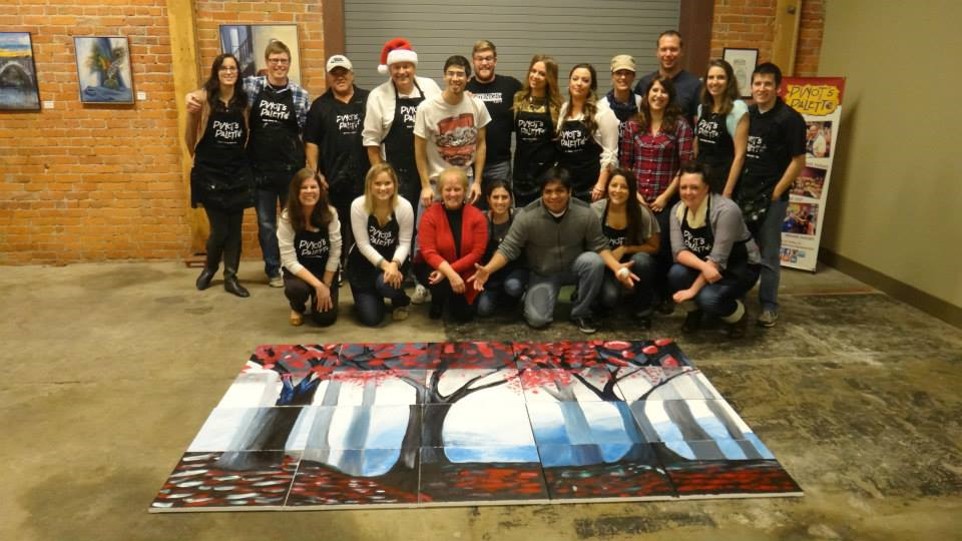 Learning how to work together with co-workers and anticipate their strengths and weaknesses can later be executed and utilized in the workplace. It also creates better communication, both verbal and non-verbal. Another thing team building can do is create a bond and respect for one another. The more you get to know someone and understand their story, the higher the chances of you trusting them. This will also boost everyone's confidence which will in turn make them feel valued.
There are many reasons that team building is important but one of the most important reasons is that it will create higher productivity, individual development, and more motivation.
At Pinot's Palette, we would be happy to help you with your team building activity. We have lots of different options:
• Regular Painting Class: Each participant paints their own masterpiece at the direction of a professional artist. At the end of the class, every person gets to take home their own painting! $35/person for a two hour painting; $45/person for a three hour painting.
• Mystery Painting: The final product is a complete surprise for the group! Same price as above ($35/person for a two hour painting; $45/person for a three hour painting).
• Musical Chairs: A painting is broken down into multiple steps. After each step, the participants change seats and work on a different canvas. By the end of the class, everyone will have contributed to each other's paintings! Same price as above ($35/person for a two hour painting; $45/person for a three hour painting).
• Collaborative: 4-5 people paint one of our paintings on a large 30x40" canvas (7 people maximum per canvas). You can either choose one picture that can be done across the canvases, or separate paintings on each canvas. We charge a flat rate of $200/canvas with a two canvas minimum.
• Jigsaw: Each person paints on their own canvas, and when you put all of the canvases together it makes one big picture! This can be done two ways -- on mini 8x8" canvases or on our regular sized canvases which are 16x20". $40/person for a two hour painting; $50/person for a three hour painting.
• Self-guided paintings: Painters follow step-by-step written instructions with supporting photographs to create their painting on an 8x8" canvas. This is a more laid back format and everyone works on a painting of their choice at their own pace; we have over 35 different paintings to choose from. $15/person with a 30 paid painter minimum.
• Custom Paintings: If you want to do one of the options above in a picture that we don't already have on our website, you can pay a flat fee of $150 for a custom painting by one of our professional artists which includes the initial sketch, two revisions, and the finished product.