5 Reasons why you should propose at Pinot's Palette!
We know how nervous you must be getting yourself prepared to ask your loved one's hand in marriage. It can be a struggle trying to find the most memorable way to ask someone to marry you, but KUDO'S to YOU for taking initiative! We just wanted to let you in on a little secret…Pinot's Palette LOVES to help with proposals! From tailored paintings and romantic atmospheres, to personalized photos and videography, Pinot's Palette will make you both feel like royalty!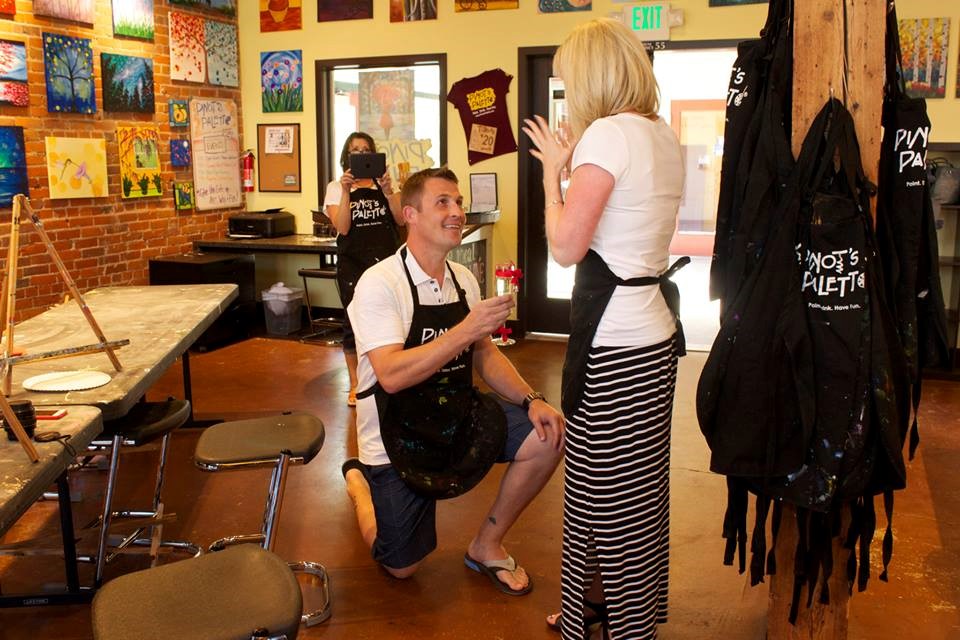 Still not convinced? Here are 5 reasons why you should allow us to help with your proposal:
1. We have many proposal ideas to choose from and can even help you paint a personalized sign to your liking!
2. We'd be happy to help with organizing any pre-paid food/catering services so you can focus on what's important, your proposal.
3. We'll set the mood and create a romantic atmosphere without letting the secret out of the bag.
4. We'll supply the wine -- no need to worry about supplying drinks, we've got you covered! What's better than a bit of liquid courage, anyway?
5. We'd be happy to take some photos or videos, FREE of charge!
We want you to create memories that last a lifetime when you come to Pinot's Palette! What better way to add to the memories than professing your love for your other half? Don't forget about us when you're considering the best place to pop the question. Feel free to email any inquiries to cda@pinotspalette.com, or give us a call at (208) 930-4763.
Happy painting everyone!