Reviews from Our Customers
Wondering what Pinot's Palette is like? Here are some of our favorite reviews from customers: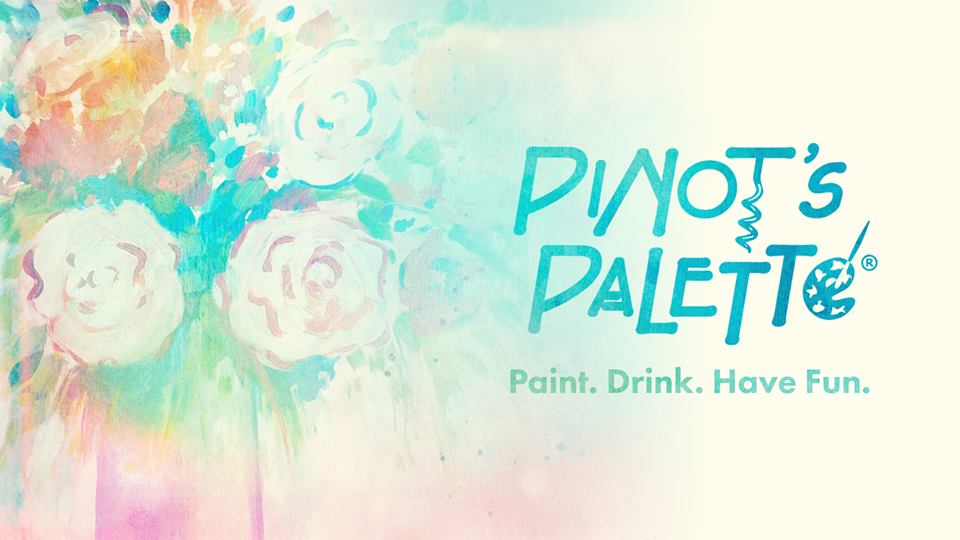 "Had a great time! Highly recommend it for any occasion, or just to get out and have some fun! Don't even need to be artistic, as there is step, by step, instructions! I'm hooked!"
-- Quella R.
"We have painted other places and we loved Heather! We also loved the room and special Mother's Day drinks! We will be back!"
-- Juli J.
"The teachers at Pinot's Palette are awesome!! I have been to a few classes both in Coeur D Alene and Spokane and the teachers have always been very helpful and instructions are very easy to follow. Always a fun night out!"
-- Jessi N.
"This was my first time painting since high school! OH MY GAWD!!! I had a blast! The group of painters was a kick and the painting crew was fabulous! I will def be coming back for more painting and entertainment! Loved it!"
-- Jenifer S.
"Loved the atmosphere and guidance. An awesome celebration of people and their inner self being put on canvas. This is truly an expression of yourself. Everyone has different feelings that shows in their personal art. LOVED IT."
-- Candace W.
"We will be back! One of our favorite date nights in 11 years!"
-- Krysta F.
"The staff were wonderful. They accommodated the crowd as needed. They were very helpful in making sure our experience was perfect. Thanks for making someone who isn't an artist comfortable enough to enjoy painting."
-- Debbie D.
"What a great place to show up with a few friends and enjoy a fun activity off showing off your artistic skill, no matter how limited. The end result may pale in comparison while at the studio, but get it home and hang it on the wall, and it looks like a masterpiece. Thanks for the fun evening."
-- Iris L.
"This has been by far one of the most enjoyable experiences we have had. The employees were friendly, informative and ready to help at any time. Thank you for such a wonderful experience."
-- Anna C.
"We had such a great time. Everyone there is awesome friendly and so helpful. My husband also had a great time. He wasn't too sure about doing it but he was singing away and smiling. So thank you all very much."
-- Tracy K.
"A great Girl's Night Out !! I didn't think I could paint, and my sweet hubby texted me while at work today " I'm looking at your painting, you have real talent ! I love U " so are you kiddin' ? I'll be back (-:"
-- Susann D.
"It was my husbands and my first time, we went to celebrate our 9th wedding ann. and we had the best time ever. we both have never done painting, it was out of our comfort zone and we had a wonderful night. Everyone was enjoying the night and mingling with people around them. The staff was very nice,encouraging and upbeat. We will definitely be back for more events!!! Thank You so much for a wonderful night!!!!"
-- Heather D.
"Relaxing atmosphere, friendly staff and patrons, good mango mumosas, and paint!!! What could be better?? :)"
-- Sheila P.
"Due to not me not having any artistic ability, I was very nervous for this class. However, I found it to be super fun and a big learning experience. The staff was extremely helpful and I didn't even notice the time passing! Thank you all so much. :)"
-- Elizabeth M.
"Our instructor was amazing, she kept us laughing and did a great job leading us in the painting. I've been to a few different studios doing these types of classes and this way by far the best one I've been to. Thank you for a great night."
-- Stacy H.
"Such a fun night! We were celebrating my daughter in laws 26 birthday with four others! We had wine, beer and I brought in crackers and cheese. The instructor was great and we laughed non stop! The music was spot on and we sang...almost too loudly! Oh and our paintings are priceless!!! Thanks So much!"
-- Tery G.
"Best experience ever. I was deflated at a mistake and the staff encouraged me, showed me how to fix the mistake, let me stay after to finish up. I thought I was going home with an incomplete disaster but actually left with a painting that now hangs on my wall framed 🙂. PS loved the music too!!!"
-- Sherry M.
"This was a fabulous experience especially with a group as large as ours. The overall feedback from the group was that it was one of the best experiences they have had. Thank you for making our holiday gathering one of fun and one we will always remember."
-- Dana A.
"We had such a great time! Lots of laughing, great music, fun atmosphere and you went above and beyond making my cousin's birthday wonderful with the gift and singing happy birthday and to top her night off another painter kindly bought her a drink. It was a great night and we can't wait to go again! :)"
-- Mariah D.
"My mom and I went tonight and had such a great time!! I'm so happy with the entire experience and will certainly be back. The instructor was great, the wine was great, and the crowd was lively and fun."
-- Kellie G.
"I wish I could remember her name, the artist was hilarious and so much fun! I've been to a few different studios, but this was by far my favorite! Thanks for a great night, I will definitely be back!"
-- Stephanie M.
"This was a lot of ours first time experience and we all thoroughly enjoyed it! Your staff was awesome and helped make our party as fun as possible. Would definitely book another party here."
--Kimberly W.
"I thoroughly enjoyed this experience and will definitely do it again. My painting would have probably turned out better if I could have stopped laughing! I hope to get other friends together soon for another night of painting and sipping. What a great idea this is!"
-- Kathy S.
"The talented teachers are patient and amazing here and I have never been disappointed. Very pleased with every aspect of class and already have more scheduled in the future."
-- Candace B.
"That was my first time doing a class like this. I had a really good time and even impressed myself with my painting.. The instructor made it easy to do."
-- Gayle R.
"This was my first time going to pinot's palette and we had so much fun. The instructor and assistants were hilarious and very helpful. I am not artistic whatsoever but my painting came out beautifully because of how great the instructor was when guiding us all through it. I will definitely be back, thanks so much!"
-- Jessica R.
"This was a date night for my husband and I, this was our first time at Pinot's Palette. It was a nice change from the out to dinner/movie routine. We will certainly be back and we will bring friends!!"
-- Erica N.
"This was my third time to Pinot's Palette. It was a Friday night and I had a blast! Lots of drinking and singing! I brought a friend who had never been before and she had a fantastic time as well! I'm signing up for more!"
-- Jocelyn H.
"The wine selection was great. The teacher was friendly, acommodating, and encouraging. The assistant was helpful, courteous, and endearing. Our experience was nothing short of amazing. Will return! Can't wait for to sign up for our next class."
-- Colleen L.
"There were three of us that chose to do red poppies instead of purple, and the instructors were most helpful in picking out which paints to use overall, and helped us during the painting using the correct colors. The instructors you've hired are fabulous. They truly seem to love their job. My poppies came out beautiful, and I am looking forward to doing more flower paintings now."
-- Judy Ann F.
"This was my first experience, and it won't be my last! In the beginning I couldn't imagine how someone would be able to walk me through this painting, but it worked, and I am a happy customer. Thank you!"
-- Jessica J.
"I had so much fum! I have always wanted to take one of these classes but was nervous because I can't paint at all! I was so surprised with how well my painting came out. Plus the environment was fun. Me and my honey had a wonderful date night. I will definitely be coming again!"
-- Deanamarie H
"The artist was fantastic and personable. The person working the serving area was AWESOME and really kept my mom and I stocked up on supplies, and wine! It was SUPER FUN and I cannot wait to do it again! Thanks for a fun night!!"
-- Coleen M.