Meet the Owner!
Hi! My name is Jackie Casey and I'm the owner of the Pinot's Palette Spokane and Coeur d'Alene studios! Our studios are 100% locally owned and operated. Read below to learn a little more about me!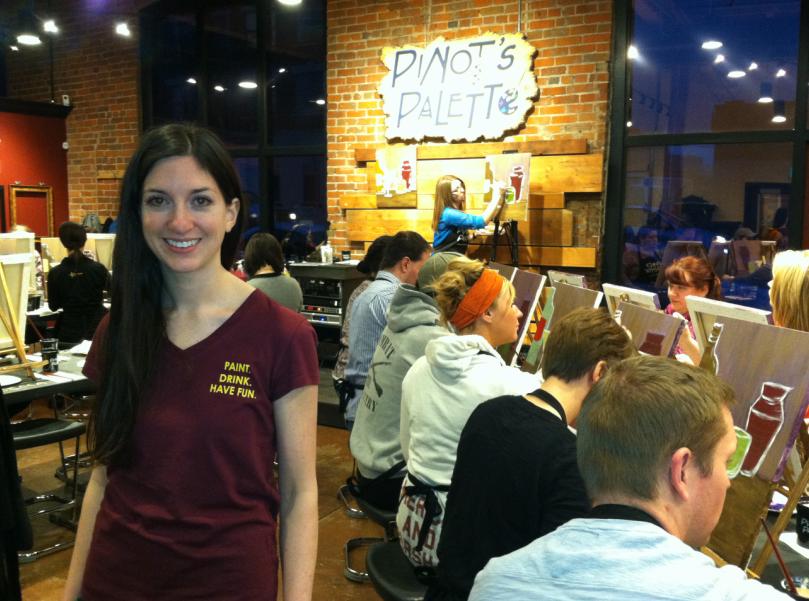 Nice to meet you! Many of you already know me from coming to classes, but I thought it would be nice to introduce myself for those of you who are new to our paint and sip studio. I was born and raised in Montana and graduated from Montana State University Bozeman with an Elementary Education degree. My goal was to teach 1st grade (I love being around kiddos), but life had other plans for me. After graduating college, I moved to Tulsa, Oklahoma with my boyfriend and co-owner, Jeff Hansen for his engineering job. While living down there I got introduced to painting with a twist.
You'd think that as the owner of two painting and wine studios, I would be a professional artist, right? Wrong! I was a complete nay-sayer. I have never had much artistic talent and was self-conscious to put myself out there, but a group of girlfriends convinced me to try out Pinot's Palette - Cherry Street for their grand opening. I could not believe not only how much fun I had doing something different, but how awesome my painting turned out (if I do say so, myself)! We painted a vibrant peacock and I had a great time putting my own personal touches on it (girl peacocks need eyelashes, of course).
I went a few more times before looking into opening up a studio of my own. Jeff and I were anxious to get back up to the Northwest and my parents had lived in Hayden, Idaho for the last ten years so we were very familiar with the area and loved everything about the Inland Northwest, from the weather to the people to the outdoor activities, and decided to relocate to be closer to family here, in Great Falls, MT, and in Seattle, WA. We have not looked back since! CdA has become a part of us and we love living downtown!
Our Spokane studio was opened back in February of 2014 and was the first paint and sip studio in the area. People looked at me like I was crazy when I told them what my business plans were, but luckily the community absolutely embraced us and we have had such a wonderful time serving the area for the last three years.
When I'm not bartending or painting at Pinot's Palette, I love snowboarding, travelling, wine, local microbrews, eating out, boating at any of our gorgeous lakes, hiking, taking our golden retriever Nalah to Tubb's Hill, and working out at our gym in Dalton Gardens, Wildland CrossFit. Come say hi the next time you're in -- I love getting to know our regulars! Cheers!