Meet Candie!
We are doing a new blog where we are featuring our Connoisseur members from our Pinot Perks program. Candie is our first customer spotlight! Candie has been coming to our studio since November of 2015. We absolutely love having her in class -- her positive energy is contagious! I sat down with Candie and asked her a few questions.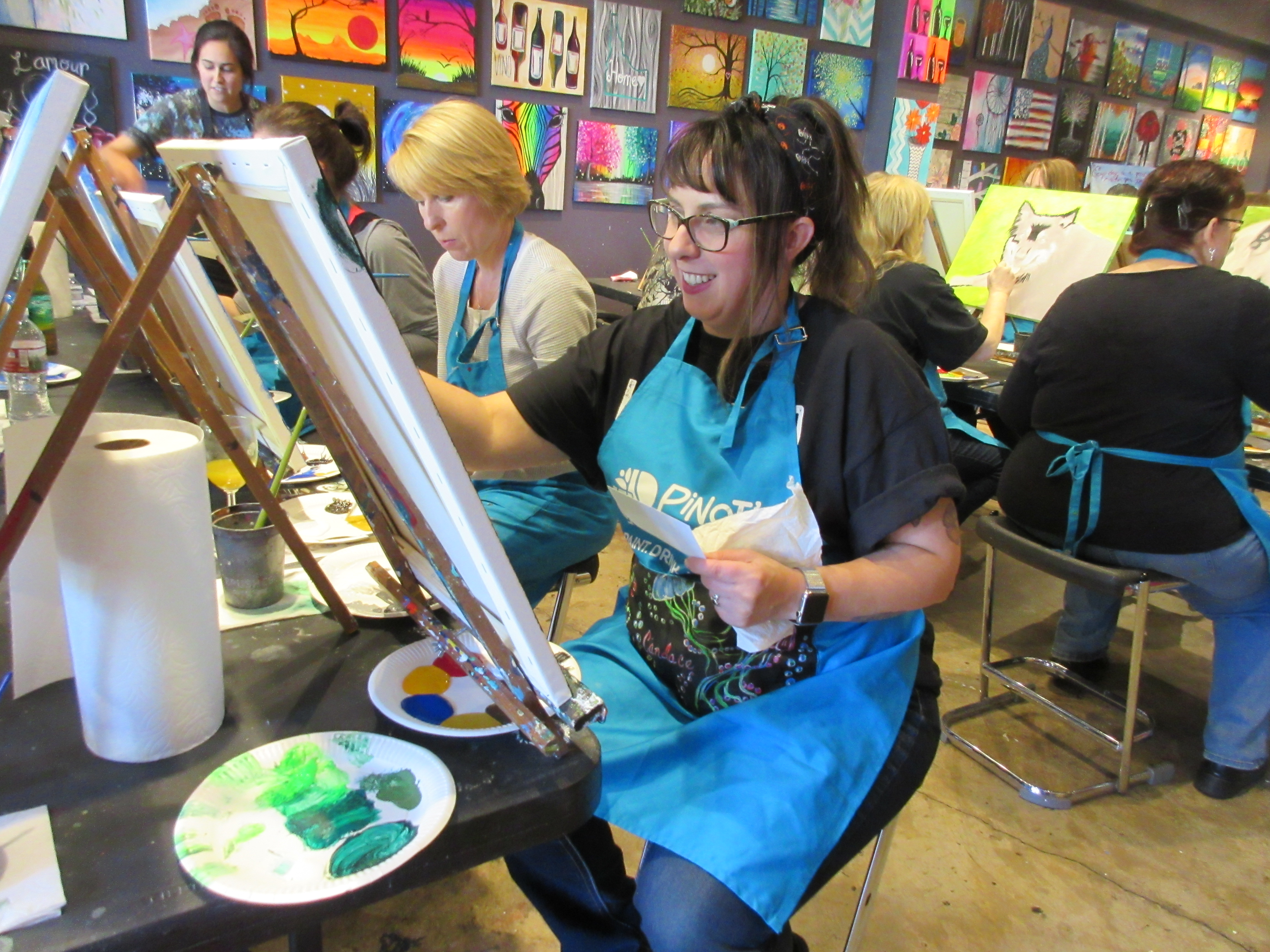 Tell us a little bit about yourself!
• I've spent most of my life in Spokane. I moved to Rathdrum about four years ago and have worked in the medical field in urgent care for 21 years. I've always had an appreciation for arts and diy projects, it's always been a hobby of mine.
• I have a small 5 acre farm with lots of animals, including goats, chickens and horses. I love animals.
• I love to do a lot of 4H stuff with my kids.
What is your favorite thing about Pinot's Palette?
• The staff are amazing. I love coming here and having everything all ready to go as well as having the support of the staff. I love the environment and the music that you play between the steps. There's nothing I don't love about it. But if it wasn't for the staff, you could just do it at home. The way that they teach you and give you skills makes it such a fun experience. I love to see how they do things, I always think "that is so clever!"
What is your favorite painting you've done at our studio?
• It would have to be one of the Paint Your Pets. I've done so many that it's hard to recall. I think it would be Falkor which was one of the first ones I did that wasn't a traditional animal so I guess that one stands out more than the others.
• Candie has also done Yoda, an Ewok, Chewbacca, a unicorn, an octopus, a horse, goats, a frog with a crown on his head, etc. We are always excited for the next Project Pet to see what Candie will come up with next!
How many classes have you done at Pinot's Palette?
• (Laughs) Lots! I know the first one I did was the white trees, I've done a beach one, a date night with my husband, a coffee one, a lily one, an Idaho-themed one, a really neat bird one where we painted with a palette knife, a Van Gogh style one, a few black light events (a witch, a black light Boo one, a black light with a tree), a fundraiser for Hurricane Harvey, a fundraiser for Kootenai Humane Society, a unicorn, and of course all of the paint a pets. I also did a Halloween one with a cat sitting on a tree. Oh! I did another goat one, too!
• I do a lot of the paint your pets as gifts, too.
What do you do with all of your paintings?
• Gifts. I like the frames they have here, and put the seasonal ones in frames. I like to interchange and keep seasonal artwork up on the walls. But the majority have been gifts. It's so personal, you can't just go out to the store and buy something like that.
What would you tell someone who has never been to a class?
• You need to try it! You would be pleasantly surprised. It goes back to the staff how they walk you through the process step by step. You would be surprised at what you're capable of. Just try it! You'll always learn something, even if it didn't turn out the way you thought it would, you will always learn a technique, method, or something you can try for next time.
• I talked my husband into coming to a date night. He says that he can't draw a stick figure. But he came because I wanted to do it for Valentines Day and he surprised himself. He had a great time and came back to a second class.
• People can do a lot more than they give themselves credit for. Don't be so hard on yourself!
• Now that my daughter is old enough, I'm able to bring her to classes. I've got her hooked as well. It's a great way to spend time with friends and family!