Cool Job Alert! - We're Hiring!
Cool Job Alert! - We're Hiring!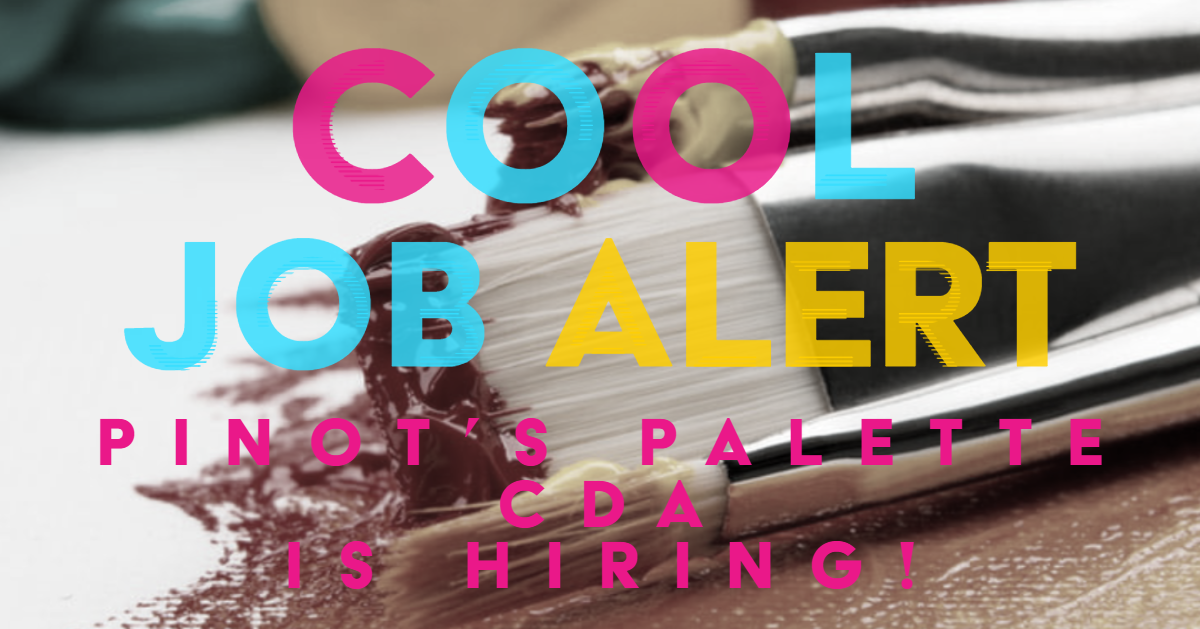 Artist Entertainer Job Description:
Pinot's Palette – Coeur d'Alene, ID
Part-time
Wanted: Artist Entertainers- Pinot's Palette CdA
Pinot's Palette, a leader in the paint-and-sip industry, has an immediate need for some fun charismatic art instructors! If you have a talent and enjoy entertaining and guiding others in art, this is a job for you. Customers will follow your instruction while they paint their own masterpieces. The ideal person for this job will have an outgoing personality, strong work ethic, eagerness to learn, positive attitude and the ability to work quickly and energetically with our team of artists.
Responsibilities include:
- Instructing customers during class in an ENERGETIC, CLEAR and WELL-PACED MANNER while encouraging creativity and creating a relaxed, FUN atmosphere
-Assisting customers and staff member(s) to ensure smooth class flow and promote customer painting success through teamwork and positive attitude.
-Cleaning and up keep of the studio and supplies.
Training as a Bar Server, serving Wine and Beer
Working Mobile and Off-Site Events at local festivals.
Required Skills/Abilities:
-Ability to execute quality, acrylic paintings in various painting styles.
-Public Speaking and entertainment skills (comfortable on stage using a microphone)
-Time management and communication skills. Must be able to listen to and follow directions
***MUST BE RELIABLE AND AVAILABLE NIGHTS AND WEEKENDS
To Apply:
Please Email cda@pinotspalette.com with the following:
-Your Resume
-Three or more images of your original paintings
Job Type: Part-time
$14.00 /hour