B-I-N-G-O!
We had the pleasure of playing Bingo with our painters in June and July. One of the Bingo squares was, "Tell us something you love about Pinot's Palette." Here are some of the responses our customers wrote: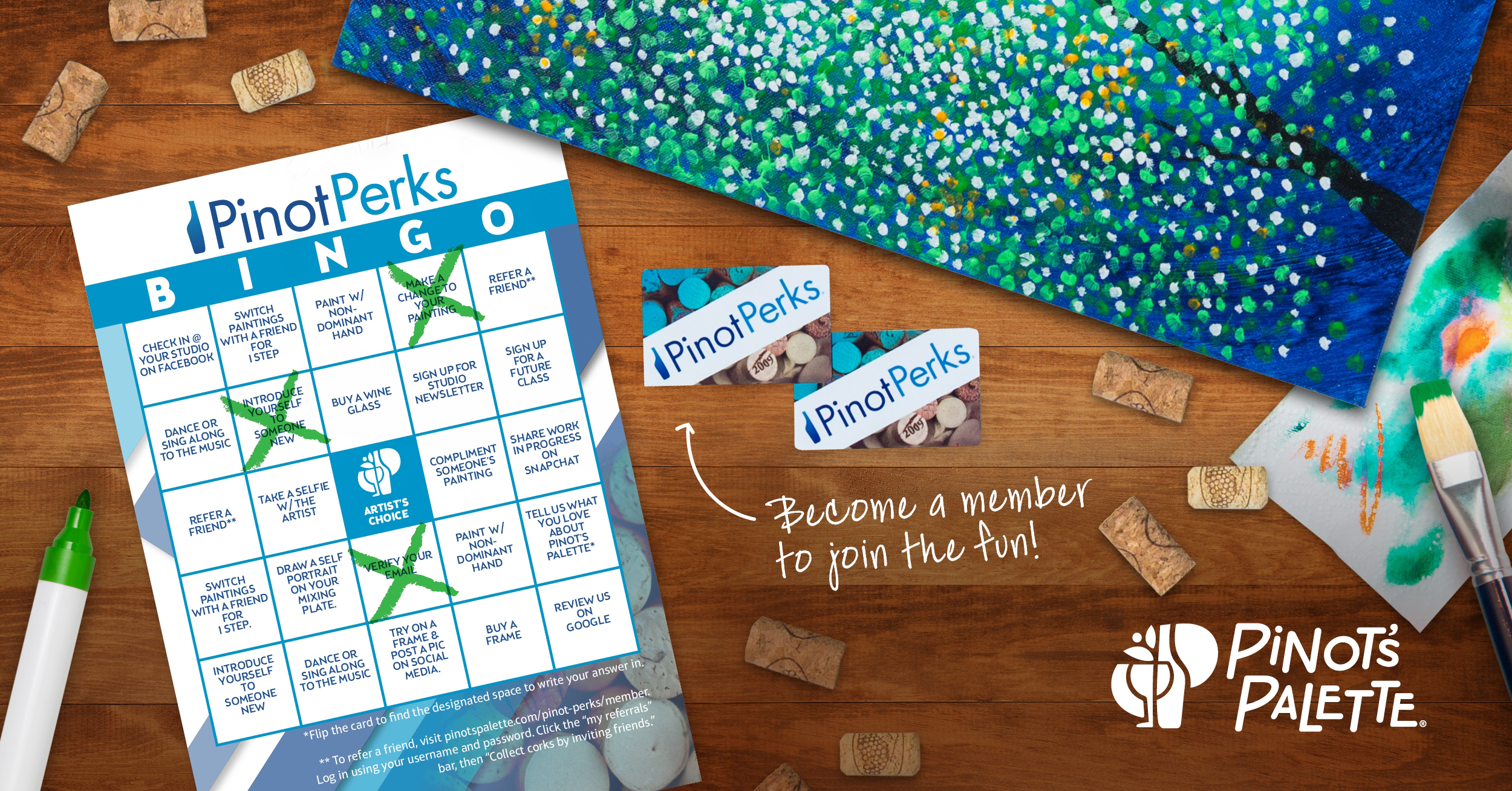 "The paint & wine = so much fun" --Sarah H.
"I love this place! I always have so much fun!" -- Emily W.
"Fun, good wine. Great atmosphere, what a wonderful way to have fun and be creative with friends." -- Callie E.
"fun fun fun" -- Debbie H.
"Friends and fun – The atmosphere is always fun!" -- Jennifer D.
"Fun with my family." -- Rachel H.
"Fun! I love meeting people and showing off my talents. 😊" -- Sarah F.
"Sooo fun!" -- Betsy M.
"Loving time with my family ❤" -- Melanie H.
"I love this for my mommy night out! Thank you!" –Shannon M.
"Such a fun place to go after a long week and unwind. Love to learn new things to paint." –Debbie M.
"We always have fun! #neverabadpainting" –Thalia C.
"I love the fun and laidback setting in the studio. It's relaxing to come in and be on the same level as all the other artists." –Delphia A.
"Cheers! A blooming good time!" –Robin B.
"Getting me out of my comfort zone- Fun with family and friends!!!" –Marcy G.
"The Instructors enthusiasm!" –Robin B.
"The Instructors!"😊 –Terra K.
"Very fun, nice way to get together w/friends for a fun night." –Karen S.
"Sing-a-longs!" –Katye H.
"The ladies who put this on!" –Kitty H.
"The fun artists and bright and cheery atmosphere." –Mari S.
"Great instructions, awesome creativity, and family atmosphere." –Sarah M.
"Fun staff! Super cute designs to pick from. Enjoyed bringing in snacks." –Stacie H.
"I love the fun vibe! And I love how everyone's paintings are unique and different. I want to paint all of the paintings coming up; they are all so cute!" –Tiffany G.
"Trish- so complimentary to all her "budding artists" and easy to follow instructions =, great music, can't wait to come again<3." –Sandi S.
"Fun, energetic, alcohol improves painting quality!" –Kyler S.
"Fun, engaging, and definitely exciting!" –Lorna H.
"I love the atmosphere and the staff here… to be creative in a fun environment is amazing." –Candie B.
"The staff are the best and totally friendly!" –Kaci B.
"Passion*Joy*Fun*Exciting*EVERYTHING!!!!" –Kelly W.
"Step-by-step help and the love in the room!" –Carrie S.
"Let's me be artistic and explore my "painter" side." –Stephanie O.
"Getting paint everywhere with friends." –Michelle B.
"So much fun! Such a sense of freedom to create after the first stroke of the brush." –Sandee R.
"Awesome paintings made easy to paint!" –Kyler S.
"I love coming to Pinot's because I just feel so relaxed and comfortable here. And I always have so much fun!" –Sam W.
"Very organized and lots of fun, fun, fun!" –Michele C.
"That I walk out feeling like an artist!" –Nicole B.
"Such a good time, love to bring our friends and family!" –Jessica H.
"It is so fun and relaxing. Love the atmosphere and people are all super nice! Yay!" –Maggie B.
"The best place! Couldn't love it more! <3" –Jorie S.
"All the fun messes and taking home a great work of art!" –Stephanie
"I loved the art and alcohol friendly experience. The atmosphere is friendly and wonderful! I would recommend to everyone." –Megan S.
"You get to make your own creation. It's fun to be able to hang your own work." –Jamie W.
"Great place to just be me with friends!" --Natalie H.
"I love the instruction for how to paint. Love the décor. Love the atmosphere." --Kim S.