How to Hang Art While Renting
Setting up your home to reflect your lifestyle and personality can be challenging when you are renting. Most landlords will not let you put holes in the walls of an apartment. Even if you are willing to repair the walls when your lease ends, most landlords will still not let you do it.
Does this mean that, as a renter, you are condemned to having the bland walls of your apartment staring at you day-in and day-out? Or should you kiss your security deposit goodbye because you have to hang your art and there is just no way to do it without putting holes in the walls?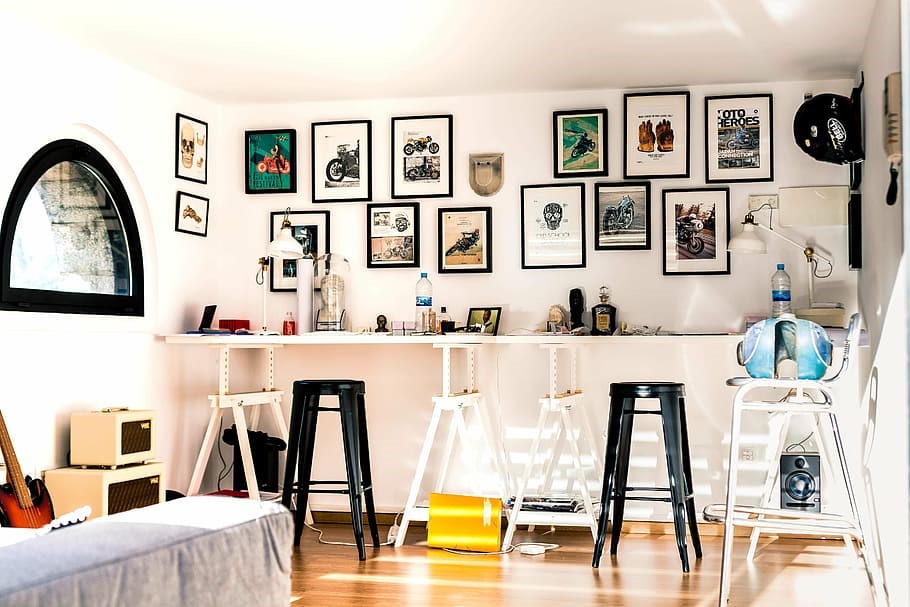 Fortunately, neither of these two scenarios is necessary. Even if a place is rented, you can still decorate it the way you want and hang up all the nice art you've been collecting. And yes, you can do it without violating the lease and losing your security deposit.
Below are some surprisingly smart and easy ways you can do this. Some of the ideas are far better than the traditional method of using a nail and hammer. A few will even make you wonder why you didn't think of them before. Enjoy!
1. Adhesive-backed tapes: There are several options under this category, the most popular ones being picture-hanging strips, hook and loop tapes, Washi tapes, and double-stick tapes. Each of these works differently and they can be used to hold framed or frameless art in place.
• Picture-hanging strips or command strips are formulated with a special adhesive that is sticky enough to attach firmly to walls or the back of a picture frame. Yet they are easy to remove from the wall or frame without leaving any damage. They are best for hanging framed art.
• Washi tape can be used to hold photographs or to create entirely new designs. Washi tapes are made from Japanese rice paper. The adhesive is only on one side of the tape, so they are best for holding frameless art or photographs to a wall. The remove easily.
• Hook-and-loop tape or Velcro works with the same principle as command strips, but unlike the strips, these come in rolls that can be cut to the exact length you want. They are very useful for hanging heavier objects like large framed photographs.
• Double-stick tape also uses the same idea as Velcro and command strips. But instead of two separate strips that lock into place, there is a single adhesive strip that is sticky on both sides. One side of the strip goes on the back of your frame or photograph and the other goes on the wall.
2. Adhesive hangers (command hooks): These adhesive-backed hooks are ideal for hanging items that do not have a frame. They can hold a great deal of weight and as long as you mount them on surfaces that are smooth and clean, they will hold for a very long time. Moreover, they will come off without leaving any residue behind. Just remember to let the adhesive cure before loading the hooks.
3. Monkey hooks: Depending on the extent of the no-holes-allowed clause in your lease, this may or may not be a good solution for you. Monkey hooks leave tiny pin-holes that are easily patched. The holes may not even be visible unless you are not close to the wall. Monkey hooks are J-shaped hooks you press into the drywall in your home. They can be pushed in by hand, but when in place the hook can hold as much as 50 pounds. Use them for framed and non-framed art.
4. Place art on tall furniture: There are many surfaces in your home you can use as locations for placing artwork and picture frames. Any surface that is tall and reasonably flat will serve, as long as it is against a wall or offers the frame something to lean on. You can place art on the top of a fireplace mantel, entryway table, console, kitchen cabinet, chest of drawers, bookshelf, or inside a built-in.
5. Lean in: Another way to display artwork to create a surprising effect is to simply stand it on the floor and lean it against a wall. This is particularly effective for heavy picture frames. As a matter of fact, art pieces like large vases and sculptures are best displayed by simply setting them on the floor.
Additional ways to display art
Other ideas worth trying include:
• Easels: A freestanding easel is a good way to display your art. Easels come in various designs. They may be three-legged or four-legged. They can be made of wood or metal. To add variety, you might also want to try using some easel alternatives.
• Tension rods: This will work depending on the type of art you are trying to display. A tension rod is a fancy name for a rod with the two ends propped on windows, cupboards, or something in the room. This method works for items that are not heavy.
There you have it. Ideas on how to hang or display artwork in your rental without compromising your security deposit.
This amazing blog post is brought to you by Five Star Property Management
https://rentfivestar.com/