Date Night at Pinot's
Pinot's Palette is a great place for date night!! Whether you're married or just starting to get to know one another, we have so much to offer you.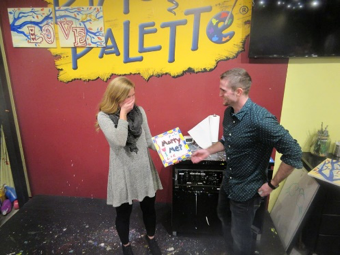 If you're just starting out, our studio creates a fantastic environment for conversation and getting to know one another. Learning to paint together is a great bonding experience, and a great way to keep the conversation going. You both end up with a keepsake from your evening, plus the memories of making something together.
Love is always in the air at Pinot's, just last month we even had a proposal. Congrats to the happy couple, we wish you many happy years together! Pinot's is also a great outing for married couples. You and your spouse get a night out on the town with all the great restaurants nearby, as well as a fun activity to try. You get to sit and talk, and you can even come to one of our Date Night events where you two will make two paintings that fit together. What's more romantic than having art hanging up that you both helped make?