An Extra Treat
Skip the tricks and get all the treats!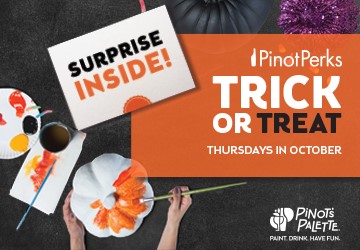 For the month of October, Pinot's Perks members will get a little something extra. Anytime a Perks member attends a Thursday night class they will automatically receive a special surprise. If you attend the class, you will have a chance to win something great!
Possible surprises include a chance at a free painting event, $10 off a future event, or candy! If you aren't a Perks member yet, you can register any time before or during your class and still be eligible for the prizes. Here is the link to sign up
https://www....m/pinot-perks
Get your tickets today! We can't wait to see you and we hope you have a spook-tacular time!
https://www....narrow/events
Share Sign Up For Perks | https://www.pinotspalette.com/brokenarrow/events