Thanksgiving Recipes That Are Fast, Easy, & Can Made In Advance!
Turkey Day, Done Right! :)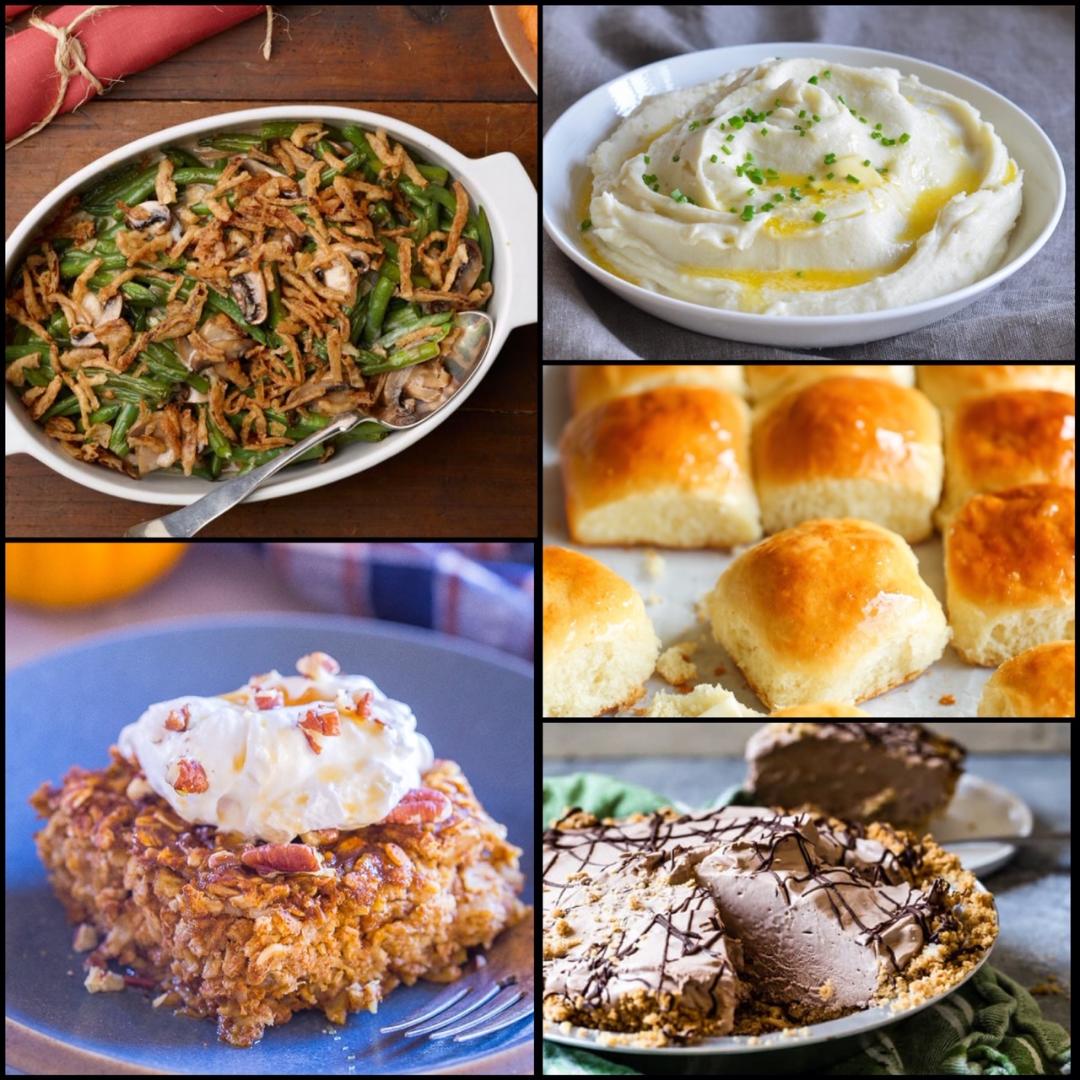 It's time to start planning for your Thanksgiving meal! Whether you're cooking for a huge crowd, your immediate family, or just those that live in your home, we've got some great tips to help!
Get that tasty, traditional homemade meal on the table as easily as possible this year; Not only will you feel more prepared and less stressed, but you'll gain a lot of extra time with the ones you love on a holiday that's all about family! Give thanks for all that you have, including some time for the ones that matter the most and enjoy these tips and recipes for a plan-ahead Thanksgiving!
— MAIN DISHES —
** Make-Ahead Roast Turkey (and Gravy With Onions & Sage)
The turkey is the star of the meal, and many of you might prefer it to be roasted the day of; Tthis delicious recipe from The Barefoot Contessa gives you tips on prepping the turkey 2 days ahead of time.
https://bare...-roast-turkey
** World's Simplest Turkey
https://www....cipe2-2103620
(Enjoy these tips and tricks for roasting a turkey ahead of time):
--- Note for turkey: Remember that turkeys are huge and need time to thaw from frozen, so here's a guide to help you know when to start thawing your bird, based on it's size:
https://www....rozen-turkey/
** Make Ahead Gravy
This easy, delicious turkey gravy is essential to a holiday menu! Simple to make on the holiday or any time, but perfect to make ahead of time too!
https://adda...gravy-recipe/
** Ham
Did you know that you can make a delicious, juicy ham weeks ahead of time and serve it to your guests, without them even guessing!
This recipe (with detailed how-to's) talks about the ham being made 2 weeks before Thanksgiving!
http://www.b...ksgiving-ham/
— TRADITIONAL SIDES —
** Mashed Potatoes (Photo, above)
These ultra-creamy make-ahead mashed potatoes can be prepared two days ahead of time and reheated in the microwave. Perfect for the busy holidays!
https://www....potatoes.html
** Sausage Stuffing
Stress less at the holidays by getting your stuffing halfway done before Thanksgiving Day. Simply prepare the bread cubes, sausage and vegetables, then stop and freeze. Finish and bake it on the big day. Once you have the prep in the bag, the rest is easy
https://www....ffing-3364254
** Cranberry Sauce
This homemade 'World's Easiest Cranberry Sauce' is easy to make, and even easier to tweak to your tastes. Make it before* and reheat on turkey day, or whip it up on the stovetop while other things are baking.
*This can be made and refrigerated, months ahead of time!
https://www....ry-sauce.html
** Green Bean Casserole (Photo, above)
Dedicate just a little bit of your freezer space to this crowd-pleasing casserole and save yourself some time at your next holiday meal. Make the green bean-and-mushroom favorite (no canned soup required), then freeze and forget it. To serve, just reheat (from frozen) and top with crunchy fried onions.
https://www....erole-3364231
** Sweet Potato Casserole
Sweet Potato Casserole is a southern classic. With a rich, buttery taste and crunchy topping, this makes the BEST sweet potato casserole recipe as a side dish or a dessert!
https://adda...ecan-topping/
** Yeast Rolls (Photo, above)
Make-ahead overnight dinner roll recipe? Yes, please! These rolls come out amazingly soft and buttery. We bet you can't stop after just one roll! :)
https://damn...-yeast-rolls/
— DELICIOUS DESSERTS —
** Pumpkin Pie Baked Oatmeal (Photo, above)
This delicious and hearty Make Ahead Pumpkin Pie Baked Oatmeal is a must make this fall! Enjoy it for breakfast or make it and keep it for a unique take on traditional pumpkin pie after your Thanksgiving meal!
https://www....aked-oatmeal/
** Chocolate Cream Pie (Photo, above)
With a homemade graham cracker crust and a creamy, no-bake filling, this frozen Chocolate Cream Pie is the ultimate make-ahead dessert!
https://www....cker-crust/?m
**MORE tips for making pies ahead of time!
https://www....vance-article
—— MORE Stress-Free Tips to get a head start! ——
* The weekend before Thanksgiving:
Aside from thawing your bird, this weekend should be dedicated to cleaning, groceries (don't forget ice!), organizing, and some prep. Clean out your fridge, pull out your serving dishes, and decide which platters and bowls will carry what. If you're lacking in servingware, ask your relatives to bring some. The last thing you want to do is set your green beans out in a plastic container among ornate bowls and platters.
* Monday and Tuesday:
Deal with tedious tasks like chopping vegetables, cutting bread for stuffing, and toasting nuts. Additionally, you can remove any of your made-ahead sides from the freezer so they can start to defrost. If you didn't whip up your gravyand cranberry sauce ahead of time and freeze them, Tuesday would be a great time to get those made up. They will keep in the fridge until Thursday just fine.
* The Day before Thanksgiving:
Now is the time to make your desserts, stuffing, and any sides or casseroles you haven't already made. You can also prepare your leafy salads and homespun dressing, but don't combine the two until serving time.
* Wednesday Evening:
Set the table so that's one less thing you have to do on the day of!
* Thanksgiving morning:
Make a timeline of what items you want to heat up and when, like your casseroles, sides, and of course your turkey. Cooking times will vary depending on what types of casseroles you're baking and how much your turkey weighs, etc. While things cook and heat up, you can arrange the bar setup for cocktails, dump ice into coolers for your cold brews, and lay out any appetizers and cheese plates until your guests arrive.
* Lastly: (If you prefer to make everything on the day of, remember some of the above-mentioned tips, and check out these recipes for fast and easy Thanksgiving recipes):
https://www....ristmas-menu/
Share Check out our class calendar! | Buy some gift certificates