DIY Blankets At Pinot's Palette, Just In Time For The Cold Weather!
Get ready to make some soft and warm blankets. It's art that you can wear! <3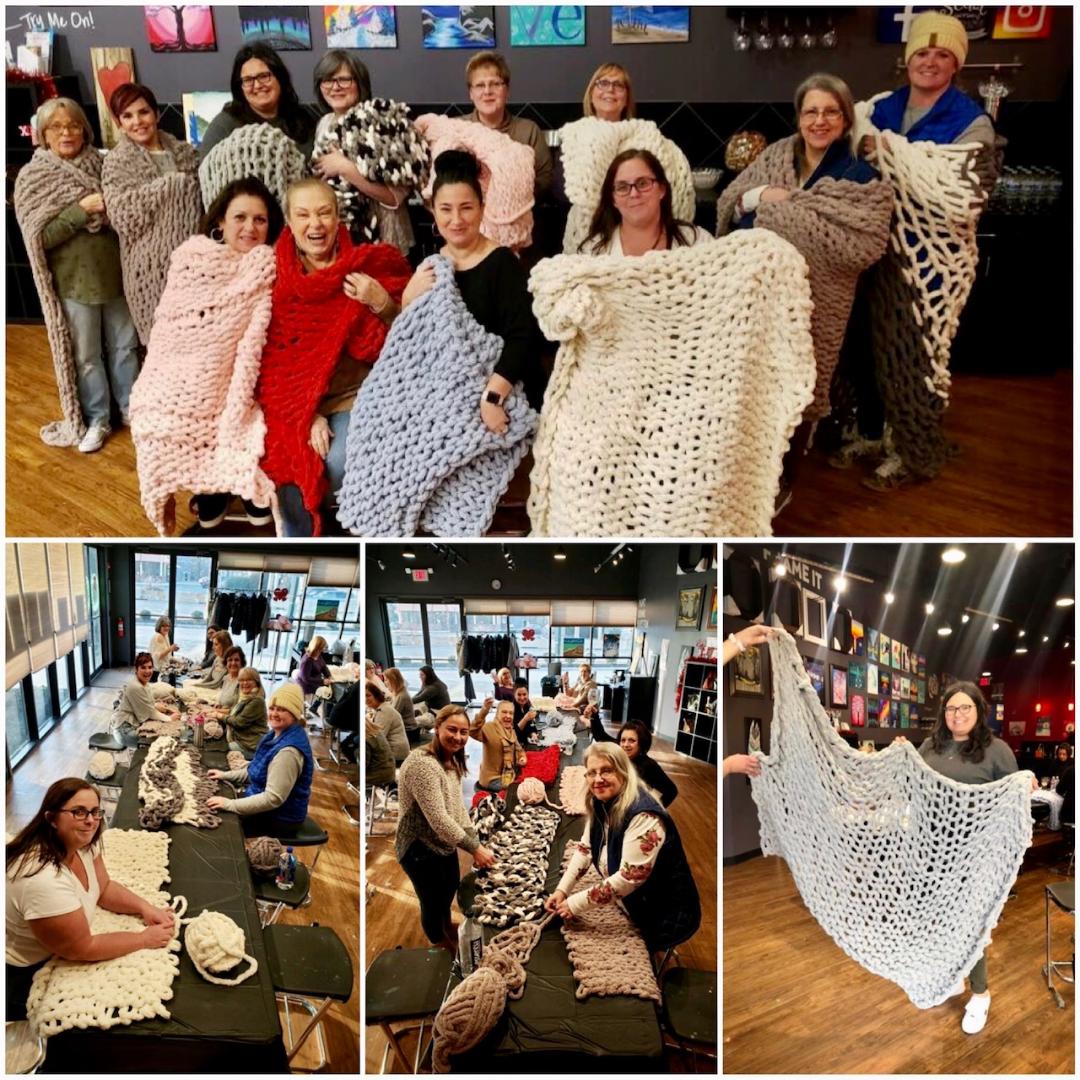 If you've been browsing our calendar or walking by the studio, you likely know we've begun to offer a little more than just paintings. While canvas will always be our first (and greatest) love, we've been thinking outside the box lately, and the results have been excellent!
From wooden signs and tea trays, to painted wine bottles and glasses, and much more, our classes have widened in styles, and we're proud of it.
Our customers have especially been all about our DIY chunky knit blanket classes, and this is certainly the season for you to join us and make one. The cool, crisp Fall and Winter nights will call for 'warm and cozy', and that's something we can help with!
Join us for some of these fabulous blanket-making classes, where no experience is required and all of the materials will be provided for you! If you've never been to one of our classes, we want you to know that we're all about helping first-timers learn how to make art! With the majority of our customers being first-time painters, we're here to make the step-by-step process of creating things, easy for anyone! Out talented artist will walk you through the process of making your blanket, encouraging you the whole way; We'll offer extra help if you need it, and remember to bring your wine for a little 'liquid creativity' to help along the way, as well! :)
You'll be so proud of the masterpiece you made at the end of the night, eager to take it show and show it off! You'll also have a blast with friends, creating something with your hands, and making some great memories, along the way. These blankets are fabulous because, not only are they a handmade creation, but they're practical; They're something you can cherish AND get use out of, for years to come.
*************************************************************************************************************
So, JOIN US for our next blanket class!
Held on OCTOBER 13th
During this one-of-a-kind event, we will guide you step-by-step through hand knitting a warm, soft chunky knit blanket. No needles or knitting experience is required and all supplies will be provided.
*Sign up here:
https://www..../event/361733
*************************************************************************************************************
We'll be offering more of these popular blanket-making classes throughout the Fall and Winter months, so be on the lookout for them to appear on our calendar! Grab you friends and family and come in to make some to use to keep you warm in the cold months; Make a few and give them out as gifts this season! There's nothing like a handmade present to show someone just how much they mean to you!
However you choose to utilize your beautiful blanket, you're sure to have a lot of fun making it at Pinot's Palette, where every class is lots of fun, and a unique experience!
Make memories and masterpieces with loved ones with a chunky knit blanket class, or any of the others on our calendar!
Did you know that in addition to the public classes you see on the schedule, we also offer private parties?!
From celebrations and kids' parties, to corporate/team-building events, and more, we've got it all:
*Celebrations-
Come in for a birthday party, wedding celebration, retirement party, reunion, club meeting, or any other reason and enjoy our private party celebrations!
https://www....ivate-parties
*Corporate Team Building
Bring the whole office in to work together in a fun and creative environment with our 'Corporate Team Building' classes!
https://www....porate-events
*Kids' Parties
The little ones are the most creative of all! It's such a wonderful thing to watch them express themselves on a canvas! Our Kids' Parties are great for birthdays, fundraisers, and more!
https://www....ainting-party
Share Check out our FULL calendar here! | More about these special classes