DIY Halloween Costumes That ANYONE Can Make!
Some great DIY costume ideas… all in one spot! Enjoy!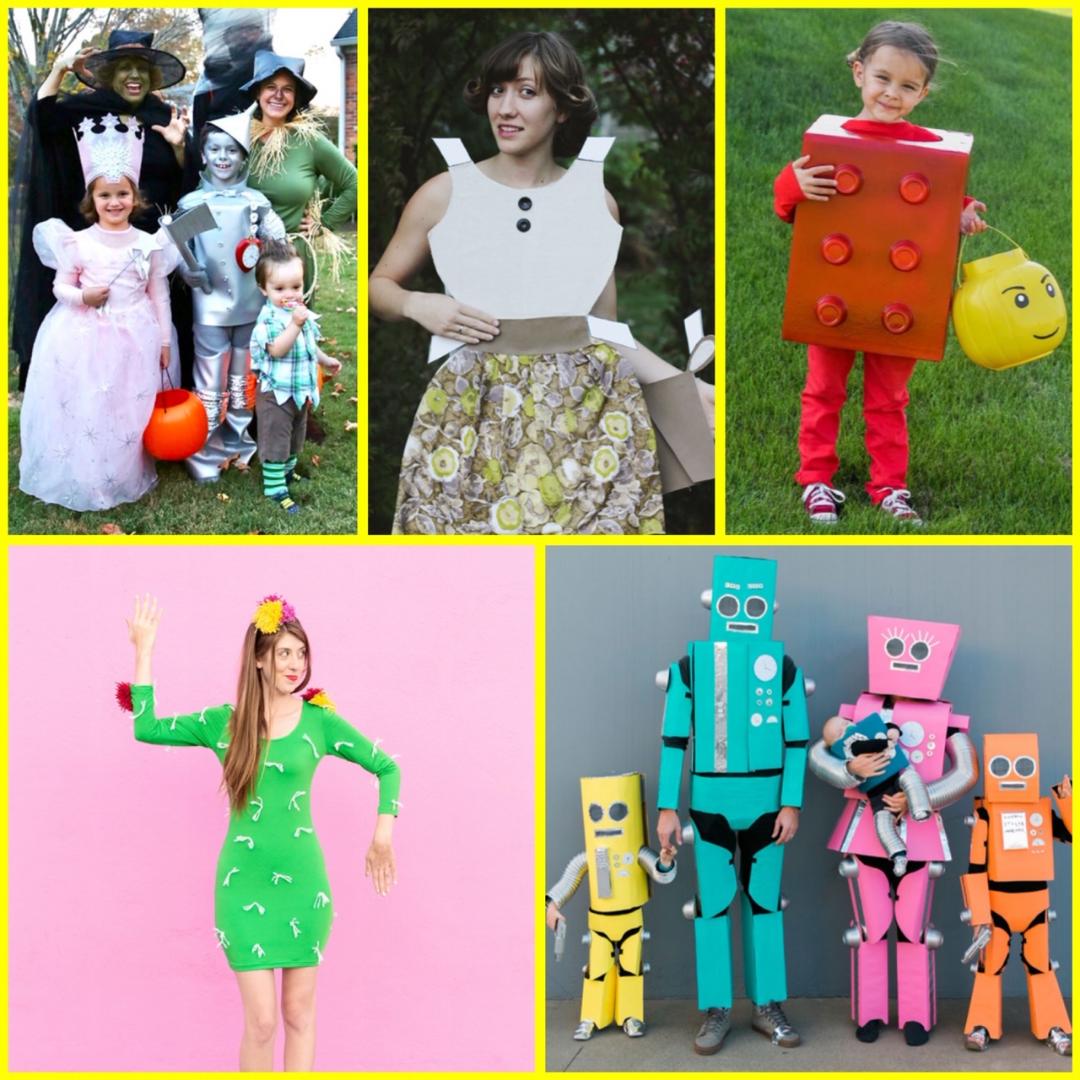 Halloween is such a spooktacular holiday! What other day is it 100% acceptable to wear crazy hair and makeup, and go around pretending to be someone (or something) else, all while asking for candy? :)
While there are lots of options for getting your costume this year, we know many of you like to get creative and make your own!
A quick stop at the store or a click of the button on Amazon are all great, and for many of us, necessary, but we've found some VERY easy-to-make ideas that you can create in a flash!
These DIY costumes are creative, recognizable, and will undoubtedly win you lots of compliments!
We've selected this list with the average person in mind (no master seamstress knowledge, required), and they're something you'll have fun making and showing off at your Halloween celebrations this season!
* Bob Ross and Happy Tree (Couple)
Of course, we're HUGE fans of this idea. Who doesn't love Bob Ross and his happy trees?! :)
https://www....ween-costume/
* Paper Doll
With some foam board, a few swatches of fabric and a bit of creativity, you can become a version of the paper doll you played with as a child.
https://them...doll-costume/
* Cactus
If your office and home are starting to fill up with succulents, then join in the fun and dress like one for Halloween. Now you're a literal "plant lady."
https://stud...ctus-costume/
* She Sells Seashells
((See this costume, and other tongue twister inspired costume ideas):
http://theho...rce=Pinterest
* Spice Girls (Group)
Celebrate the Spice Girl's reunion with this pun-worthy idea. With aprons and large print-outs of everything from cumin to cinnamon, this will be the spiciest group costume at the party.
(Get inspiration):
https://www....2/Spice-Girls
* Robot Family Family)
Rejoice! We found the perfect remedy to your online shopping addiction: using old Amazon boxes to create a family-friendly costume.
https://tell...-costume.html
* Smores (Family, Group)
Not only will you remind everyone of the greatest campfire dessert, but this costume gets the whole family involved with adult- and child-designated tasks using cardboard, paint, and pillows.
* Lego(s)
After a thick of coat of paint, people won't even know that this adorable LEGO man is made out of cardboard and plastic cups. Crafty mom alert!
**How cute would this be for a family costume (or group)?
https://www....lego-costume/
* Flamingo
It's always a good idea to have a spare pair of hot pink leggings and feather boa handy — at least when Halloween hits.
http://lovel...ume-2010.html
* Minion
We bet your little Minion will want to wear this adorable yellow hat all winter long — and just when you thought the Despicable Me days were behind you...
https://www....y-minion-hat/
(***If you're not great with the sewing machine, hot glue hold fabric together incredibly well!)
* The Wizard of Oz (Family, Group)
Give your neighborhood a thrill (the good kind) by dressing up as Wizard of Oz characters, including Glinda, Wicked Witch of the West, Scarecrow, Tin Man, Munchkins, and even the tornado.
https://www....costumes.html
— Last Minute Costumes —
If the party came up last minute and you need something to throw together, these ideas are fast & easy to do, and made with things you already have!
Plus, they're clever enough to get you a few points with your friends.
* Smarty Pants Halloween Costume
This idea couldn't be easier, and who doesn't love a good pun?! Take a pack of Smarties candies and use glue dots or double-sided tape to attach them to a pair of jeans.
* Chip and Joanna from 'Fixer Upper' Halloween Costume
Because your party guests need more Chip and Joanna Gaines in their life now that Fixer Upper is off the air. This straight-from-your-closet costume will give them the Waco fix everyone needs.
* Men in Black Halloween Costume
https://cost...men-in-black/
Couples and BFFs can easily recreate the iconic movie look with suits, ties, sunglasses, and — if you have one — a pup!
* Queen of Hearts Halloween Costume
Pair this easy-to-make custom collar with a red dress and red lipstick for an instant Alice in Wonderland-inspired costume. To make the collar, wrap a large piece of paper around your neck so you can trim it down to the right size. Then, staple cards from a deck all around the paper collar, layering them for a fanned-out effect.
* Old Married Couple Halloween Costume
There's something fun about being young and trying to age yourself forty (or more) years in the future. Show up to the party looking like you're ready for bed, so that you can crash as soon as you get home. Best costume ever.
* 50 Shades of Grey Halloween Costume
Even though it's been a while since the books and movies were released, some of you might still be stuck on Fifty Shades of Grey. For a PG version, pick up some grey paint swatches — maybe 50 shades? — at your local hardware store and tape them to a plain tee.
PAINTING IS A GREAT CREATIVE ACTIVITY, TOO!
If you're looking for other ways to get creative after making your costume, come in for a painting and wine class at Pinot's Palette! We've got a calendar full of amazing Fall and Halloween paintings (among many others), and we hope you'll join us for a class or two this month!
* Here's some of the upcoming artwork to look out for:
https://www....rkcheckitout-
Share More costume ideas! | Check out our full class calendar!