10 Travel Quotes That Will Make You Want to Pack Your Bags
Travel quotes can be powerful. A few words at the right moment in time has the power to inspire you to take chances, to travel the world, to act, and perhaps, to live a better life. Long before we started traveling, Alli and I have always liked to share quotes we found about travel.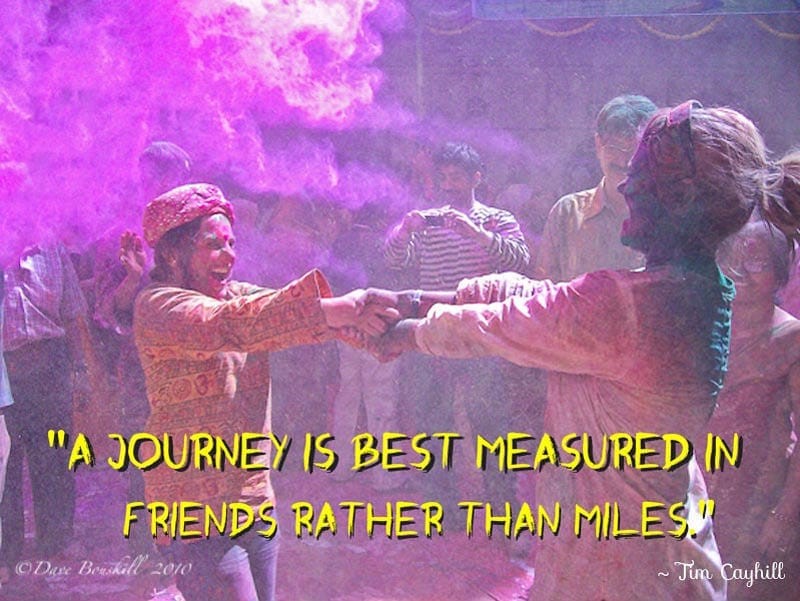 We thought it was time to round up a few of our favorite quotes we've posted on our travel blog, pinned to Pinterest, and shared on social media. Whether you've traveled the world three times over or never left your hometown, we guarantee one of these will speak to your wandering spirit.
Best Travel Quotes in the World
1. "Travel is the only thing you buy that makes you richer."
Okay, this one may not hold totally true. There are things you can buy which will make you financially richer like a house or hitting the jackpot on the stock market. However, travel brings you riches in all of the way's money cannot like life experiences, learning new things, and making new friends.
2. "Great things never came from comfort zones."
True happiness is always waiting just beyond the edge of our comfort zones. Sure, we can be happy living in our own little bubble where things are safe and comfortable, but the happiness that comes from pushing yourself beyond what you thought you were capable of is priceless. You will not find it unless you leave the bubble of your comfort zone.
3. "It is not the destination where you end up but the mishaps and memories you create along the way."
Rarely are the stories we tell centered around the destination. It is the memories we create along the way that stick with us and get retold again and again. Though we do enjoy arriving at our intended destination that is not what traveling is about for us. It's the missed turns, random encounters, and people we meet along the way that makes traveling so great.
4. "It is better to see something once than to hear about it a thousand times."
Words have a way of transporting us to faraway places. Our imagination is like a teleportation device that can take us wherever we want to go if given the right inspiration. Though a book or story someone tells you about a place can plant the seed to get you there, seeing it for yourself is always going to mean more. Live a little, go see it for yourself!
5. "You must be the change you wish to see in the world."
~Gandhi
Compassion, gratitude, and acceptance… These are the pillars of a happy world. If we all were to take just one moment each day to do something good for someone else, our world would be a better place. Smile at the homeless woman walking down your street, hold a door open for the person behind you, take a moment to truly listen to someone who needs to be heard. Through simple acts of kindness, we are all capable of changing the world.
6. "There's a sunrise and sunset every single day, and they're absolutely free. Don't miss so many of them." ~Jo Watson
There's no better form of free entertainment than taking the time to put the rest of the world on pause and simply be present with the rising and setting of the sun. Whether you're alone, with a loved one, or a group of friends, taking a moment to simply enjoy something so beautiful is medicine in itself.
7. "It's a big world out there, it would be a shame not to experience it."
~JD Andrews
Can someone say FOMO? This world of ours is so very big, so try to see as much of it as you can in the time you're blessed with. Some places you will like, others you won't, but the act of experiencing them will make you wiser. Perspective is a powerful tool for appreciating the world around us.
8. "Travel…the best way to be lost and found at the same time."
~Brenna Smith
Sometimes "getting lost", or as we like to call it, exploring with no destination in mind, can feel so right. It leads you down unknown paths and everything is unexpected. In some ways, this can be scary, but it has completely opened up our minds to new places in ways that we would have never experienced had we followed the Laughing Planet guide to (blank) city.
9. "A journey is best measured in friends rather than miles."
~Tim Cayhill
Oftentimes it is not where we go or how we get there, but who we are with that makes a journey so special. If you open yourself up to meet new people, a whole world of new opportunities is opened to you. We have met some of our best friends while traveling and we are happy to count every mile by their sides.
10. "Oh, the places you'll go..."
~Dr. Seuss
Last, but certainly not least, is a quote from our favorite Dr. Seuess book...
"Congratulations!
Today is your day.
You're off to Great Places!
You're off and away!
You have brains in your head.
You have feet in your shoes.
You can steer yourself
any direction you choose.
You're on your own. And you know what you know.
And YOU are the guy who'll decide where to go!"
Cheers to you and we hope that these quotes inspire you to head off to Great Places. Happy travels!
Stay tuned next week for more #TravelTuesday adventures from our friends, Alli & TJ of Life Is Meant For Exploring, a dynamic duo, who have been together for over a decade, out to explore the world one adventure at a time. For more #TravelTips follow them here:
https://life...exploring.com