Travel Tuesday-7
Hanging on For Dear Life - Riding Trains in Sri Lanka
Begin any Google search of the most beautiful train rides in the world and the routes in Sri Lanka (particularly the famous ride from Kandy to Ella) are bound to come up. Photos of the famous Nine Arch Bridge, sprawling rice fields, travelers and locals hanging out of doors and windows, and vibrant blue and red trains cars will greet your curious eyes.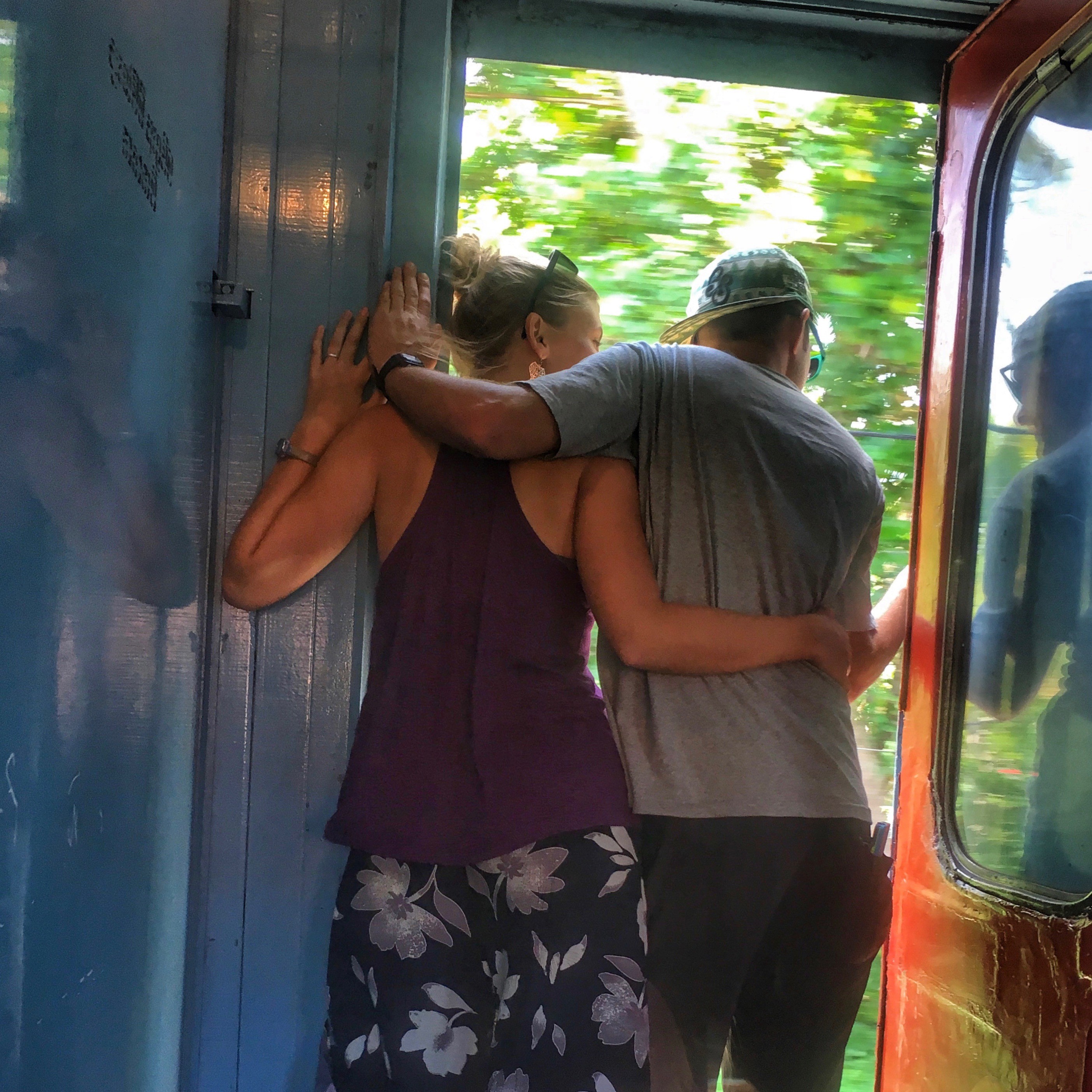 After paying for our second-class ticket from Negombo to Colombo Fort for 70 rupees (~45 cents) we prepared to board our first Sri Lankan train ride! What you don't necessarily know when you first look at photos of these infamous train rides is how tough it is to get on the train in the first place… let alone find a seat!
First class tickets can have reserved seats, but second and third class do not (and most trains don't even have first class cars). Rather, they will sell as many tickets as people will buy and you literally push your way onto the train in hopes of getting a seat. Unsure of what train car we were supposed to get into we lined up with everyone else and watched in amazement as people disembarking pushed their way through a human tunnel to reach the train platform. Now it was our turn… people pushed and shoved and clambered on all sides of us to get on the train and find a seat. After TJ had to hold one man back from climbing over us, we finally boarded. Walking up and down the aisles we found no seats on the entire train… So, we found a clear space near the open doorways used to get on and off the train and huddled around our Tortuga Backpacks which we placed on the floor.
As we set off on this foreign adventure, a mere foot from the open doors and tracks, wind blew through our hair and sun kissed our cheeks in the early morning weather. Men in business suits rolled their sleeves up to the elbow and sang together as some hung out the train doors watching the Indian Ocean zoom by. The vibrant colors of women's Sarees darted in and out of my vision as the vibrant fabric danced in the wind from the open windows and doors. Vendors walked up and down the aisles covering the length of the train selling drinks and food. The smell of curried lentil fritters wafted into our hungry noses, the spice of dried peppers tickled our nose hairs, and fried prawns piled into baskets peaked our curiosity as vendors yelled out their offerings in a sing-song voice before stopping to make a sale and deliver their delicacies to waiting hands in bags made from recycled newspaper.
If you're not purchasing a first-class train ticket and you're not used to transportation in Asia, then boarding and riding these trains can be a bit overwhelming. The sheer number of people, sweltering heat, and sensory overload from all the conversations and vendors is enough to make anyone uncomfortable. That said, we've learned to leave our expectations at the gate when taking transport in different countries and enjoy "going with the flow" and seeing what enjoyment we can glean from these experiences.
This ride, and the following one to Galle were no different. We couldn't stop smiling as we watched city streets, bustling canals, giant fields, and the crashing ocean waves zoom by as we hung out the train's door. We may have had beads of sweat causing our sunglasses to want to slip off our face, and we may have needed to plaster ourselves against the wall over our bags as hordes of people loaded and unloaded but watching the incredible scenery as we drove by made every last bit of the journey worth it. Plus, who wouldn't think it's cool to hang out the doorway of a moving train and feel completely alive?
Stay tuned for more adventures from Alli and TJ
https://life...exploring.com
For more information visit #lonelyplanet
https://www....-around/train
Remember to follow us on Facebook:
https://www....alettealameda
for the most recent photo's, specials and contests!
Enter your contact info and request details below, and we will contact you with details about your private party!