Travel Tuesday # 5
A Proposal On Top Of The World! We woke up early after a cold and restless night of sleep at 12,000 ft inside a tea house in the mountains of Northern Nepal.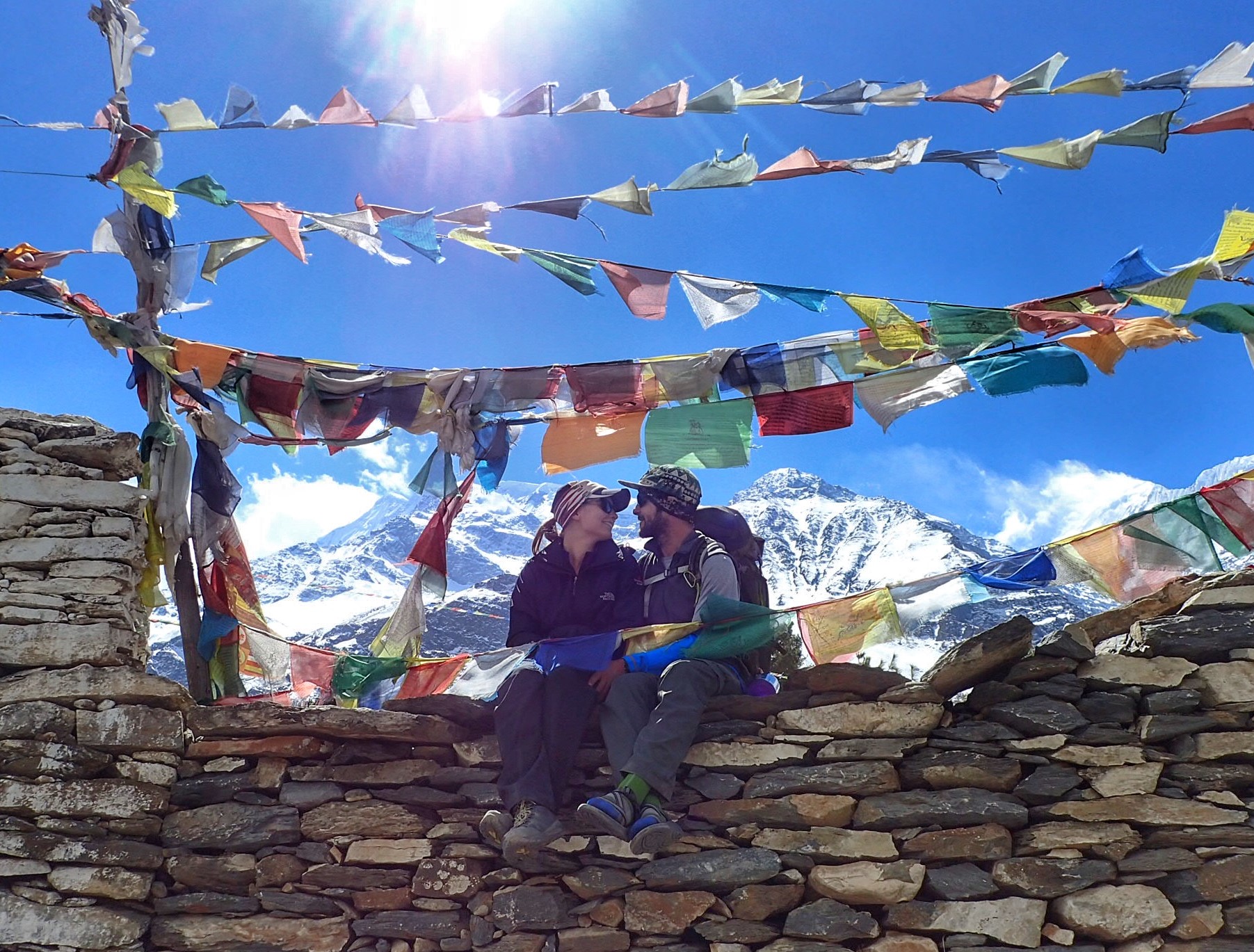 As the suns rays began to beat down, the temperature began to climb to a pleasant 50 degrees as we sat down for breakfast. We had been trekking roughly 10 miles a day for the past 9 days, and for this entire time I had one thing dominating the thoughts in the back of my head: where am I going to propose to this girl?
I had decided months before that I would ask the love of my life to marry me atop some mountain in the Himalayas during our expedition to trek the entire Annapurna Circuit. However, having no knowledge of this foreign land I hadn't the faintest idea when we would come across a location perfect enough for me to ask the most important question of my life. Luckily for me, the challenge was not where to find the perfect location, but which one to choose (I could argue that these mountains provide some of the most beautiful landscapes in the world - ideal for any nature lover's marriage proposal).
Several months prior, when traveling through Vietnam with Alli's parents I had asked them for permission to marry their daughter, which with overjoyed excitement, they graciously gave me. However, I had not yet told my parents that I would be popping the question. After hunting down a decent satellite WiFi connection on day 2 of our trek, I dialed home and shared the exciting news with my mother who proceeded to cry with joy and bestow her blessing on my decision. So, with parental blessing and an eager heart I decided on the day I would finally propose. I didn't want either of us to be super exhausted or cold which was the norm throughout the trek, so I planned for the day we would be resting and acclimatizing before our big push up and over Thorong La Pass (the highest mountain pass in the world).
On this particular day, we planned a short day hike up to the famous Chongkor Viewpoint which boasts panoramic views of the Himalayas at 13,000 feet (a seemingly ideal spot to ask someone to marry you if I do say so myself) and rests above the small village of Manang. Part of the reason I had planned for proposing on this trek was that my baby sister was going to be with us and I wanted her to be present for this special day (which also meant we would have a personal photographer to document the moment - definitely a plus). On the way up, I whispered to her that my "code word" would be if I asked her to take a picture of the Alli and me. I'm not usually one to propose a photo shoot, so I was hoping this wouldn't make things too obvious. When we reached the top, I stopped for a moment to take in the incredible snow covered landscape surrounding us and knew that the time had come. I beckoned everyone over to the edge of a cliff that offered the best view on the mountain and asked my sis to "take a photo". I took Alli by both hands and began to tell her the story of how I had asked her parents for their blessing back in Vietnam. She immediately dove into my arms and we embraced for a while with tears of joy in our eyes before I dropped to a knee and asked her to marry me surrounded by one of the most beautiful views either of us has ever witnessed in our lives.
To say that it was anything short of perfect for us would be a lie. At that instant, we were the happiest people standing on top of the world and didn't want the moment to ever end. Luckily, in our hearts it never has to…
Tune in next Tuesday for more adventures from Alli and TJ enjoying life one adventure at a time. Follow them here:
https://life...exploring.com
For Your Bucket List we recommend:
https://www....elyplanet.com
Remember to follow us on
https://www....alettealameda
for the most recent photos, specials and events.