Travel Tuesday #3
Travel Tuesday presents another adventure from Alli and TJ. What It's Like Teaching English In a Cambodian Village?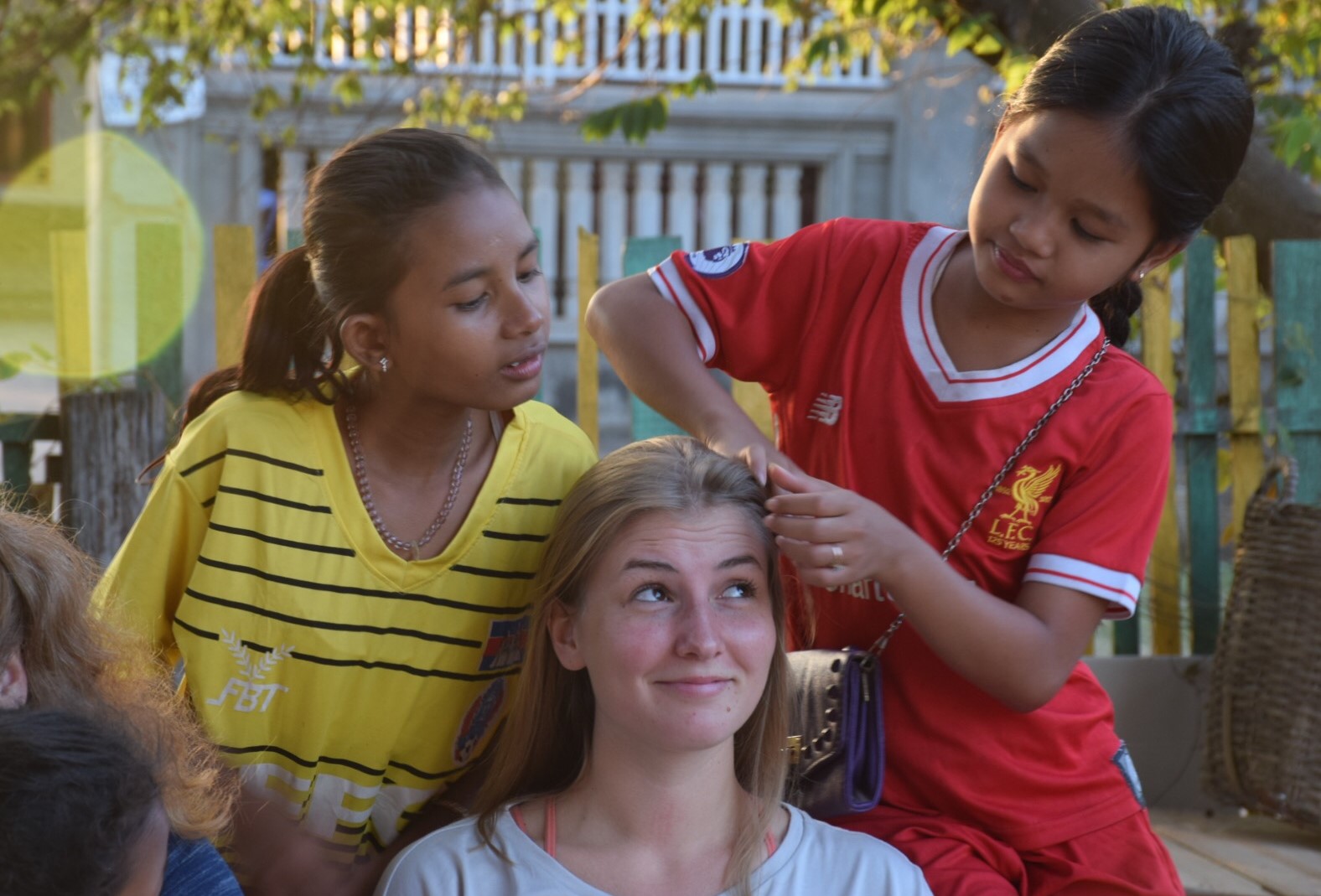 Setting off to volunteer, we awoke at 4 AM and caught a tuk tuk (the driver was still asleep in his hammock) from our hotel to the bus station in Phnom Penh to search for our ride. A man named Mr. Chang would be taking us to our home for the next two weeks, the Dolphin School of English in Kratie, Cambodia.
Almost as soon as we pulled up at the station Mr. Chang found us. He was a short smiling man who took our bags and simply said "OK bags here" as he pointed to a minivan and indicated that we should wait. We quickly realized that we wouldn't be leaving until the van was full. After about an hour of hanging around we were on the road with a van full of locals, but no squawking chickens at our feet like we've had on other journeys throughout SE Asia (we were only slightly disappointed.)
Upon arrival, after one of the bumpiest rides of our lives (somehow TJ still managed to sleep through most of it with his head swinging around like a bobble head on overdrive), we were greeted by a group of fellow volunteers who had been at the school for about a week. They quickly got us settled in and up to speed on how things worked around the school (getting groceries at the local market in the morning, class schedules, lesson planning, sleeping arrangements, how to make photo copies for class, and the children). We met with Mr. Yuth, the founder of the school, and immediately felt right at home.
To be honest, we were both terrified by the idea of teaching children. We'd originally volunteered with the hopes of focusing on the marketing & communication side of DSE but they needed teachers, and so teachers we became! We had no experience, spoke zero Khmer, and had no idea what we were getting ourselves in to. Though we didn't know it at the time - these children would soon change our lives forever.
We quickly realized that we were both natural teachers and immediately fell in love with the kids. Before classes started each day, the children would start arriving an hour early to play in the space around the open-air classrooms. The Dolphin School is a safe space where kids can be kids, they can play and enjoy their childhood, and meet volunteers from all around the world. On day one, Alli had the first girl she saw run up to her, wrap her arms around her, and say "teacher, I love you". They'd never met… but this just goes to show how much the students love having the teachers around and how amazing this school, which Mr. Yuth has dedicated his life to building, is for the community.
Besides the children, one of the best parts of our experience at DSE was building relationships with our fellow volunteers. Each morning we would all take a trip to the local market to get food and supplies for the day before returning to the house to make breakfast. Our days were spent hanging out with the children that would stop by, preparing lessons together, and making improvements to the classrooms and volunteer house. At night, all of the volunteers would go out to dinner at the only restaurant within walking distance, talk for hours, and play games long into the night. We all bonded over the collective purpose we felt teaching and contributing to the school and lifelong friendships were formed. Since then, we have met back up with our fellow teachers all around the world.
We learned so much in our short time at the Dolphin School: how to love someone who you cannot communicate with, how to be nurturing even when you don't understand what is wrong, how to interact with children, and most importantly what it takes to be a central part of a strong community. Our fellow teachers became lifelong friends, Mr. Yuth will forever be a symbol of what it means to give away everything you have just to help others have a better life, and the Dolphin School will always be a home away from home. We hope to go back someday soon.
Have you ever thought about volunteering abroad? Well then, this post will help make that a reality!
You can learn more about the Dolphin School of English on their website:
https://www....ol-of-english
Alli & TJ of Life Is Meant For Exploring, a dynamic duo, who have been together for over a decade, out to explore the world one adventure at a time. For more #travel tips follow them here:
https://life...exploring.com
Remember to follow us on Facebook for more photos and updates:
https://www....alettealameda