The Perfect Weekend Road Trip: Fort Bragg, CA
For as long as I can remember, my dad has always had an irrational fear of flying. Because of which, the bulk of our family trips while I was growing up were spent on the road, aka "on the ground, where it's safe". That tradition has long since continued into adulthood. As far as I'm concerned, if I can drive somewhere, I will.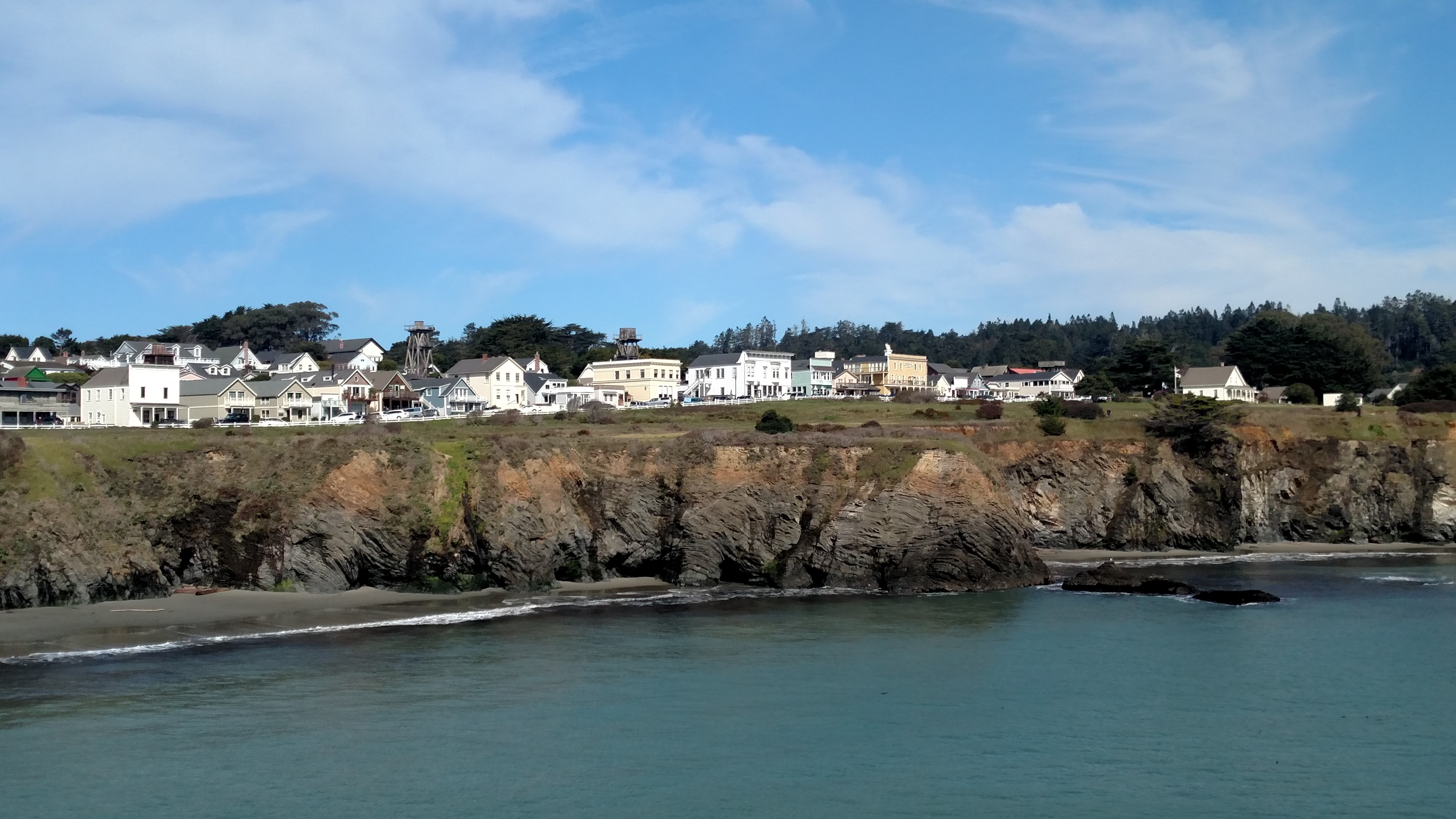 I love to drive and so when it came time for my mom and I to select a location for our annual girls' getaway, it came as no surprise, that all of the options were within driving distance. That, coupled with the fact that we both tend to gravitate towards the beach, made our decision easy: Fort Bragg, CA. Neither of us had ever been to Fort Bragg. Neither of us really knew anything about Fort Bragg. We were excited for the short and beautiful drive, good eats, and of course, the famous Glass Beach.
Fort Bragg is the perfect weekend destination for Bay Area travelers, though I recommend taking an extra day (or five) to really enjoy the sites. The drive up Hwy 101 takes about 3.5 hours, though you're sure to make a stop (or five) along the way…
Our first stop was Petaluma. Believe it or not, as a Bay Area native, I'd never visited Petaluma before. What a cute city! If you start your trip in the morning like we did, you MUST make a brunch stop at Topsy's Kitchen, known for their Southern fare – chicken and waffles anyone? You might wait 30-40 minutes for your table like we did, however, we were just as happy to spend that time in Copperfield's Books, right across the street. Assuming you still have room for more after brunch, Petaluma Pie Company has got you covered.
From Petaluma, we drove another 35 minutes to Healdsburg, otherwise known as "Wine and Antiques aplenty". Unfortunately, neither my mom nor I are wine drinkers, so in that regards, the Anderson Valley is absolutely lost on us. However, I can say with absolute certainty, that Healdsburg is a wine lovers' paradise. The town is chock full of tasting rooms, all within walking distance. And the vino doesn't stop in Healdsburg…
Around the time you reach Cloverdale, you have an option to continue along 101 or take Hwy 128 west towards the coast. Remember those old "Choose Your Own Adventure Books" from fourth grade? I'm going to make this one super simple for you. If you're a wine lover, wine drinker, and/or appreciate the fine vineyard views, take Hwy 128. If you are not a wine lover, can't stand the taste of wine, and/or would rather not subject yourself to beautiful views, turn back now. We may not have stopped for wine or taken in the film history at the Coppola Estate, but we certainly enjoyed our drive nonetheless. I definitely recommend Hwy 128!
We spent three nights in Fort Bragg and let me tell you, there was never a dull moment, except when we wanted to relax and appreciate the dull moments. Glass Beach is a must-see and bringing a bucket for some take-home glass is a must-do. Here's a helpful hint: be sure to check the tide schedule before visiting the beach. We made two stops – one at high tide and one at low tide – and if you haven't figured it out already, low tide is definitely the way to go.
In between our trips to the beach, we spent the bulk of our time relaxing on our beachfront motel balconies (I strongly recommend the cost-effective and pet-friendly Beachcomber Motel) and shopping the local fare in downtown Fort Bragg. Though Fort Bragg and the neighboring areas like Mendocino (where we spent a sunny afternoon) are made for getaways, you have to also understand that that is what your trip will entail – getting away. There is ONE movie theatre, which services several of these coastal towns. There is ONE nail salon, though plenty of options for massages and sauna visits. There is ONE Starbucks and you'll find it alongside the ONE McDonald's. There is ONE tattoo shop, and I know this because my mom had her heart dead set on getting her first tattoo during our trip (mission accomplished). If you do decide to make the trek to Fort Bragg, be sure to approach it with the right mindset – you are going to get away from city life. You are trading in streetlights and highways for bike paths and bluffs – I think the sacrifices are more than worth it!
Lastly, and perhaps most importantly, I must share some tips on favorite foodie spots. Egghead's Restaurant is your best brunch option. This snug family eatery boasts fresh fishy omelets along with typical breakfast fare, not to mention an odd (yet endearing) Wizard of Oz theme. Cowlick's Ice Cream is to die for and if they happen to have their seasonal Honeycomb, get it. The North Coast Brewing Taproom seems to be a favorite among visitors, but we skipped it in favor of a more local spot: Sea Pal Cove. If you're clam-oring for chowder or fish and chips, Sea Pal is the way to go. Seeing as we made our trip in February, temperatures were pretty chilly which made for indoor dining only, however, Sea Pal is situated right on the wharf, which makes for some great views on a nice day. Be sure to carry cash with you as several spots in town are cash only!
Fort Bragg has all the makings for the perfect four-day weekend. The coastal views, majestic Redwoods, and plenty o' wine pairings along the way will have a little something for everyone. Just remember to pack an extra coat for those foggy mornings…as well as a designated driver so you can properly enjoy the Anderson Valley.
Remember to follow us on Facebook for the most recent photos-events-contests and specials:
https://www....alettealameda