Rom Com Refresh
It's spring fever and there's nothing I love more than a fresh bouquet of flowers, a box of artisanal chocolates (or, a bag of M&M's from Walgreen's), and settling in for a good old-fashioned romantic comedy. There's nothing quite like the elusive rom-com. From the lovable actors (who hasn't fallen in love with Tom Hanks at least once or twice?) to the predictable plot lines, there's something familiar and adorably easy about the genre. What you see is what you get and more often than not, you know what you're in for from the moment you press play: a happy ending.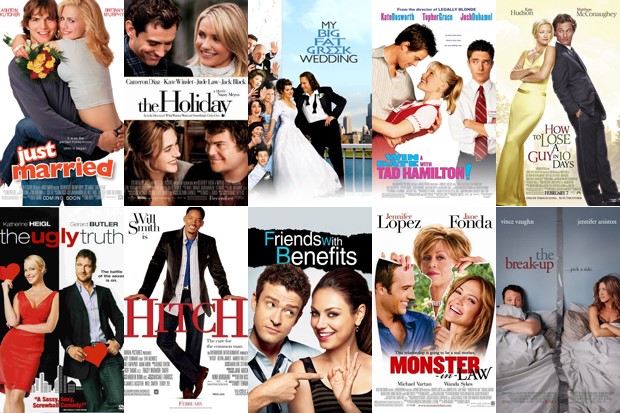 But what if that all changed? What if Christina Applegate accepted the role of Elle Woods in "Legally Blonde"? What if "Pretty Woman" was filmed as a dark drama as originally planned? What if Julia Roberts didn't turn down the lead in "Sleepless in Seattle"? There's a lot of drama behind the comedies, and a few funny bits as well.
Here are some lesser known facts about your favorite romantic comedies, perfectly suitable for your next dinner party:
1. "Pretty Woman", originally titled "3000", was NOT a love story. What's worse, it did not have a happy ending. Instead of a rom-com about two very different people finding love, it was a grittier tale about two damaged individuals who spent a week together that ends in tears and zero hope for a balcony-set reunion scene.
2. Here's one I've wondered about (and argued over) for many years… Andie and Duckie were supposed to get together at the end of "Pretty in Pink". Originally, the 80's classic ended with Andie (Molly Ringwald) and Duckie (Jon Cryer) ending up together. But that changed when Cryer was cast. Director Howard Deutch wanted Cryer to play Duckie from the get-go, but in interviews years after the film's release, he has confessed that casting Cryer was a mistake. According to Deutch, "Duckie should have the girl and it was all built for that and it was designed for that. And I could have ended that way, had I not messed with one thing: I cast Jon Cryer."
3. When it comes to rom-coms of the 90's and 00's, you can pretty much count on either Julia Roberts or Sandra Bullock to make an appearance. What you might not know is that they are often offered the same roles. Julia Roberts was the first choice to play Margaret in "The Proposal", but reportedly refused to take a pay cut, so Sandra Bullock took over the role. That was the second movie in the same year in which Julia Roberts was offered a leading role, turned it down, and the role went to Sandra Bullock. The other film being "The Blind Side".
4. The wardrobe department of "27 Dresses" reported that their initial designs for the dresses all looked too good on Katherine Heigl (ugh) because of her figure, and they were hard-pressed to design bridesmaids dresses that would look bad on her. As if you didn't already have reason enough to hate Katherine Heigl…
5. Where do they find the extras, you ask? In "13 Going on 30", Academy Award Winner Brie Larson can be seen as one of the Six Chicks in the scenes at school and at Jenna's party. She even has a line in the first one these scenes!
6. Remember that killer party in "How to Lose a Guy in 10 Days"? The one with all the diamonds… Cue mouthwatering now. Those diamond were the real deal. There were an estimated $14,200,000 worth of jewels lent to the film. In fact, Kate Hudson's character wears an 84-carat yellow diamond pendant called the "Isadora", which was valued at over $5 million. For one necklace.
7. She may not have been a real runaway bride, but in real life, Julia Roberts canceled her own wedding to Kiefer Sutherland only a few days before the ceremony in 1991. Nearly eight years later, she starred in the rom-com classic, "Runaway Bride".
8. This came as a surprise to me, but the J.Lo film, "Maid in Manhattan" is loosely based around a true story. In 1959, Steven Rockefeller (you know, those Rockefellers), son of New York Governor Nelson Rockefeller, married Anne-Marie Rasmussen, a maid who had worked at his family's Manhattan hotel. I guess there is such a thing as real love stories!
9. "Sweet Home Alabama" holds a special place in my heart, and I guess the same can be said for New York City. In addition to being the first film allowed to shoot in New York after 9/11, this Reese Witherspoon darling was also the first film to shoot inside of Tiffany's since "Breakfast at Tiffany's", filmed forty years earlier.
10. Can you picture "Sleepless in Seattle" without Tom Hanks? How about without Meg Ryan? I'll tell you right now, both actors were NOT the first pick for their respective roles. While several actors were considered for the role of Sam before Hanks was chosen, the role of Annie was actually offered to several Hollywood ladies before it ended up in Meg Ryan's lap. The role of Annie was originally offered to Julia Roberts, who turned it down. Kim Basinger was also offered the role in the early on, but turned it down because she thought the premise was ridiculous. After Michelle Pfeiffer, Jennifer Jason Leigh and Jodie Foster declined as well, good old Meg got the part. Phew!
Hopefully this earns you some points during your next Trivia Night out!
Remember to follow us on Facebook:
https://www....alettealameda
for the most recent photo's, events and specials.