Bachelorette Party to Remember
Northern Cincinnati's Premier Bachelorette Party Destination, Paint and Sip Style!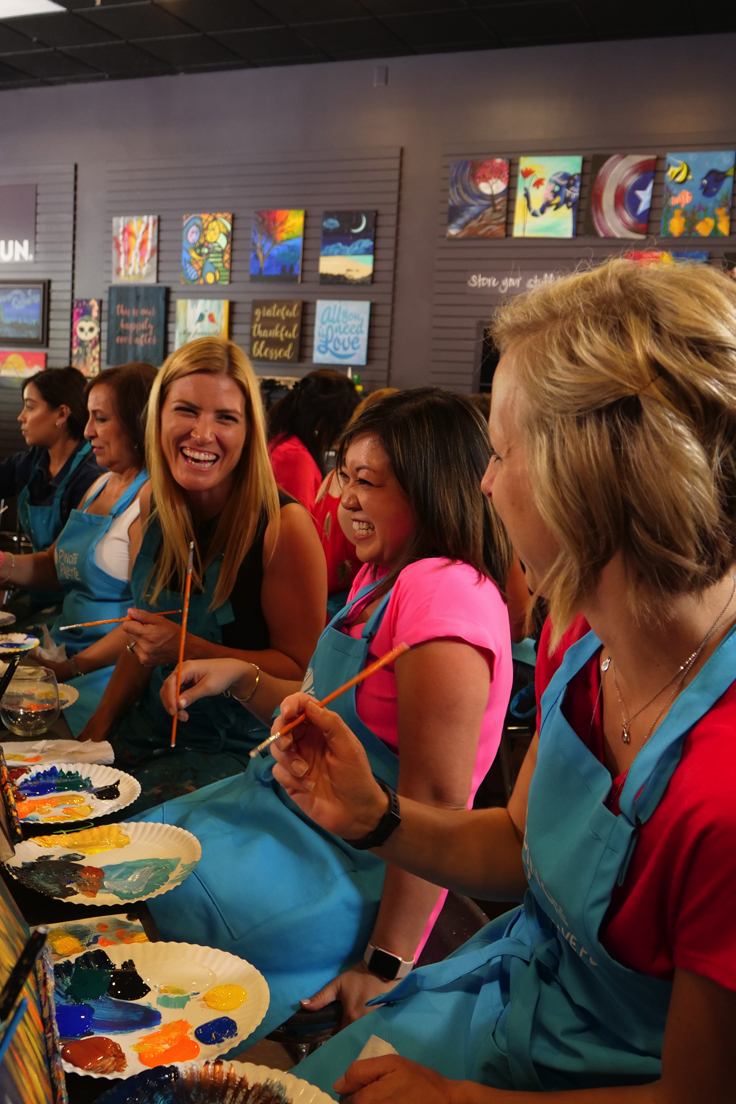 Planning a bachelorette party can be a ton of fun, and it can also be a little stressful. We're here to help with that stress part and make sure everyone has a great time, especially the bride to be! With options ranging from a low key night out with the girls to glitz and glam galore we can help customize your event to your own unique vibe and style!
Some popular features available:
Mimosa bar: A mimosa bar is a staple of many bachelorette parties, especially when painting is the first of many destinations on your itinerary! Our mimosa bars can be made with or without alcohol and include a variety of juices, a bubbly element and of course real glasses! Cheers!
Blacklight parties: Painting under the blacklight certainly enhances the party vibe!
Wooden board custom initial paintings: There's something extra special about creating a new monogram ahead of your special day! We offer a painting called "Rustic Family Name" which can be customized to each guest's name and you can also customize the accent color to match your wedding colors or home decor. This is always a memorable experience and the piece you create will serve as a warm reminder of the fun you had with your crew ahead of the big day!
Paint Wine Glasses: Wine Glass painting is another great option for bachelorette celebrations, you can even bring your custom glasses to enjoy toasts at the reception! Your guests will be impressed when they find out your bridal party painted them themselves, not to mention how special those glasses will be when they are photographed during those special toasting moments!
Let's get down to brass tax: payment can be awkward, especially with a big group where sometimes everyone doesn't know each other, our party planners have expressed concern over this area over and over again and we have solutions to help! We can set up your bachelorette party so that everyone attending registers and pays themselves or the entire group pays together, whatever option fits your group best. We promise to make the payment part as straightforward as possible and reduce any of those awkward moments where everyone is looking at each other when the bill comes. Our in studio bar can also be offered as a cash bar or open bar, again, we're here to meet your needs and will be flexible and helpful every step of the way!