Cheers To Our First Year
Well some how a whole year has gone by! Cheryl and I are so happy to be in the Temecula Valley and can't wait to kick off this second year! Join us for a weekend of deals, discounts, and giveaways!
Here some stuff we've been up to the last past year:
- We done 8 Painting it Forward events that gives money to a charity or cause.
- We've gone through 15 gallons of white paint
- We've sold 85 bottles of Moscato
- We've painted our pets portraits (including dogs, cats, horses, birds, and a turtle)
- We've had countless laughs, happy accidents, and memories created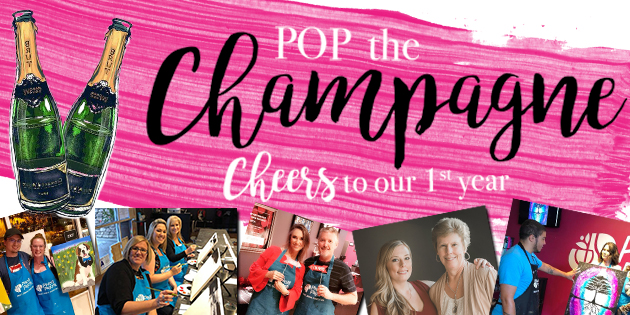 Here's a little of what we're up to for the next coming year:
- We'll be introducing family days for all ages and kids classes!
- We're putting in a kitchen, so you can enjoy a cheese board or more snacks while you paint!
- We're going to be pushing out some new innovative projects to match our wine bottle and tote bag paintings
We can't believe a year has passed but we are so excited for what's to come! Come celebrate with us and join us in a toast!