But first, Brunch
They invented brunch so we could have wine with breakfast Here are some great mimosa recipes for you to try at your next brunch!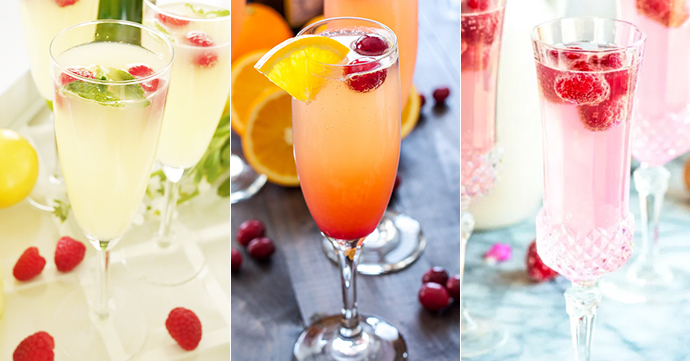 The Raspberry Limoncello Mimosa
- Sparkling Wine
- Limoncello
- Raspberries
- Mint
Pour Sparkling Wine into glasses. Add a splash of Limoncello. Muddle raspberries and mint and add to glass.
---------
The Cranberry Orange Mimosa
- 1 cup fresh orange juice
- Cranberry simple syrup
- 1 bottle prosecco
- Orange slices and cranberries for garnish
Cranberry simple syrup
- 1 ¼ cups fresh or frozen cranberries
- ½ cup granulated sugar
- ½ cup water
For the simple syrup: In a small saucepan, bring all the ingredients for the syrup to a simmer. Turn the heat down to low and let the cranberries steep for about 10 minutes. Pour the mixture through a strainer and discard the cranberries. Cover and chill in the fridge until cold. Better to make this in advance.
For the mimosa: Put 3 tablespoons of orange juice to the bottom of each glass. Add 1-2 tablespoons of the cranberry simple syrup. Top the glass off with the prosecco. Garnish with an orange slice and a couple of cranberries!
---------
The Raspberry Lemon Mimosa
- Brut champagne
- Raspberry lemonade
- Fresh raspberries sprinkled with granulated sugar
Pour champagne in to the glass till it fills up about 2/3 of the way. Pour the raspberry lemonade till the glass is almost full. Top with sugared raspberries!
---------
Why no make all 3 and have a mimosa bar? Enjoy!