How It All Started
Hi. My name is Ann. I am one of the owners of Pinot's Palette Temecula. The other owner is not only wonderful, smart and talented she is also my mother. Her name is Cheryl.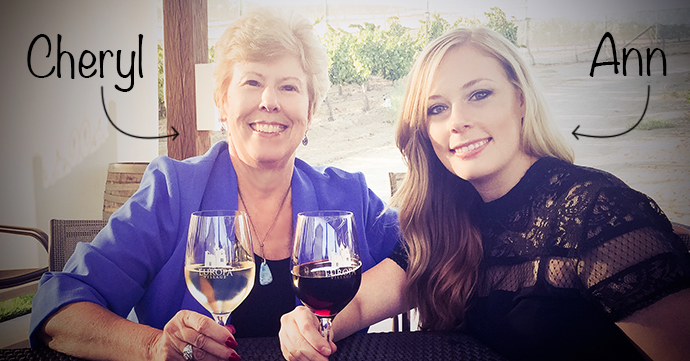 The story begins with 2 women in a car with 4 dogs. We were driving back to where we lived in Las Vegas in September 2015. We had spent the weekend with family that had just moved to the area and it was sure nice to be around family! My mom and I started talking about things in the car mainly to distract us from the 4 dogs and most of them wanting to sit on my lap. She suggested moving back to California. I promptly said, "No, I don't think so." She then proposed the question, "What if we started a business?" With that I was sold and I said, "Now there's an idea!" From there I knew exactly what type of business it should be… A paint and sip of course!
I have always had a passion for painting and creating and ever since I studied art in Italy I've had a passion for wine too. Cheryl on the other hand is a master with numbers and business but when it comes to painting… well she doesn't have to be artistic to have fun. In April 2016 we moved back to California and started working on getting this business open. Cheryl even found out that she enjoys wine!
It has been a fun, sometimes frustrating, journey together so far learning the ins and outs of starting a business but we are so excited to be open and share our passion of painting and sipping with everyone!