Raspberry Red Wine Slushy
Try this refreshing adult slushy!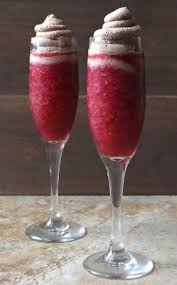 Ingredients
For the Slushy
1 cup sweet red wine
1 cup frozen raspberries
1 teaspoon sugar (optional)
1 cup ice
For the Chocolate Whipped Cream
1/2 cup heavy whipping cream
1 teaspoon sugar
1 tablespoon cocoa powder
Instructions
To make the slushy blend the wine, frozen raspberries, and sugar (optional) for 30 seconds. Strain slushy mixture through a mesh strainer to remove any raspberry seeds. Place the strained slushy mixture back in the blender with one cup of ice. Blend 30 more seconds. Place mixture in freezer while you make the whipped cream.
For the chocolate whipped cream: Beat the heavy cream, sugar and cocoa powder with an electric mixer for approximately 5 minutes or until stiff peaks form.
To assemble, pour slushy into glasses and top with whipped cream.
Enjoy!
For other great drink ideas inspired by your new favorite Paint and Sip Pasadena location visit
https://www....-entertaining