Raspberry Pink Champagne Float
Raspberry Pink Champagne Float- Serves 4 to 6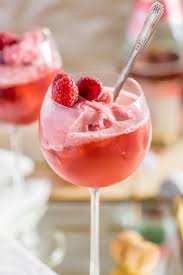 Easy, Refreshing, and Delicious. The pinkish, red color makes this drink great for celebrating an anniversary! Use a clear plastic champagne glass and any other color sorbet to customize this drink to your color palette needs.
Ingredients
- 2 or 3 Scoops Raspberry Sorbet
- 1 cup pink champagne (Barefoot Pink Moscato tastes great!)
- fresh raspberries (for decoration)
- small spoons (optional)
Preparation
1. Place a scoop or two of Sorbet in large wine glass.
2. Pour champagne over the sorbet.
3. Top with raspberries.
4. Allow the sorbet to melt while you sip or serve with a small spoon.
5. Enjoy!
Be sure to check out all our drink ideas on paint and sip in Pasadena at
https://www....-entertaining