Mason Jar Lamp
DIY Mason Jar Table Lamp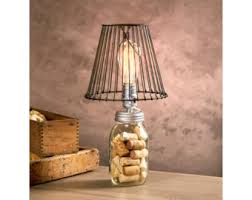 Make your own lamp in 15 minutes or less!
1. Fill mason jar with recycled wine corks, decorative rocks, or bobbins.
2. Screw adapter lid onto mouth of mason jar. Screw in any style of Edison light bulb. Please, always use caution when working with electricity!
3. Add a lampshade. If desired add a coordinating lampshade, or display with bare edison bulb.
tribute to Pinterest for the photo