Frozen Bahamarita
Enjoy Cinco De Mayo with a Frozen Bahamarita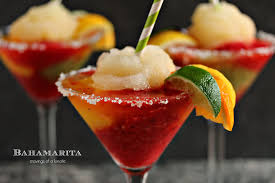 Ingredients- Serves 4
•11 ounces peeled and sliced fresh kiwi
•11 ounces peeled and sliced mango
•11 ounces hulled fresh strawberries
•4 to 6 cups ice, divided
•1¼ pounds Granulated sugar
•16 ounces water
•4 lemons, 3 for juicing and 1 for garnish
•4 limes, 3 for juicing and 1 for garnish
•4 oranges, 3 for juicing and 1 for garnish
•Cuervo Gold Tequila, to taste
•Dekuyper Cactus Juice Schnapps (chilled), to taste
Instructions
For the rims:
1. Line each glass with salt if desired. I put out two plates, one filled shallowly with water, the other with salt. I dunked each glass in the water, then quickly into the salt. Set aside till needed.
For the Simple Syrup:
1. In a medium saucepan mix 1 ¼ lb. sugar with 16 oz. of water, cook while stirring occasionally over medium heat until the sugar dissolves. Refrigerate. This will last for 24 hours.
For the Margarita Mix:
1. Cut limes, oranges and lemons in half. Squeeze juice from 3 limes, 3 oranges, and 3 lemons into a quart container and add ½ of your simple syrup to it. Pop this in the fridge. This will last for 24 hours.
For the Fruit Ices:
1. Blend each fruit separately with ice (I used about 1½ cups of ice per fruit, but you can adjust this to your own taste) and 2 ounces of cooled simple syrup until thick. Store each fruit flavour separately in bowls. These three mixes will last for 2-3 hours in fridge. If making quickly you can pop them in the freezer for about 30 minutes maximum.
2. Putting it all together:
3. Blend the Margarita mix, tequila, and some ice in a good blender until thick.
4. Now scoop about two teaspoons of each ice in the bottom of your chilled Martini glass. I like extra strawberry in mine so I use that as the base then use all three fruits randomly on top.
5. Now top the fruit ices with the thick margarita mix.
6. You can now add a shot of Cactus Juice into the drink. If you can't find it or want to keep this light substitute sprite.
7. Place lime,orange and lemon wedges on the rim for garnish.
8. Serve with a big old bahamarita smile!
For more paint and sip ideas from Pinot's Palette Pasadena head over to our blog at
https://www....pasadena/blog