All things Sangria
Drink of the Week!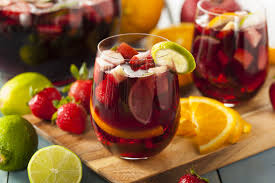 1. Strawberry Rose' Sangria- Serves 4 to 6
Perfect for sipping during a hot summer day.
Ingredients
-1 (750ml) bottle rose' wine.
-1 cup of strawberry vodka.
-2 ½ cups lemon-lime soda (we love Sprite).
-10 cups of fresh strawberries (hulled & sliced).
- ¼ cup or sugar or substitute (like Stevia)
Preparation
1. In a large pitcher, combine wine, vodka, and 1/2 of the strawberries. Taste for sweetness and add sweetener if necessary, and stir.
2. Refrigerate for at least 2 hours or up to 6.
3. Just before serving, add Sprite, the rest of strawberries and gently stir.
4. Serve over ice with strawberry garnish.
5. Repeat steps 1 through 4. It's delicious and you are going to need more!
______________________________________________________________________________________________________
2. White Strawberry Lemon Sangria- Serves 4 to 6
Another great summer recipe, with a sweet and refreshing taste.
Ingredients
-2 lemons (thinly sliced)
-1 apple (cored and sliced, any kind)
-1 cup of strawberries (hulled & sliced, lengthwise)
-1 (750 ml) bottle white wine (dry-ish white wine is best, we love Chardonnay!)
- ½ cup light rum.
-4 cups lemon-lime soda (We still love sprite)
Preparation
1. Add lemon slices to a large pitcher, then the apples and strawberries.
2. Pour the wine and rum over the top.
3. Cover and place in the refrigerator for 4 – 5 hours.
4. Remove from refrigerator and add the lemon lime soda. Add a few pieces of the fruit to your glass and pour sangria over to serve.
5. Leftovers keep for a day or so, but you likely won't have any, I never do!
___________________________________________________________________________________________
3. Red Wine Sangria- Serves 4 to 6
Great for Entertaining, Its fruity, and not too sweet. With only a few ingredients it's easy to make and cheap to duplicate.
Ingredients
- ¼ cup of sugar
- ¼ cup of water
-1 bottle red dry table wine
- ½ brandy
-1 cup pomegranate juice
-1 whole apple (sliced)
-1 whole orange (sliced)
-1 cup of strawberries (sliced)
Preparation
1. Add sugar and water to a small saucepan. Over medium high heat bring the mixture to a boil. Cook until sugar is fully dissolved. Allow to cool.
2. Add red wine, brandy, pomegranate juice, apples, oranges, and strawberries to a large pitcher.
3. Add in cooled simple syrup and stir. Refrigerate for at least 2 hours or for best results overnight.
4. Drink and Enjoy!
____________________________________________________________________________________________
4. Classic Sangria- Serves 6 to 8
The classic stands on its own with no description needed. Just remember, the longer is sits, the better it tastes!
Ingredients
-1 orange (halved, cut into ¼ inch slices)
-1 lime (thinly sliced, crosswise)
-1 Granny Smith apple (cored, cut into 1 inch pieces)
-1 cup green grapes (halved)
- ¼ cup brandy
-1 bottle (750ml) dry red wine (We love Cabernet Sauvignon)
-4 cups (32 ounces) chilled lemon-lime soda (have we mentioned Sprite is our fav?).
Preparation
In a pitcher or large bowl, combine orange, lime, apple, grapes, brandy, and red wine. Stir to combine and refrigerate 1 hour (or overnight). To serve, add soda and ice.
Be sure to check out all our drink ideas on paint and sip in Pasadena at
https://www....-entertaining
Enter your contact info and request details below, and we will contact you with details about your private party!