Wine Menu
Enjoy our variety of wines ranging from California, Europe, and South America.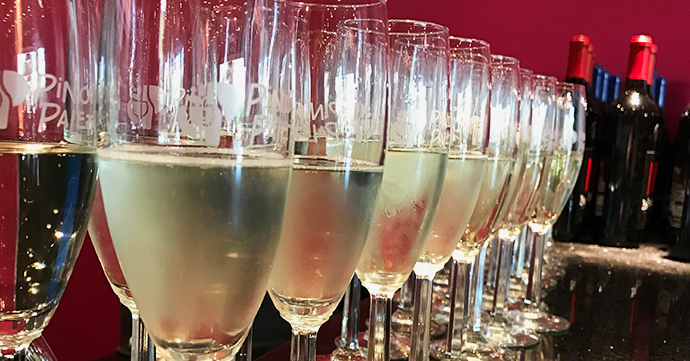 Sparkling
Sparkling Cava from Barcelona, Spain
Mercat Brut $9/32
On the palate the wine shows great finesse and balance with notes of papaya and pear rounded out with hints of hazelnuts.
Sparkling Prosecco from Veneto, Italy
Novaia $12/36
Whites
Sauvignon Blanc Sonoma, California
Beckmen $11/36
Zesty tangerine, mango, and tropical aromas mingle with creamy golden notes and a hint of herbs.
Moscato di Asti Piedmont, Italy
Albino Roca $11/40
Elegant floral aroma with notes of peach, apricot and fresh grape juice
Chardonnay Sonoma, California
Banshee $12/48
Starts in the range of apple and pear with flourishes of white peach and nectarine
Pinot Grigio Veneto, Italy
K. Martini & Sohn $10/40
A full body rich white wine, flowery and broad with a bouquet reminding of pears and apples
White Valencia, Spain
Azul Y Garanza Viura $9/36
Lively citrus and pear fruit flavors on a balanced backbone of acidity
House White Langudoc, France
Milou Rouge $7
Rich flavors of white peach and pineapple tempered by zesty acidity
Roses
Pinot Noir Rose Napa, California
Vaughn Duffy $12/48
Pretty strawberry and peach aromas glide easily toward lively and crisp orange zest and watermelon flavors
Tempranillo Rose Rioja, Spain
Ercavio $10/40
Light to medium bodied Rosado, with plenty of juicy fruit and tangy acidity
Reds
Pinot Noir Willamette, Oregon
Averaen $12/48
Vibrant, sharply focused scents of ripe red berries and candied flowers are complimented by suggestions of cinnamon and allspice
Cabernet Sauvignon Napa, California
Cultivar $17/51
Dark cherry fruit with black currant notes are intertwined with dark cocoa and coffee notes, hues of tobacco, black pepper and floral notes bring the nose all together
Zinfandel Sonoma, California
Valravn $10/32
Intoxicating aromatics with scents of mocha, espresso roast, violets and ripe red berries. Rich on the palate with flavors of raspberry, blackberry compote, and hints of licorice-laced black pepper
Natural Tempranillo Mendoza, Argentina
Vina Liusion $10/36
Certified organic wonder shining with the notes of citrus and a mouthwatering minerality unique to its midweight style
Red blend Rhone, France
Chaume $12/48
Fresh red fruit nose, strutured palate, ripe black fruit aromas, good length, licorice finish
House Red Langudoc, France
Milou Rouge $7
Ripe black cherry and huckleberry notes, supported by hints of espresso and spice
Beer/Cider
Non-alcoholic
Coke $3
Diet Coke $3
Sprite $3
Enter your contact info and request details below, and we will contact you with details about your private party!