Wine Menu
Enjoy our variety of wines ranging from California, Europe, and South America.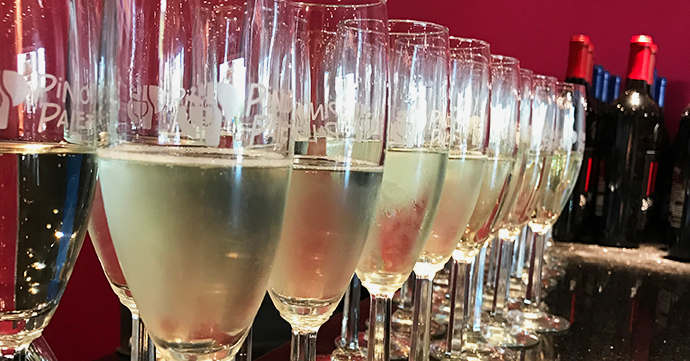 Sparkling
Sparkling Cava from Barcelona, Spain
Mercat, Brut, $10/30
On the palate the wine shows great finesse and balance with notes of papaya and pear rounded out with hints of hazelnuts.
White Wines
House White Wine $7/$22
Wrath Chardonnay Monterey, California
Skylark, $12/36
Roasted nuts, hot buttered toast with lemon preserves combined for a savory and refreshing finish.
Moscato di Asti Piedmont, Italy
Albino Roca, $12/36
Elegant floral aroma with notes of peach, apricot and fresh grape juice
Pinot Grigio Alto Adige, Italy
San Pietro, $10/30
A full body rich white wine, flowery and broad with a bouquet reminding of pears and apples
Rose Wines
Pinot Noir Rose Napa, California
Vaughn Duffy, $12/$36
Pretty strawberry and peach aromas glide easily toward lively and crisp orange zest and watermelon flavors
Red Wines
House Red Wine $7/$22
Pinot Noir from Sonoma County
Eric Kent, $15/45
Syrah from Sonoma County
Eric Kent, $15/45
Cabernet Sauvignon from Napa, California
Liparita, $16/48
Aromas and flavors of vanilla, cassis, cherry, and cedar create a seductive full bodied wine.
Red Belly Blend from Mendocino, California
Skylark, $12/36
Beer $6
Angry Orchard/Angry Orchard Rose
Des chutes Fresh Squeezed IPA
Firestone 805 Blond Ale
Lagunitas IPA
Sam Adams
Sapporo
Wyder Pear Cider
Non-alcoholic
Coke $2
Pepsi $2
Sprite $2