Wine Menu
Enjoy our variety of wines ranging from California, Europe, and South America.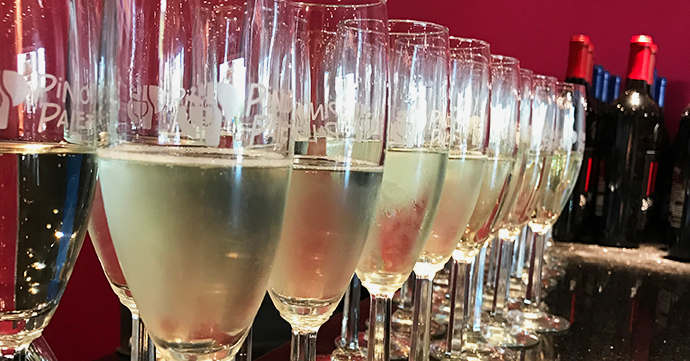 Sparkling
Sparkling Cava from Barcelona, Spain
Mercat Brut $10/30
On the palate the wine shows great finesse and balance with notes of papaya and pear rounded out with hints of hazelnuts.
White Wines
House White Wine $7/$22
Alondra Chardonnay Mendocino, California
Skylark $12/36
Citrus, roasted lemon, green apple, and tangerine combined for a savory and refreshing finish.
Moscato di Asti Piedmont, Italy
Albino Roca $11/33
Elegant floral aroma with notes of peach, apricot and fresh grape juice
Pinot Grigio Alto Adige, Italy
San Pietro $10/30
A full body rich white wine, flowery and broad with a bouquet reminding of pears and apples
Rose Wines
Pinot Noir Rose Napa, California
Vaughn Duffy $12/$36
Pretty strawberry and peach aromas glide easily toward lively and crisp orange zest and watermelon flavors
Rose Garnacha, Spain
Lechuza $10/30
Light to medium bodied Rosado, with plenty of juicy fruit and tangy acidity
Red Wines
House Red Wine $7/$22
Pinot Noir Willamette, Oregon
Averaen $12/36
Vibrant, sharply focused scents of ripe red berries and candied flowers are complimented by suggestions of cinnamon and allspice
Cabernet Sauvignon from Santa Ynez, California
Beckman $16/48
Aromas and flavors of vanilla, cassis, cherry, and cedar create a seductive full bodied wine.
Zinfandel Sonoma, California
Valravn $12/36
Intoxicating aromatics with scents of mocha, espresso roast, violets and ripe red berries. Rich on the palate with flavors of raspberry, blackberry compote, and hints of licorice-laced black pepper
Natural Tempranillo Rioja, Spain
Vina Liusion $10/30
Certified organic wonder shining with the notes of citrus and a mouthwatering minerality unique to its midweight style
Beer $6
Firestone 805 Blond Ale
Angry Orchard/Angry Orchard Rose
Blue Moon
Asahi
Sapporo
St Archer White Ale
Des chutes Fresh Squeezed IPA
Barley Forge The Patsy (Coconut Rye Stout)
Dos Equis
Lagunitas IPA
Non-alcoholic
Coke $2
Pepsi $2
Sprite $2