Create A Beautiful Centerpiece
Materials Needed
-Florist foam (open cage on both ends)
-Carrots
-Florist picks
-Fishbowl
-Floral arrangement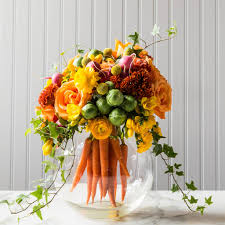 Preparation:
1. Fill sink with water, and soak florist foam until thoroughly saturated.
2. Cut carrot stems to 2 inches.
Steps 1 and 2
1. Tie two to three carrots together at stems using florist picks.
2. Attach stems to bottom of florist foam square.
Step 3
Gather carrots and rest florist foam square on top of fishbowl, allowing the carrots to hang down inside fishbowl.
Step 4
Fill florist foam with arrangement of your choice on top.
Step 5
Admire your work!
Be sure to check out all our decor ideas on paint and sip in Pasadena at
https://www....og/home-decor