DIY Yard Decor
DIY Ceiling Fan Blade Dragonfly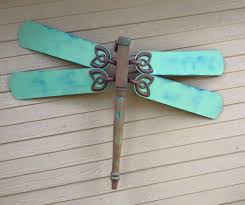 Ceiling Fan Blade Dragonfly Supplies
Frog Tape Shape Tape (chevron)
Frog tape
Rustoleum Satin Cinnamon spray paint
Rustoleum Satin Lagoon Blue spray paint
2 Ceiling Fan Blades
Spindle
Drill
Screws
Picture Frame wire or bailing wire for antennas
1) Take two ceiling fan blades and paint them a solid color.
2) Using Frog Tape Shape Tape in chevron and tape off your pattern.
3) Paint with a second coat Have fun with the colors!
4) Use original Frog Tape to tape off a design on your "body". You can paint it the same two colors as the wings, or different, it's up to you. Afterall, this is YOUR project!
5) Attach the wings with a couple of screws on the back side.
Optional
Antennas.
6) I take a small drill bit and drill 2 tiny holes in the top of the spindle. Wrap your wire around a pencil or screwdriver to curl it and then stick it in the holes…that's it!
7) If you do not use outside paint you will want to use a spray acrylic sealer to seal and protect your project.
If you enjoyed this DIY project, please check out our other great craft ideas from our paint and sip location in Pasadena at
https://www....og/home-decor
tribute to Pinterest