Add A Little Pizzazz To Your Wine Glasses!
Wine tastes gooOooOoOood.... oh, so good! But we hear that it tastes even better when you drink it out of a beautifully painted glass! Don't believe us?? Why not decorate one and see for yourself?!!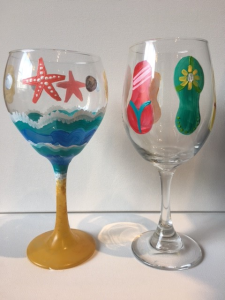 While a canvas class is a wonderful idea, we also offer wine glass painting options!
If you're interested in booking a private party with us, give us a call, send an email, or stop on in and we'll set it up! The best part about painting on a glass is that is FUNCTIONAL art!!! You can use it time and time again for everyone to admire... and to hold all of that delicious wine!
Bring some snacks to our studio to make your paint night extra fun!!
For tips on snacks that pair well with our wines, click here:
https://www....paintingclass
Have you been wanting to host a get-together and need a craft for the night? Why not gather the supplies and paint some glasses yourself? You can even turn the theme of the party into a wine and cheese party, since the wine glasses fit right in!
*You can go to any dollar store for a variety of shapes and sizes of wine glasses, (...or other types of glasses, plates, or anything else that is glass or ceramic will work too!). *Craft stores, such as Michaels, carry the special glass paints in a wide variety of colors and types. Just be sure to get paints that say they are for "glass, tile, ceramic"... it'll say on the bottle, what it'll work for. ('Folk Art, multi-surface' are one of our favorites!)- you can even try Walmart for these, too!
*Apply your design with paint brushes, wait for the paint to dry, then you can even bake it in the oven to be sure the design can withstand years of use and even a dishwasher!
(paint directions will indicate time and temperature for baking)
Read up on some tips for painting wine glasses at home!
http://mamam...asses-how-to/
For tips on some wine and cheese snack ideas for your wine glass painting gathering, click here:
http://savor...cheese-party/
Whether you want to paint some beautiful wine glasses, on your own at home, or want to come to our studio and use our supplies, it's sure to be a great time! Let us know if you would like to set up a wine glass class and we're here to help! Happy crafting!!!
Cheers!!!
And don't forget to follow us for the latest updates and pictures!
Facebook: Pinot's Palette Naperville
Instagram: PinotsPaletteNaperville
Twitter: NapervillePinot
Snapchat: NapervillePinot
Share See our public calendar HERE! | Plan your private event HERE!